And we're not just talking about nautical terms like 'port' and 'starboard', which are easily demystified with a quick Google search - rather, there is a whole host of terminology specific to the cruise industry. Here is our guide to some of the most common terms and phrases...
Suite
The word 'suite' covers a multitude of sins. It is rare to find a cruise line referring to its rooms as 'cabins' nowadays, preferring 'stateroom' or, if a little larger, 'suite'. Historically, when hotels and ships referred to 'a suite of rooms', they meant a number of rooms including bedroom, living room, bathroom and more. Nowadays, a suite does not always have a completely separate living area (although sometimes the sleeping and living areas can be separated by a curtain). It is not difficult to find out exactly what the square footage and layout of a room is; ask your cruise consultant to talk you through it so you know exactly what you're getting.
Inside Stateroom
If (like us) your focus is on small luxury ships then you may not have come across this term, which simply refers to a stateroom with no widow to the outside. This is something more commonly found on larger, wider ships, and these rooms command the lowest fares, so if you're comparing cruise lines it's well worth looking beyond the headline prices to make sure that you're comparing like with like.
Staff-to-Guest Ratio
This is a good way of judging the level of service you are going to receive on board, and the amount of time your service staff (waiter, stewardess etc) will be able to spend with you. Of course, even if you have a staff-to-guest ratio of 1:1 (e.g. 100 crew for 100 guests) this does not mean that you have a single person dedicated to your every need. There are the marine team who actually 'drive' the ship, technical staff, the team in the galley preparing all the food, the housekeeping staff keeping your room beautifully clean and tidy, the shore excursion team sorting out all your fun ashore, the front facing restaurant and bar staff serving you with delicious food and drink, the entertainments team taking care of daytime and evening activity, and more. As a comparative rule of thumb, though, the higher the staff to guest ratio, the better the service.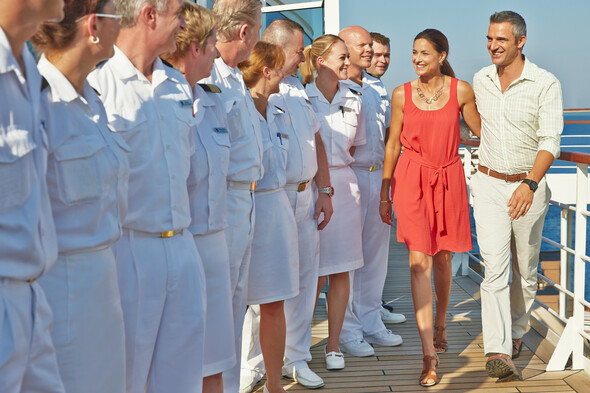 Space/Passenger Ratio
To calculate the space/passenger ratio, you divide the size of the ship in GRT (gross tegister tonnage) by the number of passengers. The GRT represents the total internal volume of a vessel, where one register ton is equal to a volume of 100 cubic feet - although you really don't need to know that! Use this ratio instead as a relative unit of comparison. The higher the space/passenger ratio, the more space each passenger has, and of course the more spacious the ship feels. This translates into bigger suites and staterooms, more public rooms, more deck space and so forth - very important in this post-Covid world.
All-Inclusive
The term 'all-inclusive' is bandied around quite widely. Make sure you check with your cruise consultant exactly what it means on the ship or cruise line you are considering. It could include all or most drinks, or just certain alcoholic and non-alcoholic drinks. Or certain drinks may be included at meal times, but not at other times. Gratuities may or may not be included in the fare. Some cruise lines will say 'basic gratuities' are included, suggesting that additional tipping would be appreciated.
Sometimes shore excursions might be included - maybe one in each port, or alternatively a wide range. But even if they are included, there could be some extra special ones that are available at an additional charge. Some cruise lines include flights and hotel stays before or after the cruise - but this is sometimes offered as a booking promotion rather than an inclusive price. Spa and salon treatments never fall under the 'all-inclusive' offer, nor shops of course, or casino operations.
Shore Excursions
Shore excursions are the programmes that have been arranged to enhance your time in each port of call. There is not normally any requirement to take the ship's shore excursions, but during this time of Covid, the ship or the local authorities may require you to remain with your shipboard bubble whilst ashore for your safety.
Shore excursions range from basic city tours on foot or by coach, to small group local experiences, themed tours (food, drink, wellness etc) or unique opportunities such as going to the market with the chef to select the perfect fish for dinner that evening. You can also pre-book private tours with transport and a guide for your group.
Suite Upgrade
Accommodation on a ship falls into a range of categories. The categories are rated according to size, position on ship, and potential problems (noise etc). On a luxury ship there will be no inside guest accommodation - everyone will have a sea view, either through a porthole, picture window or French window leading onto a verandah. Some cruise lines offer promotional suite upgrades (whereby you pay for one category, and are automatically upgraded, at the time of booking, to a higher category). Some approach you prior to sailing and offer you an upgrade as the 'dispatchers' work to maximise the accommodation on board. This can be a nice surprise - but check it out straight away, and if you don't like the accommodation you have been upgraded to, decline it.
Single Supplement / Sole Use Supplement
First time cruisers can be confused by the fact that cruise lines quote prices per person, rather than per room. The per person rate is based on two people travelling together sharing the accommodation. If you are travelling alone, the 'single supplement' might be as much as 100%, to bring the revenue up to the level the cruise line was expecting for that room. Sometimes there are promotional offers which give you a far better deal - your cruise consultant can point you towards these.
Some cruise lines have dedicated single cabins, and others (usually in the expedition arena) offer 'shares', which enable you to avoid the sole use supplement, on the basis that the cruise line will find someone to share with you.
Concierge / Butler
Like hotels, some ships have concierges or butlers. Their job is to look after all the extra details that make your stay special. The concierge will probably work from a lounge or desk adjacent to the front desk. Your butler will come to your suite, serve your breakfast or pre-dinner drinks, ensure you have enough ice, make reservations and appointments, sort out invitations and generally take care of anything you don't want to be bothered with! Whilst many people say 'I wouldn't know what to do with a butler', they soon get the idea - make sure you don't get too much of a taste for it though, you're not allowed to take them home!
Speciality restaurants
Most ships now have one or more speciality or alternative restaurants. These may serve a particular cuisine, such as Asian or Italian, or a menu specially created by a particular chef who is working with the cruise line, or have a particular style such us a grill. Sometimes they have lovely al fresco areas, private bars or special wine tasting rooms. On luxury ships there is normally no extra charge to dine in these restaurants, but you are initially limited to one visit per cruise.
Assigned Seating / Open Seating
Once the norm, assigned seating, where you dine at the same table and with the same guests every night, has very much fallen out of fashion, due in part to the increased variety of restaurants on board modern cruise ships. Nowadays open seating, where you can dine whenever and with whomever you choose, is the standard for the vast majority of lines.
Back to Back Voyages
Luxury cruise ships usually operate wide ranging itineraries, rather than milk run rotations doing the same thing each week. For example, a ship in the Western Mediterranean might cruise from Barcelona to Rome, and then on the following itinerary proceed to Venice, and then operate a third itinerary to Athens. As a rule, the itinerary planners will avoid repeating ports of call on such a series, which enables you to combine two, three or even more cruises to create one much longer itinerary which still enables you to visit somewhere new every day. These are known as back to back voyages. If you have a bit more time available, it's worth taking a look at these: the per day fares are usually very attractive, and if you are not keen on flying it's nice to find embarkation and disembarkation ports that make your travel easier.
Grand Voyages
Longer itineraries, and especially those that focus in-depth on a particular area, are often termed Grand Voyages. These trips will feature a number of destination highlights, often with more overnight calls and late evenings in port to allow for some extra special shore excursions.
World Cruise Sectors
A World Cruise doesn't need much explanation. The crowning glory of a cruise line's itinerary planning, these showcase voyages are, occasionally, split into shorter 'sectors'. It means you'll benefit from all of the advantages of being on a World Cruise - the iconic sights, the special gala events, the possibility of mid-voyage land tours and the unmistakable sense of occasion - without being away for quite so long.
Repositioning Cruise
One of the many advantages that a cruise ship has over a hotel is that they can follow the sun and will position to spend a season in a region soaking up the good weather. Summers in the Mediterranean or Northern Europe and winters in the Caribbean are a common combination, and when a ship travels from one region to another these 'repositioning cruises' offer a laid-back experience with more days at seas than you would typically expect, and are often superb value for money.
Expedition Cruise
A growing sub-sector of cruise is 'expedition' cruising, a style of travel that takes you off the beaten path to explore some of the world's most remote destinations, places like Antarctica, the Galapagos and the Arctic. Although the style (and standard) of expedition cruises varies significantly, they all explore areas with little or no infrastructure by deploying their own compliment of Zodiacs (rigid inflatable boat) to take you ashore, accompanied by a team of expert guides, naturalists and destination specialists. To find out more about expedition cruising, take a look at our sister company Mundy Adventures.