Made up of eleven countries: Burma (Myanmar), Cambodia, Timor-Leste, Indonesia, Laos, Malaysia, the Philippines, Singapore, Thailand and Vietnam - too many to visit in one trip on most cruises - many lines focus on Vietnam, Cambodia and Thailand exploration, often bookended with city icons Singapore or Hong Kong.
Perhaps the most popular area for cruising in Southeast Asia thanks to its long, narrow coastline; most Vietnam voyages are a perfect pairing with Thailand and Cambodia. Capital Hanoi (not Ho Chi Minh, as it's often thought) is happy chaos, home to ancient architecture and a buzzing Old Quarter filled with markets and temples, with influences from China and France making it a fascinating place to get lost in.
The UNESCO-listed turquoise water of Halong Bay and its postcard-perfect, rainforest-topped limestone islands straight out of Avatar is a popular stop on a Vietnam cruise, though be sure to check your itinerary to ensure you will be anchored in an area away from most of the crowds, as it can get busy.
Up in the northern mountain region, the stunning rice terraces of Hoang Su Phi, Mu Cang Chai and Sapa offer endless emerald-green panoramas of colourful stairs and valleys tumbling down to rushing streams that can be explored on guided tours and hikes.
Further down the coast, Hoi An is a real highlight, a true melting pot representative of its past as a trading port until the 19th century. An enchanting mix of wooden shophouses, colonial French buildings, Japanese-style bridge over a canal and ornate Chinese temples; if you can, time your visit during the monthly Hoi An Lantern Festival during the Full Moon, when the town comes alive with re-enacted cultural activities, shrine offerings, music, poetry and traditional performances, with lanterns and candles lit along the riverbank.
Halfway between Ho Chi Minh and Hoi An, often-overlooked Da Nang has white-sand beaches dwarfed by the green-topped Marble Mountains, interspersed with temples and busy markets selling the likes of Vietnamese silk and street food.
Finally, Ho Chi Minh - or Saigon - at the south of the country, is a fitting end to many Vietnam voyages and vastly different to much of the rest of the country, with grand buildings, wide boulevards, and fine dining restaurants. It's also the gateway to many US Vietnam war musems, including the site of the famous Cu Chi tunnels.
A visit to neighbouring Cambodia often begins at capital Phnom Penh up the Mekong river from Ho Chi Minh. Glittering palace spires, buzzing markets and Buddhist temples and palaces make this a fascinating place to discover, with the brutal history of the Kmher Rouge regime palpable in the city's myriad museums.
Most notable are of course the Killing Fields, a sombre reminder of where collectively more than one million people were killed and buried by regime during its rule of the country from 1975 to 1979.
Just moments from Phnom Penh, Silk Island is popular for observing traditional silk-weaving and local villages with demonstrations and tours, while nearby, the ancient city of Oudong is an authentic look into old Cambodia. The royal capital until the 19th century, it's filled with pagodas, bridges, temples and shrines looked over by the mountains of Phnom Udong.
Further inland you'll find what is a highlight of the region: Siem Reap and the world-famous UNESCO jewel of Angkor Wat. Spread over 400 acres, this huge Buddhist temple is one of the largest religious structures in the world. A highlight of many Mekong River cruises, it's also featured as a mid-voyage excursion option on several World Cruise and Grand Voyages, reached from the popular beach resort of Sihanoukville.
Over the border in Thailand, prepare for an assault on the senses in Bangkok, the Thai capital and a city that should be visited by every discerning traveller at least once.
And, there's far more to it than chaotic Kao San Road. Endless stalls and markets abound amidst Michelin starred restaurants, with quiet temples scattered round every corner, from the Emerald Buddha to the gold-topped Grand Palace and the colourful missile-shaped Wat Arun temple, rising from the Chao Phraya riverbank.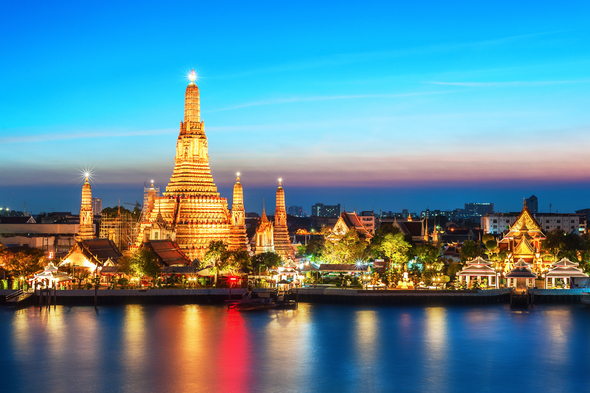 Thailand's famed islands, of which there are more than 1,400, offer everything from hedonistic nightlife to deserted white sand beaches, set among colourful reefs and diverse marine life. In the Gulf of Thailand a highlight is Ko Kood, a tropical paradise that has so far escaped the trappings of mass tourism.
On the west coast, in the Andaman Sea, Phuket's white sands and turquoise waters make it popular with many, whilst Ko Lanta, Ko Yao Tai, the iconic Phi Phi Islands and the Similan Islands National Park are the limestone cliff, jungle-clad Thai islands of your imagination.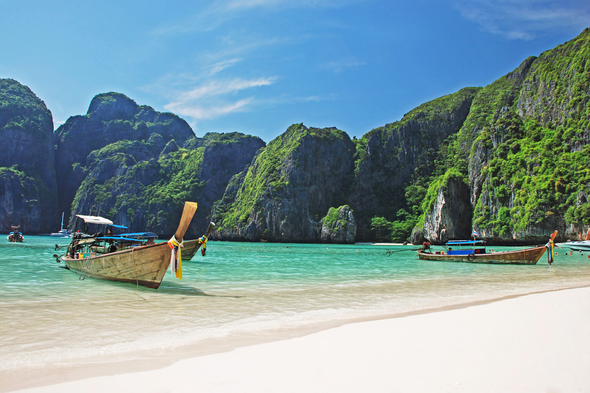 A popular starting point for Southeast Asia cruises, futuristic Singapore is one of the world's most incredible and innovative cities, from iendless museums to botanic gardens, including the famous Gardens by the Bay where an incredible conservatory, Cloud Forest., treetop walk, and waterfall attract crowds world-over.
Food is a real draw, too, with buzzing hawker markets that offer fusion cuisine lying adjacent to some of the finest Michelin-star dining in the world, with neighbouring Sentosa Island abounds with beaches and luxury boutiques. Hong Kong also attracts with its shopping, though it's also scattered with markets and Buddhist temples, as well as green spaces like Causeway Bay, Victoria Peak and Ocean Park.
As such a varied region, it's tricky to specify an exact best time to visit, although between November and February - i.e., the northern hemisphere's winter, is a good bet. Most countries are dry and warm with less rainfall, though it's also best to check when full moons, monsoon and festivals take place in specific destinations, too, to make sure you know when you want to visit - or avoid - the area.
Our favourite Southeast Asia cruises include Scenic's routes along the Mekong to Cambodia, Vietnam and Thailand, while AmaWaterways have introductory 7-night itineraries that showcase the region's highlights. Seabourn offer an exceptional choice of departures that cover the regions highlights whilst Silversea's longer routes from Singapore or Hong Kong are another good option with extra stops in countries such as Malaysia, the Philippines, Laos and Bali.