A strange thing has happened to time during this crisis - the unthinkable happened, and the world shut down in a matter of days, or so it seemed. And then it felt as if everything was paused - forever! Now the light at the end of the tunnel barely glimmers - but it is there.
The travel industry has been particularly hard hit, but we are beginning to see outlines of what travel in the future might look like. And if it seems to be taking a very long time - well, that is how it should be. People's lives and livelihoods are at stake.
Medical experts around the world are working flat out to understand this highly contagious virus, and cruise lines and airlines are working with them to seek out the best solutions. Certain measures can only be taken at a government level, and delicate cross-border agreements need to be forged.
For some 50 years at Mundy Cruising, we've been working with cruise lines and learning how luxury ships operate. What we've learnt is that despite widespread media hysteria suggesting otherwise, the cruise industry is totally focused on creating the very best customer experience in the whole of the hospitality industry. As soon as it is safe to travel again, your favourite ships will be ready to welcome you with open arms.
Good enough won't be good enough
It was reassuring to hear from Richard Fain, CEO of the Royal Caribbean group of companies, state "Our objective is to make our ships not just good enough, but the best they can be."
No-one in the cruise industry is underestimating the importance of making sure that cruising is as safe as it can be. Public scrutiny is welcome, to ensure any errors are not repeated. The more that is understood about the threat, the more can be done to counter it.
We've been looking at some of the measures we expect to be introduced...
Increased Health Screening
When a vaccine is developed, proof of immunisation will no doubt be required, in the same way that a yellow fever certificate or exemption is the norm today.
Until then, we are going to see enhanced screening. This could be introduced via trace and track apps, self-administered tests, additional tests administered by cruise lines and airlines, temperature tests, and more, both in advance of travel, at the start of the trip, and possibly along the way too.
How this would affect embarking cruise guests would differ from line to line. Celebrity recently introduced facial recognition software as part of their aim to have passengers get 'from car to bar' in 10 minutes. Incorporating additional checks will be a challenge, but logistical problems are what these lines are all about.
Meanwhile cruise lines which cater to hundreds rather than thousands will find the process easier and speedier, and by staggering embarkation and excursion times and stepping up the manpower, they will be able to keep delays to a minimum.
No more self-service buffets
For the smaller luxury ships, the transition from self-service buffets to à la carte or staff-served food stations will be painless. Bigger ships which rely on areas designed to service large numbers of guests quickly, with a minimum of staff intervention, will have more challenges. They will need longer restaurant opening hours and increased staff numbers to achieve their aims.
Social distancing
Smaller luxury ships, operating with passenger numbers well under their potential maximum capacity, will not only continue to deliver higher levels of service and enhanced guest comfort, but will also make the most of their additional space, in order to distance where needed. Their various uncrowded dining venues can even reduce capacity where necessary. There is talk of single-use menus and masked service staff.
On larger ships, solutions might come from the repurposing of existing technology. Carnival's OceanMedallion programme - wearable tech designed to be an onboard key, credit card and much more - can track guest locations so rooms can be cleaned at the best time, and food and drinks can be delivered to the right table. The very same technology could be used to monitor passenger flow.
Relaxed cancellation policies
The cruise lines stepped up right at the start of the crisis to support their customers, introducing relaxed cancellation and amendment policies, and reassuring guests with enhanced consumer protection. These policies have been constantly evolving as more is known about when we will be able to travel again.
Passenger restrictions
The UK and US governments reacted to the risks associated with coronavirus with a number of sweeping measures, including advising all people over the age of 70 not to cruise. Within days, the advice became redundant, as the cruise lines voluntarily ceased operations.
In the future, cruise lines will consider individual circumstances rather than applying broad-brush restrictions based on age. Those with underlying health conditions may be required to submit 'fit to travel' documentation, but ultimately, the key aim is to prevent any outbreak occurring in the first place.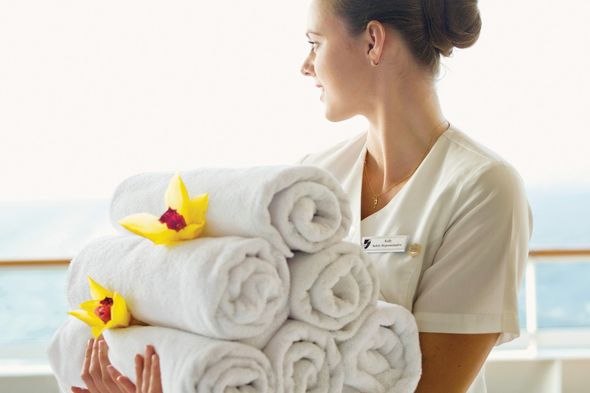 Enhanced cleaning protocols
With any communicable disease, ensuring that there are appropriate cleaning protocols is a key part of preventing the spread. Cruise lines are well equipped to address this, with many years of experience in containing viruses: it's much easier to strengthen an existing framework than set one up from scratch. We'll see more deep cleaning shipwide, especially in communal areas. Ships with an already high staffing level will switch to this with relative ease. Others might have to increase staff numbers.
Some ships may be laid up
For some time now, we at Mundy have been discussing the remarkable growth of the global cruise fleet, and to what extent it is sustainable. With demand temporarily reduced it's likely that some lines will take a staggered approach to deploying their ships. Eventually, once the industry has proved its safety record and full confidence has returned, we expect a full return to the number of ships we see currently. The appetite to build may be somewhat reduced in the medium term. We also expect the early retirement of some older vessels which cannot deliver on the industry's move towards reducing its impact on the environment.
Some ships will carry fewer passengers
A temporary drop in demand will mean ships won't operate at their usual high occupancy levels. This will actually help with many of the measures that will likely be implemented.
This may mean that the anticipation of highly discounted fares proves to be unfounded. The cruise lines may revert to an older business model, with higher fares for fewer guests. Look out instead for upgrades, onboard credit, or low single supplements.
Shore excursions will change
Running a larger coach to allow for plenty of seating space is the norm for some of the luxury operators, whose passengers have paid a premium to ensure their comfort. The mainstream lines will have to adopt similar measures.
Itineraries may be revisited
Cruise lines are, understandably, going to be reluctant to change their scheduled itineraries and potentially lose business already booked. But different countries will lift travel restriction at different times, so changes are inevitable. Expect more round-trip itineraries closer to home, to enable travel by car to reach your ship. At the time of writing, Silversea's London Tower Bridge round-trip in May 2021 is almost completely sold out, more than a year away from the sailing date.
The flight experience will be different
Interestingly, IATA claims (based on the limited evidence currently available) that the risk of virus transmission on board aircraft is low even without special measures. There are various reasons why this might be the case: passengers face forward, with limited face-to-face interactions; seats provide a barrier to transmission forward to aft; and air flow from ceiling to floor reduces the potential for transmission forward or aft. Furthermore, High Efficiency Particulate Air (HEPA) filters on modern aircraft clean cabin air to hospital operating theatre quality, further assisted by high levels of fresh air circulation. So don't expect empty middle seats, though you'll still have to wear mask and gloves for the duration of the journey as an added precaution.
Cruising will be back
Cruising is extraordinarily popular and enjoyed by millions. That demand has not diminished. A huge number of extraordinarily talented people, responsible for revolutionising cruising over recent years, are now working to enhance guest safety and ensure client confidence.
So stand by - as soon as it's safe to go, we'll be ready to help with your holiday plans.