This week the EU Healthy Gateways Resumption Guidance was published, which makes fascinating reading. We are still awaiting an agreement, which presumably will have similar measures outlined, from the Centers for Disease Control and Prevention (CDC) in the US, which is also working closely with the cruise industry to find a new roadway to the resumption of services.
For the time being, Americans are still not allowed to travel to the EU (sensible precautions in view of the fact that their infection rate is continuing to rise). The cruise industry is largely dominated by US-based cruise lines and the needs of US guests, so in the shorter term we will see earlier resumption of services from lines which don't have the same level of dependence on the US. SeaDream Yacht Club, Ponant and Hurtigruten are resuming ocean operations, and on the European rivers, A-Rosa, CroisiEurope and Nicko Tours. British lines such as Saga and Hebridean Island Cruises are hoping to be up and running shortly.
There has been some impatience at the strange silence from the cruise lines about when and how they will resume service, and announcements are few and far between. Even those lines which have broken cover and posted information on their websites are being rather coy. The core message is 'we will do what is right, and we will return to service when the time is right'.
Actually, that's a good thing. We know that the cruise lines are working flat out, in a major effort of collaboration, to work out what the future will be for travel by ship. And they are not going to resume service until they are confident that they can offer a safe environment to their loyal clients.
It's not just a question of what happens on board. The cruise lines need to work through the implications of every single stage of the process, with a wide range of stakeholders from ports to tourism ministers to shore excursion organisers to airports to health services in countries around the world. Certain decisions can only be taken at a government level. We are not seeing any other sector of global tourism taking such a comprehensive view of how to protect the travelling public. Indeed, it appears that hotels simply need to supply sanitisers, masks and enhanced cleaning protocols and hey presto, they are up and running.
So if the response from the cruise industry seems to be taking a very long time - well, that is how it should be. People's lives and livelihoods are at stake. This is an indication that the cruise lines, for one, are taking this very seriously.
For some 50 years at Mundy Cruising, we've been working with cruise lines and learning how luxury ships operate. What we've learnt is that despite widespread media hysteria suggesting otherwise, the cruise industry is totally focused on creating the very best customer experience in the whole of the hospitality industry. As soon as it is safe to travel again, your favourite ships will be ready to welcome you with open arms. Here are some of the measures that we expect to be introduced...
Increased Health Screening
When a vaccine is developed, proof of immunisation will no doubt be required, in the same way that a yellow fever certificate or exemption is the norm today.
Until then, we are going to see enhanced screening. This could be introduced via trace and track apps, self-administered tests, additional tests administered by cruise lines and airlines, temperature tests, and more, both in advance of travel, at the start of the trip, and possibly along the way too.
The key question relating to this is, what happens if someone is feeling poorly and self-identifies as being a possible carrier, or indeed is not feeling poorly but is identified and denied boarding at embarkation? In such an instance, there cannot be any question of that person losing money, so either this is something you need to be able to insure against, maybe as an add-on to your standard travel insurance, or the cruise lines themselves will need to take the risk with a full money back guarantee (which will need to apply not only to the cruise, but also travel to and from the ship).
Cruise lines which cater to hundreds rather than thousands will find the whole process easier and speedier, and by staggering embarkation and excursion times and stepping up the manpower, they will be able to keep delays to a minimum with barely any impact on the customer experience.
Temporary Quarantine and Isolation
Key issues which emerged at the onset of the pandemic back in February and March related to quarantine and isolation. Ships were allowed to dock, but without disembarking passengers, or they were barred entry to every port they visited. As a result, it is unsurprising that infection rates were high on those ships that had infected people on board. Cruise lines are working locally at present to ensure that at least one of the ports of call on any given itinerary will agree to allow an infected ship to come into port, and assist with quarantine/isolation and repatriation.
The aim is to ensure infected people are removed from the ship at the earliest opportunity, and that prior to evacuation, they can be effectively isolated on board. The proposed requirement is that cruise lines need to be able to provide isolation for 5% of passengers and 5% of crew (or 1% when debark is possible within 24 hours, ie. the port or country which has agreed to accommodate can be reached within 24 hours).
No more self-service buffets
For the smaller luxury ships, the transition from self-service buffets to à la carte or staff-served food stations will be painless. Bigger ships which rely on areas designed to service large numbers of guests quickly, with a minimum of staff intervention, will have more challenges. They will need longer restaurant opening hours and increased staff numbers to achieve their aims - they may even need to return to the widespread fixed seating requirements they have been trying to eliminate over the years.
Social distancing
Smaller luxury ships, operating with passenger numbers well under their potential maximum capacity, will not only continue to deliver higher levels of service and enhanced guest comfort, but will also make the most of their additional space, in order to distance where needed. Their various uncrowded dining venues can even reduce capacity where necessary. There is talk of single-use menus and masked service staff.
On larger ships, solutions might come from the repurposing of existing technology. Carnival's OceanMedallion programme - wearable tech designed to be an onboard key, credit card and much more - can track guest locations so rooms can be cleaned at the best time, and food and drinks can be delivered to the right table. The very same technology could be used to monitor passenger flow.
There is talking of creating cohorts on board, so specific groups of guests and crew are kept together and interaction between 'bubbles' is kept to a minimum. Sophisticated onboard technology should make it possible for such logistics to be put in place with minimum impact to the guest - they may not even be aware that they are in a cohort. A small ship can be considered to be a cohort in itself, with no further divisions necessary.
Relaxed cancellation policies
The cruise lines stepped up right at the start of the crisis to support their customers, introducing relaxed cancellation and amendment policies, and reassuring guests with enhanced consumer protection. These policies have been constantly evolving as more is known about when we will be able to travel again, and as people gain confidence relating to travel in 2021 and beyond they are taking advantage of Future Cruise Credits and flexible booking policies to make firm plans, giving them something to look forward to.
Passenger restrictions
Cruise lines operating in US waters have now voluntarily paused operations through to September. As they resume, they will consider individual circumstances rather than applying broad-brush restrictions based on age. Those with underlying health conditions may be required to submit 'fit to travel' documentation, but ultimately, the key aim is to prevent any outbreak occurring in the first place.
Enhanced cleaning protocols
With any communicable disease, ensuring that there are appropriate cleaning protocols is a key part of preventing the spread. Cruise lines are well equipped to address this, with many years of experience in containing viruses: it's much easier to strengthen an existing framework than set one up from scratch. We'll see more deep cleaning shipwide, especially in communal areas. Ships with an already high staffing level will switch to this with relative ease. Others might have to increase staff numbers.
We will also see the removal from cabins of anything which could communicate infection from cruise to cruise and which cannot be sanitised. This could include kettles and coffee machines, minibar contents, amenities, any papers, brochures and documentation, and so forth.
Whilst this will mean a rather more spartan offering on large ships, it also plays to the sustainability programmes they have already been implementing, and to the enhanced technology which enables daily programmes, shore excursions, dining confirmations and more to be downloaded to a personalised voyage planner which guests can keep on their phones or tablets.
Extra luxury touches will still be on offer from the luxury lines, which totally replenish at turnaround in any case.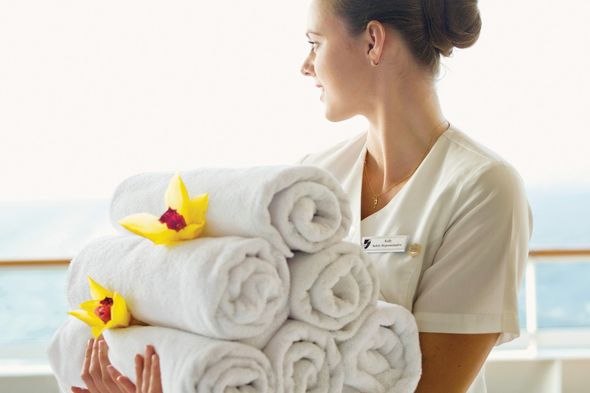 Ventilation systems will be upgraded
We often hear the concern that the spread of disease on a ship is all down to the air conditioning. Actually this is easily addressed through the imposition of minimum required air changes per hour, and the diversion of direct air flow from groups of passengers. Exhaust fans in bathrooms should be functional and operate continuously, all of the air handling units should be switched from recirculation to 100% outside air, and improved air filtration using HEPA filters or Ultraviolet Germicidal Irradiation (UVGI) should be implemented.
Some ships may be laid up
For some time now, we at Mundy have been discussing the remarkable growth of the global cruise fleet, and to what extent it is sustainable. With demand temporarily reduced it's likely that some lines will take a staggered approach to deploying their ships. Eventually, once the industry has proved its safety record and full confidence has returned, we expect a full return to the number of ships we see currently, but cruise lines will take the opportunity to permanently lay up or offload older tonnage with a high carbon footprint, which will be to everyone's benefit.
The appetite to build may be somewhat reduced in the medium term, and delivery of ships currently under construction will be delayed as the shipyards and supply chains take time to get back to speed.
Some ships will carry fewer passengers
A temporary drop in demand will mean ships won't operate at their usual high occupancy levels. This will actually help with many of the measures that will likely be implemented.
Cruise lines will be aiming to reduce capacity for a number of reasons. Of course they will need extra space to put in place the social distancing required, and they will also hold back quarantine and isolation cabins to be used in the event of an outbreak on board.
Additional crew cabins will be needed, as the staff to passenger ratio is increased to accommodate the additional measures needed. Also there may be limits on crew numbers per cabin - the EU recommendations stand at a new limit of maximum two crew members sharing any one cabin.
This will also definitely mean that in the longer term, the anticipation of highly discounted fares will prove to be unfounded. The cruise lines may revert to an older business model, with higher fares for fewer guests, more realistic pricing, and less 'nickel and diming' on board. In terms of booking incentives, look out for upgrades, onboard credit or low single supplements, and if it's the cruise you want, snap it up rather than waiting around for a better deal.
Shore excursions will change
Running a larger coach to allow for plenty of seating space is the norm for the luxury operators, whose passengers have paid a premium to ensure their comfort. The mainstream lines will have to adopt similar measures, with smaller group tours and less mixing of guests, so expect an increase in pricing.
In the collaborative world we are seeing now, cruise lines will be working closely with local operators, who in turn will be liaising with venues such as museums, historical sites, beach clubs and so forth, to ensure safe environments throughout shore tours. Obvious benefits include fewer 'shopping opportunities' in tat emporiums, smaller groups and less crowded venues, and more benefits for the local economy.
Itineraries may be revisited
Cruise lines are, understandably, going to be reluctant to change their scheduled itineraries and potentially lose business already booked. But different countries will lift travel restriction at different times, so changes are inevitable. Expect more round-trip itineraries closer to home, to enable travel by car to reach your ship.
The flight experience will be different
Interestingly, IATA claims (based on the limited evidence currently available) that the risk of virus transmission on board aircraft is low even without special measures. There are various reasons why this might be the case: passengers face forward, with limited face-to-face interactions; seats provide a barrier to transmission forward to aft; and air flow from ceiling to floor reduces the potential for transmission forward or aft. Furthermore, High Efficiency Particulate Air (HEPA) filters on modern aircraft clean cabin air to hospital operating theatre quality, further assisted by high levels of fresh air circulation. So don't expect empty middle seats, though you'll still have to wear mask and gloves for the duration of the journey as an added precaution.
Cruising will be back
Cruising is extraordinarily popular and enjoyed by millions. That demand has not diminished. A huge number of extraordinarily talented people, responsible for revolutionising cruising over recent years, are now working to enhance guest safety and ensure client confidence.
So stand by - as soon as it's safe to go, we'll be ready to help with your holiday plans.