Journey Type
Cruise only (Please call for flight options)
24-25 October
Setting sail from San Juan
Founded by the Spanish in 1521, Puerto Rico's capital is the second oldest European settlement in the Americas. Modern San Juan is a bustling city, home to over a third of the island's population, but the cobbled streets of the Old Town remain the biggest tourist draw. The colonial-era fortifications have been awarded UNESCO World Heritage status, crowned by the imposing waterfront El Morro fortress, and the Old Town is full of attractive, brightly coloured houses. Outside of the Old Town you can find designer shopping on Avenida Ashford, and the north of the city is fringed by beautiful beaches, including fashionable Condado with its hip hotels and bars.
Our tip
Hunt out the very best chuletas Can-Can and pastelillos – local food at its best is great. Don't settle for sorry imitations.
27 October
Barbados:

Bridgetown
There's more to Barbados than just beaches; the delightful colonial architecture of the old garrison in Bridgetown, the capital, is fully deserving of its UNESCO World Heritage status, and the island interior is littered with old sugar plantations and natural wonders such as Harrison's Cave.
29 October
French Guiana:

Isles Du Salut
1 November
Brazil:

Santarém
Santarém is situated at the 'Wedding of the Waters', where the Amazon and Tapajós rivers meet. A former rubber boom town, the city is now a focus for the controversial soybean industry. Activities on offer nearby include canoeing, wildlife walks and day trips to the laid back town of Alter do Chão.
2 November
Brazil:

Parintins
3-4 November
Brazil:

Manaus
Manaus is a remarkable place, a sweltering, steamy city in the heart of the Brazilian rainforest. Situated near the confluence of the Rio Negro and Amazon rivers, surrounded by thick jungle, the city is a major port in spite of its location some 1,000 miles from the sea.
9 November
Brazil:

Recife
Recife is a big and bustling metropolis on Brazil's north east coast, with a historic core that has been mostly swallowed up by the urban sprawl. The nearby town of Olinda is a more appealing place to spend your day ashore, with an arty vibe and some lovely colonial architecture.
11 November
Brazil:

Salvador
Colourful Salvador is Brazil's third biggest city and a vibrant centre for Afro-Brazilian culture, with frequent festivals that fill the streets with music and dancing. The historic core of the old city is the biggest tourist magnet, where elegant, brightly hued colonial buildings line the cobbled streets.
13-14 November
Brazil:

Rio de Janeiro
The carnival capital of the world, Rio de Janeiro needs little introduction. We can think of few cities in the world that are able to compete when it comes to location: hugging the beautiful sandy shore and surrounded by jungle-clad islands and mountains, including the iconic Corcovado, the setting for Brazil's most vibrant city is simply breathtaking.
17 November
Uruguay:

Montevideo
Located just across the Río de la Plata from Buenos Aires, Uruguay's underrated capital is a cosmopolitan and eclectic mix of colourful colonial architecture and high rise modernity. The 14-mile waterfront promenade, La Rambla, is a popular and pleasant place to be on a summer's evening.
18-19 November
Argentina:

Buenos Aires
The streets of Buenos Aires are redolent of a grand old European capital, lined with elegant architecture that wouldn't look out of place in Madrid or Paris. There is also plenty of Latin passion on display: Argentina is the home of tango, that most electrifying of dances, and has played host to countless revolutions over the years.
20 November
Uruguay:

Montevideo
Located just across the Río de la Plata from Buenos Aires, Uruguay's underrated capital is a cosmopolitan and eclectic mix of colourful colonial architecture and high rise modernity. The 14-mile waterfront promenade, La Rambla, is a popular and pleasant place to be on a summer's evening.
23 November
Argentina:

Puerto Madryn
Founded by Welsh settlers in 1886, bustling Puerto Madryn owes its popularity as a tourist destination to the incredible wildlife of the Península Valdés. From June to December the bay is filled with migrating right whales, and at the beginning of the season the whales come so close to the shore that you can view them from the pier.
25-26 November
Falkland Islands:

Stanley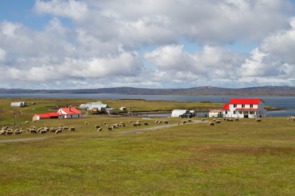 The rugged and windswept Falkland Islands make for a fascinating stop on the way to or from Antarctica. Over 80% of the population lives in the capital, Stanley, though humans are far outnumbered by other creatures, including penguins, sea lions and albatrosses.
28 November
Argentina:

Ushuaia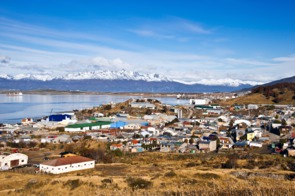 Perched on the ragged southern edge of Argentina, where the snow-capped Andes fall away into the churning sea, Ushuaia has a frontier town feel to it, and serves as the base for expeditions into the icy waters of Antarctica.
1 December
Chile:

Punta Arenas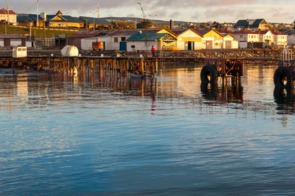 The weather-beaten city of Punta Arenas is a laid back and welcoming place, in spite of its inhospitable location on the shores of the Strait of Magellan. Nearby attractions include penguin colonies and the dramatic scenery of Torres del Paine National Park, while beyond the horizon lie the frozen wastes of Antarctica.
4 December
Chile:

Puerto Chacabuco
6 December
Chile:

Puerto Montt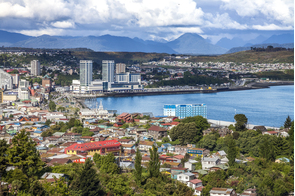 Puerto Montt is the capital of the Chilean Lake District, spread out around a wide bay against a backdrop of snow-capped volcanoes. This wild region offers a host of outdoor activities, including mountain hikes, kayaking, white water rafting, fishing, zip lining and cycling.
8-9 December
Arriving in Valparaíso
Characterful, colourful and a little chaotic, the port city of Valparaíso enjoys a somewhat awkward setting, scattered across 45 vertiginous hills. Thanks to this difficult topography the city streets are punctuated by steep staircases and funicular elevators, and energetic explorers will be rewarded with wonderful views of the pastel hued buildings that hug the slopes. Valparaíso's most famous former resident was the great Chilean poet Pablo Neruda, and you can visit one of his former residences, La Sebastiana, which now houses a small museum.
Don't miss
Although there are museums and some great architecture, what you really mustn't miss is the vibe of this quirky and characterful town, so take the time to soak up the atmosphere and enjoy the views.
Your home from home
Viking's hugely successful river cruise operation is now expanded with contemporary 930 guest ocean ships – six lovely sisters to start with – featuring attractive inclusive pricing and interesting itineraries.
What we love
The airy contemporary style of the ships, with fresh Nordic décor, is most appealing. Add to that the huge choices in dining and other facilities, and veranda staterooms throughout, not to mention included shore excursions and an excellent spa, and you have a winner.
| | |
| --- | --- |
| Capacity | 930 Guests |
| Crew | 602 International Staff |
| Style | On Viking it is all about the destination. Back on board, expect to socialise with like-minded travellers, in an easy, spacious and understated hotel style environment. |
| Year Built | 2015 (Viking Star) / 2016 (Viking Sky & Viking Sea) / 2017 (Viking Sun) / 2018 (Viking Orion) / 2019 (Viking Jupiter) |
| Tonnage | 47,800 grt |
| Length | 748 feet |
| Breadth | 95 feet |
| Cruising Speed | 20 knots |
More about Viking Sun
Tailor-make your trip
Ways to make it better
Where to stay in Puerto Rico
If you want to stay in San Juan itself, El Convento is definitely the nicest choice. For resort hotels, we love the Ritz Carlton Reserve at Dorado Beach.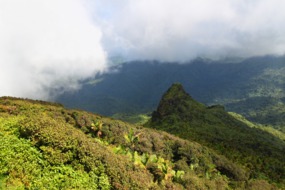 Explore Puerto Rico
In the El Yunque rainforest you will find the habitat of Puerto Rico's endangered wildlife - not to mention beautiful views.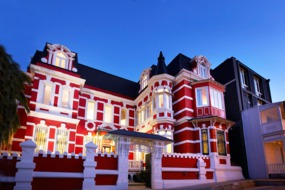 Where to stay in Valparaíso
The 23 room Palacio Astoreca comprises two buildings, including a completely restored national monument.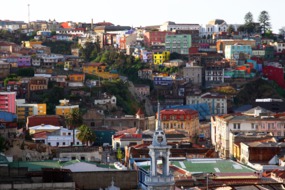 Around Valparaíso
For contrast, visit clean and orderly Viña del Mar just up the coast.