17-18 July
Setting sail from Reykjavik
Capital of Iceland and gateway to this extraordinary volcanic island, modern Reykjavik is home to an impressive collection of interesting attractions and places of historic significance. Visit the impressive Hallgrímskirkja church, relax in a thermal pool, potter around the old harbour, and with 24 hour daylight in the summer months, you can play golf at midnight, or choose the perfect place to view the midnight sun such as the lighthouse at Grotta or on the waterfront by Sólfar - the Sun Voyager sculpture. If you're like us, you will find travelling out of Reykjavik by land or sea to be unforgettable.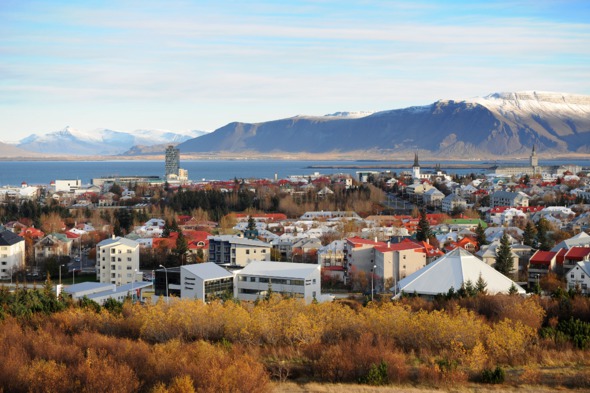 Our tip
Visit the impressive Hallgrímskirkja for its amazing architecture, and go up the tower for an extraordinary view of the city.
20-23 July
Greenland:

Nansen Fjord, Skjoldungen Island, Herjolfsnes, Hvalsey
25 July
Greenland:

Nuuk
Greenland's capital and largest town, Nuuk is positively cosmopolitan compared to the rest of this remote and isolated country. The setting amongst mountains and fjords is striking, and attractions include the Greenland National Museum and the picturesque Old Harbour.
26 July
Greenland:

Disko Bay
Disko Bay is one of Greenland's most spectacular sights, where calving glaciers send huge icebergs floating out across the water. These bergs can be several kilometres in length, and are sculpted into weird and wonderful shapes by the weather. Whatever you do, don't forget your camera!
27 July
Greenland:

Ilulissat
The spectacular Ilulissat ice fjord is a UNESCO World Heritage Site, and it's the source of the many icebergs that float out across Disko Bay. The town of Ilulissat itself is Greenland's third largest settlement, and activities on offer here include dog sledding and whale watching.
29 July
France:

Paris
Paris is a joyful expression of all that is glorious about France, a city of rarified tastes, romantic riverside walks and the occasional rather rude waiter. Culture vultures will be in seventh heaven, with a plethora of galleries and museums housing some of the finest art collections in the world, and the restaurant scene is absolutely first class.
29 July
Arriving in Kangerlussuaq
Founded in 1941 as a US Air Force base, Kangerlussuaq is home to Greenland's main airport and a place that most visitors to the country will pass through at some point. The town also offers easy access to the magnificent Greenland Ice Cap, and the surrounding countryside is a great place to see the Northern Lights.
Tailor-make your trip
Ways to make it better
Extend your stay in Reykjavik
Enjoy Icelandic design chic at the super cool 101 Hotel, with a perfect central location.
Private tours from Reykjavik
A helicopter tour is a must do here; the unforgettable spectacular day-tours will give you a completely different perspective.