Journey Type
Sailing from United States
12 September
Setting sail from Seward
The tiny city of Seward, home to just 3,000 people, enjoys a spectacular setting on the edge of Resurrection Bay, on Alaska's southern coast. Surrounded by the mountains and forests of the Kenai Fjords National Park, it's a great base for exploring the Harding Ice Field and the stunning scenery of the Kenai Peninsula. It's also a hub for activities including sea kayaking, birding and whale watching, and has a pleasant downtown area with plenty of shops and good quality restaurants. If you have time, the excellent Alaska Sealife Centre is also well worth a visit.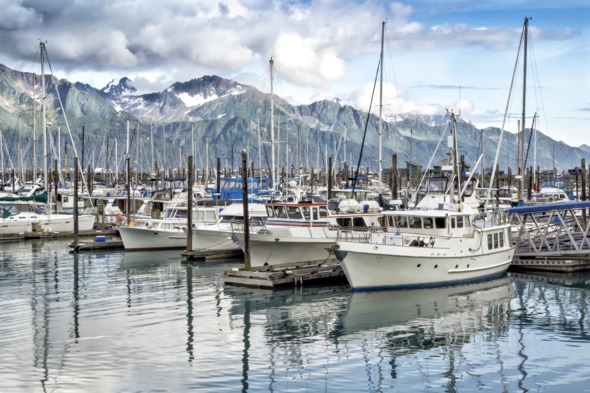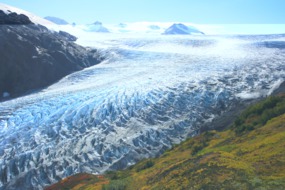 Don't miss
Kenai Fjords National Park is Alaska in one bite – fantastic sea life, stunning natural beauty.
13 September
United States:

Kodiak
Kodiak is known as Alaska's 'Emerald Isle' thanks to the lush green countryside, a landscape crisscrossed by gushing salmon-filled streams that provides a home to around 3,000 Kodiak bears, the world's largest. Ships dock in Kodiak city, an important fishing port with a fascinating Russian heritage.
15 September
United States:

Dutch Harbor
Dutch Harbor is the port that serves the city of Unalaska, and is known for the hardy fishermen who brave the turbulent, icy seas off the Aleutian Islands. Points of interest include the remains of defensive fortifications built during the Second World War and the striking Russian Orthodox church.
20 September
Russia:

Petropavlovsk-Kamchatsky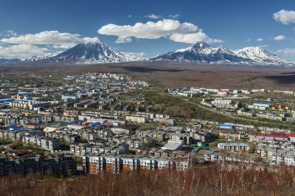 Petropavlovsk is the main city on Russia's remote Kamchatka peninsula, a hardy place where bleak Soviet tower blocks stand in the shadow of giant volcanoes. It's a spectacular setting, and the city serves as the main gateway for exploring Kamchatka's otherworldly landscapes and incredible wildlife.
23 September
Japan:

Kushiro
24 September
Japan:

Hakodate
Situated at the southern tip of Hokkaido, Hakodate was one of the first Japanese ports to open up to international trade in the 19th century, and a scattering of European-style buildings remain. Take a ride on the historic streetcar, tuck into delicious seafood or enjoy a revitalising dip in an onsen (hot spring).
26-27 September
Arriving in Tokyo
Tokyo is a dazzling introduction to Japan and its utterly unique culture. With more neon than Las Vegas and more Michelin stars than Paris, it's a real assault on the senses, but an efficient public transport system means it's easy to explore. Asakusa is an atmospheric district where you'll find Tokyo's oldest Buddhist temple, Akihibara spills over with shops selling electronic gadgets, and Harajuku is the place to marvel at the latest colourful Japanese fashions. It's also easy to escape the crowds and find a spot of peace and quiet, with tranquil parks, shrines and lotus ponds dotted around the city.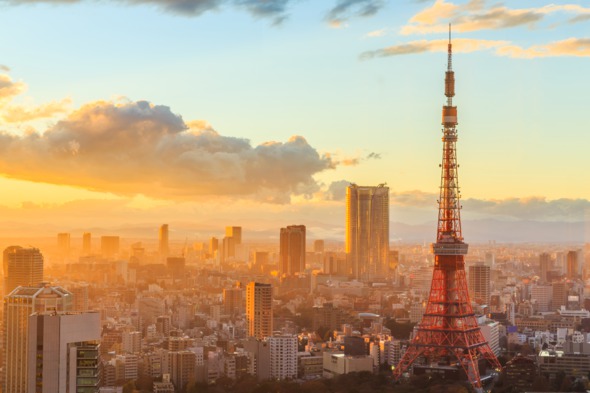 Our tip
Brave the metro subway system. It's efficient, fun and easy to use. The staff are unfailingly polite if you get confused or lost. Live like the locals but avoid rush hours!
Your home from home
The stylish and understated Silver Muse is the new flagship of the Silversea fleet, soon to be joined by sister ships Silver Moon and Silver Dawn.
What we love
Silversea's new sister ships represent an exciting evolution of Silver Spirit., offering the all-suite accommodation and small ship intimacy that is synonymous with rest of the fleet.
Capacity
596 Guests
Crew
411 International Staff
Style
The Italian verve and sparkle of Silversea makes for a social, welcoming ambience and cosmopolitan style. The international passenger mix creates a sophisticated and elegant environment.
Inclusions

Wines and spirits included at all times throughout the ship
Numerous dining options
Fully equipped gym
Daytime activities and lecture programme
Evening entertainment and shows
Gratuities
More about Silver Muse
Tailor-make your trip
Ways to make it better
Where to stay in Seward
If you're here, you're probably not stopping long. You get a better choice of hotels in nearby Anchorage.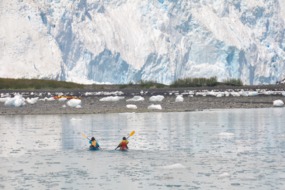 What to do around Seward
Go kayaking if you can – once you are away from the noise of engines and people, the peace is amazing.
Extend your stay in Tokyo
The Park Hotel at Shimbashi in the Shiodome Media Tower offers premium rooms with great views from the 25th floor up!
Get on your bike
The 25km Tokyo Great Cycling Tour is one of the city's greatest trips. See both secret back streets and landmark attractions on this full day extravaganza.