Journey Type
Cruise only (Please call for flight options)
20 September
Setting sail from Reykjavik
Capital of Iceland and gateway to this extraordinary volcanic island, modern Reykjavik is home to an impressive collection of interesting attractions and places of historic significance. Visit the impressive Hallgrímskirkja church, relax in a thermal pool, potter around the old harbour, and with 24 hour daylight in the summer months, you can play golf at midnight, or choose the perfect place to view the midnight sun such as the lighthouse at Grotta or on the waterfront by Sólfar - the Sun Voyager sculpture. If you're like us, you will find travelling out of Reykjavik by land or sea to be unforgettable.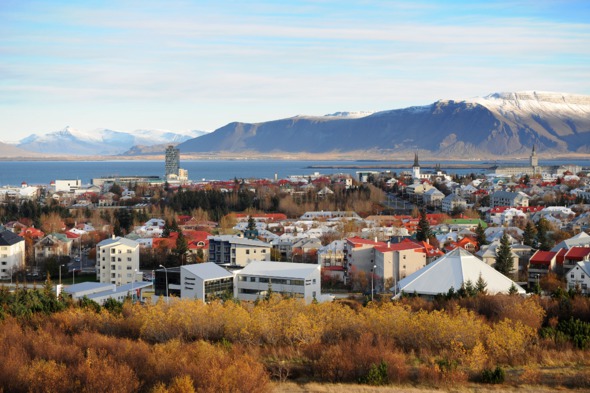 Our tip
Visit the impressive Hallgrímskirkja for its amazing architecture, and go up the tower for an extraordinary view of the city.
22 September
Greenland:

Skjoldungen Island
23 September
Greenland:

Prince Christian Sound
The spectacular Prince Christian Sound provides a protected passage for ships rounding the southern tip of Greenland, at times narrowing to just 1,500 feet across. Waterfalls cascade down the rugged mountain sides, and you can often spot whales and seals amongst the icebergs.
23 September
Greenland:

Aappilattoq
The tiny village of Aappilattoq enjoys a spectacular setting on Prince Christian Sound in southern Greenland, its colourful houses arranged at the foot of a steep mountain. This isolated community is home to around 120 people, who make their living by hunting or fishing.
24 September
Greenland:

Nanortalik
Nanortalik is the southernmost city in Greenland, and sits on a small island at the mouth of the Tasermiut fjord. The name means 'the place of polar bears', since bears come to hunt on the sea ice in summer, and the town is also known for its unique choir singing culture.
24 September
Greenland:

Uunartoq
25 September
Greenland:

Qaqortoq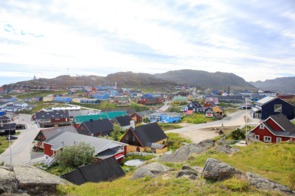 Qaqortoq is southern Greenland's largest town, though with just 3,000 inhabitants it's hardly crowded. A trip to the nearby hot springs at Uunartoq is recommended; relaxing in the 38°C water and watching icebergs drift across the bay is quite something.
25 September
Greenland:

Hvalsey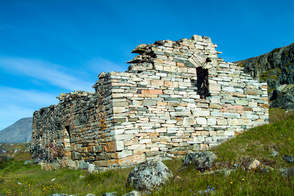 Norse settlers were exploring the coasts of North America long before Columbus made his journey across the Atlantic, and Hvalsey is home to some of the most important Norse ruins in Greenland. The 14th-century church here is remarkably well preserved, on the site of a major medieval farmstead.
27 September
Greenland:

Nuuk
Greenland's capital and largest town, Nuuk is positively cosmopolitan compared to the rest of this remote and isolated country. The setting amongst mountains and fjords is striking, and attractions include the Greenland National Museum and the picturesque Old Harbour.
29-30 September
Canada:

Iqaluit, Monumental Island (Baffin Islands), Lady Franklin Island
3 October
Canada:

L'Anse aux Meadows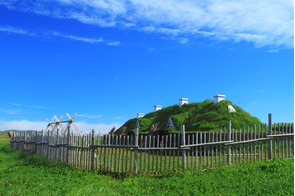 The archaeological site of L'Anse aux Meadows, on the northern tip of Newfoundland, is the only confirmed site of Norse settlement in North America. Vikings arrived from Iceland and Greenland some 500 years before Columbus, and you can visit the reconstructed timber and peat-turf homes that they built.
4 October
Canada:

Twillingate
5 October
Arriving in St John's (Newfoundland)
Newfoundland's capital is a laid back city with an arty vibe, situated on a dramatic harbour. The hilly streets lined with colourful row houses make for a great photo opportunity, and the downtown area is full of history, as well as some excellent pubs and a thriving folk music scene.
For once-in-a-lifetime tailor-made itineraries, Mundy Adventures specialises in expedition cruises to some of the most wonderful places on earth; places often only accessible by water.
Your home from home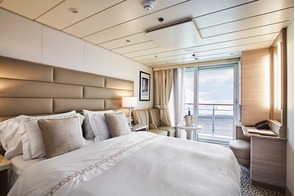 Thrilling, awe-inspiring and unforgettable – Silver Explorer takes just 144 privileged travellers on genuine adventures to some of the most remote regions of the planet.
What we love
The intimate Silver Explorer gives you a magical home from home as you visit places with no tourism infrastructure whatsoever. Without the ship, you simply wouldn't be able to get there. But as it is, you can travel like an intrepid Explorer, without any compromise on style or comfort.
Capacity
144 Guests
Crew
117 International Staff
Style
Cosy, welcoming, stimulating, exciting - this ship has it all! If you enjoy the finer things in life but have an adventurous spirit, you will find yourself in congenial company on board.
Inclusions

All meals including room service and hot rocks on deck in the evening
All drinks including wines and spirits
Stimulating lecture programme with expert naturalists and guides
All excursions and zodiac rides
Snorkel equipment on warm water cruises
Silversea complimentary parka for polar itineraries
Voyage DVD
Gratuities
More about Silver Explorer
Tailor-make your trip
Ways to make it better
Extend your stay in Reykjavik
Enjoy Icelandic design chic at the super cool 101 Hotel, with a perfect central location.
Private tours from Reykjavik
A helicopter tour is a must do here; the unforgettable spectacular day-tours will give you a completely different perspective.