Journey Type
Cruise only (Please call for flight options)
4 November
Setting sail from Dakar
The busy, dusty streets of Senegal's capital Dakar are filled with life and colour, noises, smells and local music. The city extends over the Cap Vert peninsula - as the name suggests, it is a former French colony, and the distinctive atmosphere still has traces of the French influence. You can get a great view of the flat peninsula and ocean beyond from Les Mamelles (The Breasts), two small and appropriately shaped hills. The people here are friendly and helpful, so expect a warm welcome - but watch out for the usual hustles and scams of a busy city.
Our tip
For a brief respite from the heat and bustle, go to the Institut Francais in the centre of town. We find it a bit of a haven; lovely gardens to enjoy over a coffee.
13 November
Arriving in Fort-de-France
The volcanic French Caribbean island of Martinique is a land of contrasts, from the lush rainforests of the north to the busy streets of the capital, Fort-de-France. There are plenty of lovely beaches geared towards relaxation, and the French influence also means that the cuisine is a cut above the usual Caribbean fare.
For once-in-a-lifetime tailor-made itineraries, Mundy Adventures specialises in expedition cruises to some of the most wonderful places on earth; places often only accessible by water.
Your home from home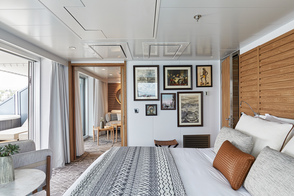 Sleek and stylish, Ponant's wonderful Explorer yachts blend luxury and intimacy with a discreet elegance and tasteful décor.
What we love
Named after six of France's most famous explorers, Le Champlain, Le Lapérouse, Le Bougainville, Le Dumont d'Urville, Le Bellot and Le Jacques Cartier offer exciting and adventurous itineraries in the utmost comfort. Technologically advanced, with the latest in environmentally friendly hardware, the new ships embody Ponant's trademark élan and flair, with just 92 spacious rooms and suites, a stylish pool deck and an intimate, refined onboard ambience.
Capacity
184 Guests
Crew
110 Staff
Style
Refined with a wonderful mix of a modern super yacht and nautical tradition, all with a French flair.
Inclusions

All meals in all venues
Alcoholic beverages
All soft drinks
Tea, coffee and pastries
All onboard entertainment
Unlimited use of the Fitness Centre
Expedition by zodiac on selected sailings
Complimentary WiFi
More about Le Dumont-d'Urville
Tailor-make your trip
Ways to make it better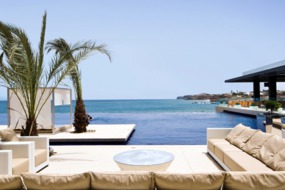 Where to stay in Dakar
The comfortable Radisson Blu is probably the best choice.
Sightseeing in Senegal
Outside Dakar lies the beautiful Pink Lake – Lake Retba. Its high salt content attracts a bacteria which creates the colour.