Journey Type
Sailing from Brazil
7 December
Setting sail from Manaus
Situated near the confluence of the Rio Negro and Amazon rivers, and surrounded by thick jungle, Manaus is a remarkable place, a sweltering, steamy city in the heart of the Brazilian rainforest. It first came to prominence as the centre of the rubber trade around the turn of the twentieth century, but these days it's a major port, despite its location some 1,000 miles from the sea, and it's also the centre of the Amazonian tourism industry. It's an interesting place and there are a few sights worth seeing before you venture into the jungle, including the famous Teatro Amazonas, a beautiful 19th century opera house.
Don't miss
The meeting of the waters of the Rio Negro and Rio Solimões is really something: different colours, different speeds and different temperature too.
8-9 December
Brazil:

Itacoatiara, Parintins
11 December
Brazil:

Santarém
Santarém is situated at the 'Wedding of the Waters', where the Amazon and Tapajós rivers meet. A former rubber boom town, the city is now a focus for the controversial soybean industry. Activities on offer nearby include canoeing, wildlife walks and day trips to the laid back town of Alter do Chão.
11 December
Brazil:

Alter do Chão
15-16 December
Brazil:

Belem
18 December
French Guiana:

Devil's Island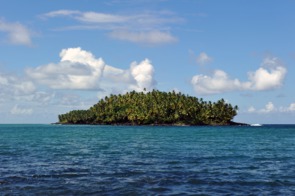 The Iles de Salut, a trio of islands more popularly known as Devil's Island, were the site of a French penal colony which gained notoriety thanks to the harsh treatment of inmates. As well as the overgrown ruins of the prison, which closed in 1953, the islands are today also home to a surprisingly rich variety of wildlife.
19 December
Arriving in Cayenne
For once-in-a-lifetime tailor-made itineraries, Mundy Adventures specialises in expedition cruises to some of the most wonderful places on earth; places often only accessible by water.
Your home from home
Sleek and stylish, these wonderful small ships blend luxury and intimacy with a discreet elegance and tasteful décor.
What we love
Named after six of France's most famous explorers, Le Champlain, Le Lapérouse, Le Bougainville, Le Dumont d'Urville, Le Bellot and Le Surville will offer exciting and adventurous itineraries in the utmost comfort. Technologically advanced, with the latest in environmentally friendly hardware, the new ships will embody Ponant's trademark élan and flair, with just 92 spacious rooms and suites, a stylish pool deck and an intimate, refined onboard ambience.
Capacity
184 Guests
Crew
110 Staff
Style
Refined with a wonderful mix of a modern super yacht and nautical tradition, all with a French flair.
Inclusions

All meals in all venues
Alcoholic beverages
All soft drinks
Tea, coffee and pastries
All onboard entertainment
Unlimited use of the Fitness Centre
Expedition by zodiac on selected sailings

Year Built
2018 (Le Champlain & Le Lapérouse) / 2019 (Le Bougainville & Le Dumont d'Urville) / 2020 (Le Bellot & Le Surville)
Tonnage
10,000 grt
Length
430 feet
Breadth
59 feet
Cruising Speed
16 knots
More about Le Champlain
Tailor-make your trip
Ways to make it better
Where to stay in Manaus
You may enjoy the Tropical Manaus Ecoresort, a few miles outside the city. To be frank in Manaus hotel quality is poor.
Excursions from Manaus
Go to Presidente Figueiredo to see the falls and enjoy extraordinary scenery and a taste of the rainforest.