Journey Type
Sailing from Cape Verde
29 March
Setting sail from Praia
Praia is the capital of Cape Verde, set on the south coast of the verdant and volcanic Santiago island. This is the largest island in the archipelago, and almost half of Cape Verde's population lives here. In the city itself you'll find a scattering of attractive Portuguese colonial architecture around the Praca Alexandre Albuquerque, while the lively fruit and vegetable market on Avenida 5 de Julio will give you a taste of local life at street level. The UNESCO-listed former capital, Cidade Velha, is only a 10-mile drive from Praia, and well worth a visit if you've got time.
30-31 March
Cape Verde:

Maio, Sal
1 April
Cape Verde:

São Nicolau
São Nicolau is one of the least known of the Cape Verde islands, and on first glance may appear barren and desolate. However, head inland and you'll discover a lush interior of verdant valleys and soaring peaks, with some great mountain hikes on offer. The island's quaint little capital, Ribeira Brava, is also well worth a visit.
2 April
Cape Verde:

Porto Novo (Santo Antão)
Santo Antão is perhaps the most beautiful of all the Cape Verde islands, a landscape of spectacular peaks and ridges where houses cling precariously to the steep valley sides. The winding mountain roads, which take you up past banana and sugarcane plantations, are not for the faint of heart, but worth it for the stunning views from the top.
3-4 April
Cape Verde:

Mindelo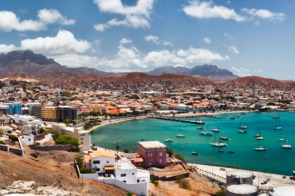 The dry and barren volcanic island of São Vicente is home to Cape Verde's most appealing port, the charming city of Mindelo. The cobbled streets and colonial architecture are a real pleasure to explore, and the city plays host to a raucous carnival in February.
5 April
Cape Verde:

Fogo
The island of Fogo is a remarkable sight, a towering and still active volcano where several hundred hardy (or perhaps foolhardy) souls still insist on living inside the crater. The otherworldy volcanic landscape is extremely fertile, and we recommend trying the excellent wine produced here.
6 April
Cape Verde:

Brava
7-8 April
Arriving in Praia
Your home from home
The much loved Island Sky is one of Noble Caledonia's flagships and considered by some to be one of the finest small ships in the world.
What we love
Exceptionally spacious suites, many with their own balcony, have a traditional feel created by the wooden panelling and brass features. The finely decorated public rooms enhance the modern country-style and touches like multiple screens in the main lounge ensure presentations from the expedition staff can be enjoyed by all on what are usually in-depth and fascinating itineraries.
Capacity
114 Guests
Staff
75 International Staff
Style
An informal and congenial atmosphere on board is driven by the communal spirit of shared exploration.
Inclusions

All meals including wine, beer and soft drinks
Afternoon tea
Tea and coffee available 24 hours
Expedition briefings and lectures
Sightseeing and excursions
Gratuities

Year built
1991
Last refurbished
2013
Tonnage
4,200 grt
Length
267 feet
Breadth
63 feet
More about Island Sky