Journey Type
Cruise only (Please call for flight options)
16-19 June
Setting sail from St Petersburg
Lovely St Petersburg was Russia's imperial capital, and remains its most European-facing city. The undeniable highlight of any Baltic cruise, the 'Venice of the North' features so much to see and do, with its high art, lavish architecture, dramatic history and rich cultural traditions. Cruise along scenic canals, enjoy the long summer evenings of the 'White Nights', marvel at the spires and domes that dominate the skyline, or feast on the extraordinary wealth of treasures housed within the Hermitage, one of the world's great art galleries.
Don't miss
You have to miss some things, because there is just so much to see. But whatever you do, try and get early entrance to the Hermitage for a whistle stop tour of key treasures.
20 June
Russia:

Mandrogi
Mandrogi is a reconstructed 19th century village that showcases Russian traditions, crafts and architectural styles. It's an interesting place, if a little touristy, and there are some quirky museums, including the popular Museum of Russian Vodka, home to 2,800 varieties of this famous spirit.
21 June
Russia:

Kizhi Island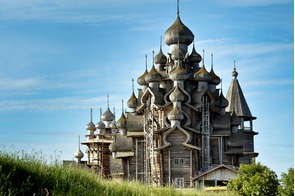 Kizhi Island, at the northern end of Lake Onega, is home to the amazing open-air Museum of Architecture. The highlight of this ensemble of traditional wooden buildings is the magnificent Church of Transfiguration, crowned by 22 domes and built without using a single nail.
22 June
Russia:

Goritsy
The picturesque little town of Goritsy sits on the river Sheksna between Moscow and St Petersburg. This sleepy part of Russia is home to some of the country's most famous monasteries, including the fortified Kirillo-Belozersky Monastery, founded in 1397 on the banks of Lake Siverskoye.
23 June
Russia:

Yaroslavl
Said to have been founded on the spot where Prince Yaroslav of Kyiv wrestled and killed a bear, the town of Yaroslavl is best known for its many churches. The pretty historic centre, a UNESCO World Heritage Site, gleams with clusters of golden onion domes.
24 June
Russia:

Uglich
Uglich is a real highlight of the Golden Ring, famous for its beautiful onion-domed churches. The city experienced its golden age under Ivan the Terrible, and it was here that the tsar's 10-year-old son and heir, Prince Dmitry, was murdered in one of the most notorious episodes in Russian history.
25-28 June
Arriving in Moscow
Moscow is one of the world's most evocative capitals, a city that conjures up images of Cold War espionage, bombastic military parades, golden onion domed churches and hardy commuters trudging through three feet of snow. This is where Russia's power and wealth are concentrated, along with much of its history, and you'll need at least a few days here if you are to begin to do the city justice; Red Square, Lenin's Tomb, Gorky Park and the Bolshoi Theatre are just a few of the many highlights.
Our tip
Always carry your passport with you, and the number of your embassy – threaten to use it if you fall out with the police over anything!
Your home from home
A large Russian-style ship, the River Victoria is a comfortable vessel and sails the legendary Volga River.
What we love
Whilst being one of the finest ships to sail the Russia waterways, the River Victoria isn't quite up to the standard of the Uniworld owned ships. That said, for us it's all about the destination in which she operates.
Capacity
202 Guests
Crew
110 Staff
Style
Relaxed and informal during the day, giving way to an elegant evening atmosphere.
Inclusions

All meals
Bottled water, coffee and tea
Sightseeing and excursions
Unlimited use of the fully equipped gym

Year Built
1982
Last Refurbished
2011
Length
423 feet
Breadth
55 feet
More about River Victoria
Tailor-make your trip
Ways to make it better
Our favourite hotel in St Petersburg
Centrally located and stylish, The Astoria is our choice.
Recommended tours in St Petersburg
Search the ship's programme for tours with exclusive out-of-hours access for a magical experience.
Where to stay in Moscow
Our considered view is that the Four Seasons is the best bet at the moment.
Make the most of Moscow
A private tour is a great way to explore the city if your time is limited.