Journey Type
Cruise only (Please call for flight options)
15 October
Setting sail from Los Angeles
The sprawling, sun-kissed city of Los Angeles needs little introduction. It's an energetic, creative place with cultural riches to match any world city, home to Hollywood glamour, the iconic beaches of Venice and Santa Monica, and affluent, image-conscious Beverley Hills. Yes, there is a lot of traffic on the 12-lane freeways that criss-cross the city, but there are also plenty of green spaces away from the crowds, and a vibrant restaurant scene. The City of Angels may not be everyone's cup of tea, but no trip to California is complete without experiencing this buzzing metropolis.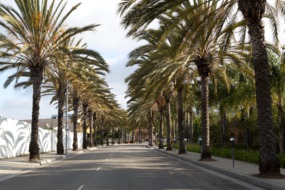 Our tip
Don't try and walk along the street. People will think you're weird. (One of our owners got stopped by the police for doing this not so long ago!).
22 October
United States:

Honolulu
If the word Honolulu makes you think of deserted beaches and dusky maidens, think again! Despite its remote location in the North Pacific, Honolulu is busy busy, in particular the boisterous, touristy Waikiki beach.
23-25 October
United States:

Kauai, Lanai, Kailua
28 October
Kiribati:

Fanning Island
1 November
French Polynesia:

Bora Bora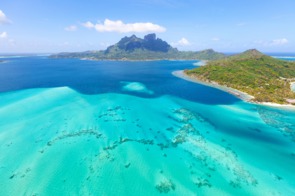 Bora Bora is the very definition of idyllic, a diminutive Polynesian island dominated by rainforest-clad volcanic peaks, overlooking an electric blue lagoon ringed by coral reefs. The beaches and over-water bungalows are particularly popular with honeymooners, and the clear waters of the lagoon are perfect for snorkelling.
2 November
French Polynesia:

Papeete
Papeete is the capital of French Polynesia, situated on the northwest coast of Tahiti. The port is not the most magical spot, so we advise venturing forth to luxuriate in the turquoise lagoons, relax on the white sand beaches fringed with palm trees, and explore the rugged mountain peaks.
3 November
French Polynesia:

Raiatea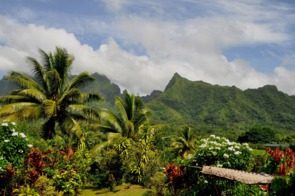 Raiatea, the second largest of the Society Islands, played a vital role in the development of Polynesian culture; it was from this island that settlers departed for Hawaii and New Zealand over a millennium ago. The island feels wilder than Tahiti, with steep, jungle-covered mountains, cascading waterfalls and ancient Polynesian temples.
5 November
Cook Islands:

Rarotonga
Surrounded by kaleidoscopic reefs, white sand beaches and beautifully blue waters, Rarotonga is exactly what most of us picture when we think of the South Pacific. The lagoon is ideally suited to snorkelling and scuba diving, while the island itself is home to ancient sacred sites and pretty coral churches.
6 November
Cook Islands:

Arutunga
9 November
American Samoa:

Pago Pago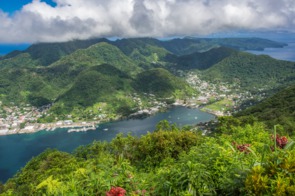 The little fishing town of Pago Pago is the capital of American Samoa, a rarely visited but utterly enchanting archipelago in the South Pacific. Pago Pago sits on a beautiful natural bay on the island of Tutuila, a lush and mountainous place where Polynesian traditions remain strong.
10 November
Samoa:

Apia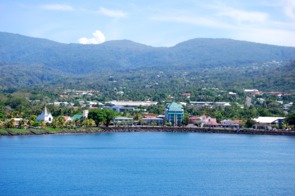 Apia is the capital of Samoa, situated on the north coast of the island of Upolu. Highlights include the colourful markets and Robert Louis Stevenson's former house, now a museum, though you may just want to use the city as a jumping off point for the beautiful beaches located further along the coast.
12-13 November
Fiji:

Savusavu, Suva
17 November
New Zealand:

Russel
18 November
New Zealand:

Auckland
Auckland offers a buzzing waterfront and a vibrant arts scene, and provides a fascinating introduction to New Zealand's proud cultural heritage. The centre is home to excellent shopping and a number of fantastic restaurants, and to the west is the city's oldest wine region.
21-22 November
New Caledonia:

Ile de Pins, Mare
24-25 November
Vanuatu:

Luganville, Ureparapara Island
27 November
Solomon Islands:

Tivanipupu Island
28 November
Solomon Islands:

Honiara
Honiara is the capital of the Solomon Islands and the nation's only real port, situated on the largely unspoilt island of Guadalcanal. Reminders of the famous Second World War battle that took place here can be seen all over the island, as well as under the water at the fantastic dive sites off the north coast.
30 November
Papua New Guinea:

Alotau
Alotau is the capital of Milne Bay province, on the remote eastern tip of mainland Papua New Guinea. Milne Bay was the scene of heavy fighting during the Second World War, and today you can dive amongst the wreckage left behind. Alotau also serves as a base for visiting the nearby islands, including the fascinating Trobriand archipelago.
1-2 December
Papua New Guinea:

Kitava, Conflict Islands
4 December
Australia:

Cairns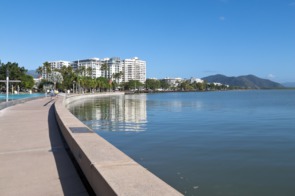 Cairns is a buzzing tourist hub, gateway to the Great Barrier Reef and the Daintree Rainforest. A snorkelling trip out to the reef is the most obvious excursion to take here, but other options include riding the Skyrail cableway over the rainforest canopy or swimming in the croc-free saltwater lagoon.
5 December
Australia:

Townsville
6 December
Australia:

Great Barrier Reef
The Great Barrier Reef is one of the world's true natural wonders, a remarkable marine habitat stretching for some 1,600 miles along the coast of Queensland. This string of idyllic islands and colourful reefs offers some of the best snorkelling and diving on earth, along with stunning beaches and pristine rainforest.
7 December
Australia:

Fraser Island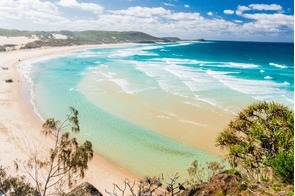 Fraser Island, known as K'gari by the local Aboriginal people, is the largest sand island in the world, and the only place on earth where rainforest grows on sand. Travellers are drawn here by the endless beaches and lush vegetation, as well as wildlife including dingos, dugongs and dolphins.
9-10 December
Australia:

Sydney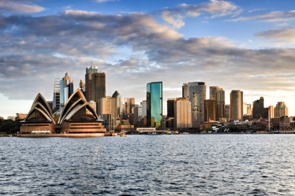 One or our favourite cities in the world, we love pretty much everything about Sydney. Offering outdoor living at its best, the city is known for the excellent beaches but offers so much more, including a thriving and varied food scene inspired by Asian and European flavours.
11 December
Australia:

Canberra
13-16 December
Australia:

Hobart, Port Arthur (Tasmania), Flinders Island, Phillip Island
17 December
Australia:

Melbourne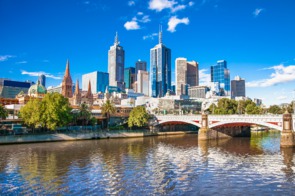 Culturally sophisticated and fashionably hip, Melbourne combines edgy street art with gold rush era architecture while offering excellent restaurants and top museums. If you have time, check out some of Victoria's other attractions, including the beautiful 12 Apostles and the excellent wines of the Yarra Valley.
19 December
Australia:

Adelaide
Residents of Adelaide still take pride in the fact that their city was freely settled rather than founded as a penal colony, and the city traditionally had a reputation as a stuffy and pious sort of place. Adelaide has moved on, however, and these days it's a thriving cultural hub with a superb culinary scene.
20 December
Australia:

Kangaroo Island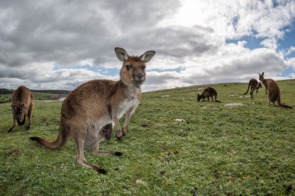 Kangaroo Island is Australia's third biggest island, situated to the south west of Adelaide. It's a rural and underdeveloped place, with an abundance of wildlife and some spectacular scenery, such as the weird, weather-sculpted boulders of Flinders Chase National Park.
21 December
Australia:

Port Lincoln
25 December
Australia:

Bunbury
26 December
Australia:

Fremantle (Perth)
The capital of Western Australia, Perth sits in glorious isolation on the shores of the Indian Ocean, where the Swan River meets the sea. Laid back and relaxed, this must be one of the most easy-going capital cities in the world, with everything within easy reach.
27 December
Australia:

Geraldton
29 December
Australia:

Exmouth
Situated at the tip of the North West Cape in Western Australia, the tourist town of Exmouth is the gateway to the Ningaloo Reef marine reserve. This is a spectacular place to snorkel, and the reef's most famous visitors are the whale sharks that pass through here between April and July.
31 December
Australia:

Broome
For travellers by ship, Broome is the gateway to the extraordinary Kimberley region, but that's not all. It is also the pearling capital of Australia and boasts fantastic white sand beaches and memorable sunsets.
2-3 January
Australia:

Kuri Bay, Newcastle (New South Wales)
5 January
Australia:

Darwin
More of a large town than a city, Darwin is less about what's contained within the city limits and more about the huge expanse of wild landscape that's outside it. Closer to Jakarta than Sydney, the city really does feel remote in its tropical perch.
7 January
Timor-Leste:

Dili
9 January
Indonesia:

Komodo Island
Komodo Island is situated within an area of spectacular natural beauty, home to the famous Komodo dragon. The stunning beaches are tinged with pink thanks to the high concentration of red coral just offshore, and the waters draw intrepid divers from all over the world.
10 January
Indonesia:

Bali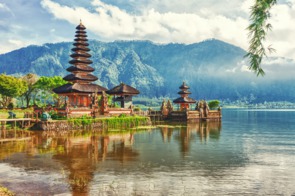 The beaches, spectacular volcanic scenery and lush green rice terraces lend Bali a natural beauty that seems to dovetail perfectly with the island's distinct Hindu culture, which adorns the landscape with stunning temples.
12 January
Indonesia:

Semarang
The sweltering city of Semarang, on the north coast of Java, is an intriguing mish-mash of Chinese, Islamic and Dutch colonial influences. We recommend escaping the heat with a trip up into the mountains to visit a coffee plantation, or joining an excursion to the extraordinary temple complex at Borobudur.
15 January
Singapore:

Singapore
Singapore's heritage as an important trading post means that there is a real cultural mix, with four official languages: English, Chinese, Malay and Tamil. Step away from the gleaming towers and you'll find yourself transported into another world amongst the intoxicating streets of Chinatown and Little India.
16 January
Malaysia:

Kuala Lumpur (Port Kelang)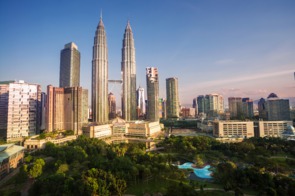 Malaysia's capital is a hot and humid cultural melting pot, defined by its distinctive Malay, Chinese and Indian communities. The dazzling Petronas Towers are KL's most recognisable landmark, while at street level you'll find temples and mosques, elegant colonial buildings and bustling markets.
17 January
Malaysia:

Penang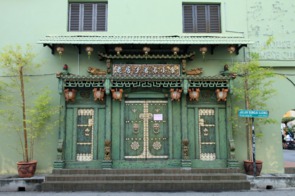 The Malaysian island of Penang is a fascinating blend of East and West, far more than just a beach destination. Lovely Georgetown, a UNESCO World Heritage Site, is home to British colonial architecture, crumbling Chinese shophouses and incense-perfumed temples.
18 January
Thailand:

Phuket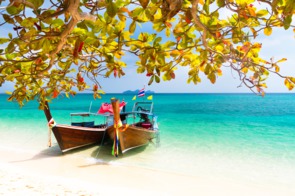 As well as a plethora of luxury resorts, Phuket has a charming old town replete with pretty Sino-Portuguese architecture, and acts as a jump-off point for exploring nearby islands and coastline. Koh Phing Pan, better known as James Bond Island, and Ko Phi Phi are breathtakingly beautiful, as are the limestone formations that surround Krabi.
19 January
Indonesia:

Pulau Weh
22 January
Sri Lanka:

Hambantota
23 January
Sri Lanka:

Colombo
Colombo may be a little chaotic, but there is plenty to recommend Sri Lanka's colourful capital. Faded colonial architecture and beautiful Buddhist temples hint at the city's considerable history, while the excellent restaurants, lively bars and characterful streets provide the perfect introduction to contemporary Sri Lankan culture.
25 January
Maldives:

Malé
The low lying reef protected atolls of the Maldives, set in the crystal clear turquoise waters of the Indian Ocean, are the perfect place to relax and unwind. A great choice for a honeymoon or romantic getaway, the Maldives also appeal to active travellers who love watersports, snorkelling and diving.
29-30 January
Seychelles:

Seychelles
31 January - 2 February
At sea
3-4 February
Kenya:

Mombasa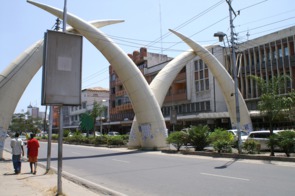 Mombasa is a vibrant and colourful city of contrasts, and the gateway to some of the extraordinary national parks of East Africa, as well as being an appealing beach destination with some beautiful hotels.
5 February
Tanzania:

Zanzibar
The name Zanzibar evokes images of sultans and spice traders, an island of beautiful white sand beaches and turquoise waters criss-crossed by dhows. It's also a great place for spotting wildlife, including dolphins, antelope and the rare red colobus monkey.
6 February
Tanzania:

Dar es Salaam
Once just a sleepy fishing village, Dar es Salaam has mushroomed into one of the busiest ports in Africa. The rich history of Tanzania is reflected in a mixture of Arab, Indian, African and German architecture, and the National Museum contains the famous fossils of early humans found by Louis and Mary Leakey in the Olduvai Gorge in 1959.
8 February
Mayotte:

Mamoudzou
10 February
Mozambique:

Mozambique Island
13-14 February
Mozambique:

Inhaca Island
South Africa:

Richard's Bay
15 February
South Africa:

Durban
Durban is a real melting pot; not only does the city feel more authentically African than Cape Town, it's also home to a large Indian community that lends the city a distinctly Asian flavour. The lovely waterfront promenade was revamped for the 2010 World Cup, and the beach is a popular destination for domestic tourists.
17 February
South Africa:

Port Elizabeth
Port Elizabeth is home to some nice beaches and a handful of interesting buildings, but it is perhaps not the most exciting city on the Sunshine Coast. There are plenty of things to see and do in the surrounding area, however, and we highly recommend a day trip to the fantastic Addo Elephant Park.
18 February
South Africa:

Mossel Bay
19-20 February
Arriving in Cape Town
This magical multicultural city is the perfect jumping off point to explore Southern Africa, but do make sure you linger a few days to enjoy the buzz of a city where Africa meets a European-style cosmopolitan atmosphere, creating a vibrant melting pot of cultures and religions. With flat-topped Table Mountain soaring above the city, beautiful natural landscapes, and gardens within the city, you never feel far from nature here. Enjoy the waterfront, museums and elegant architecture, then take the time to venture further afield - there is so much within easy reach.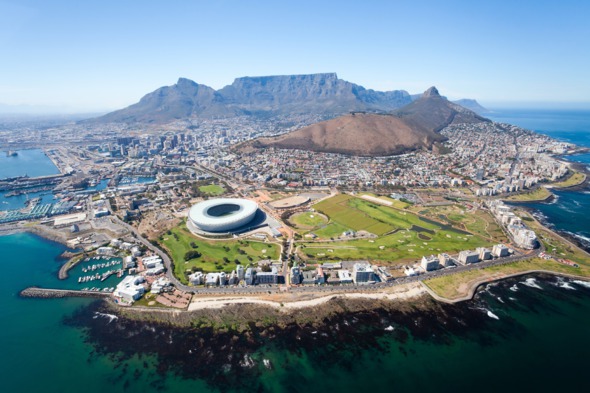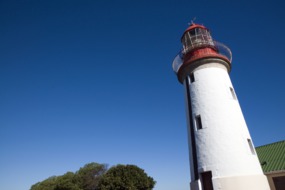 Don't miss
Robben Island is a must, possibly the most well known island-prison in the world. Make sure you book ahead - the ferries leave at specific times and numbers are limited.
Your home from home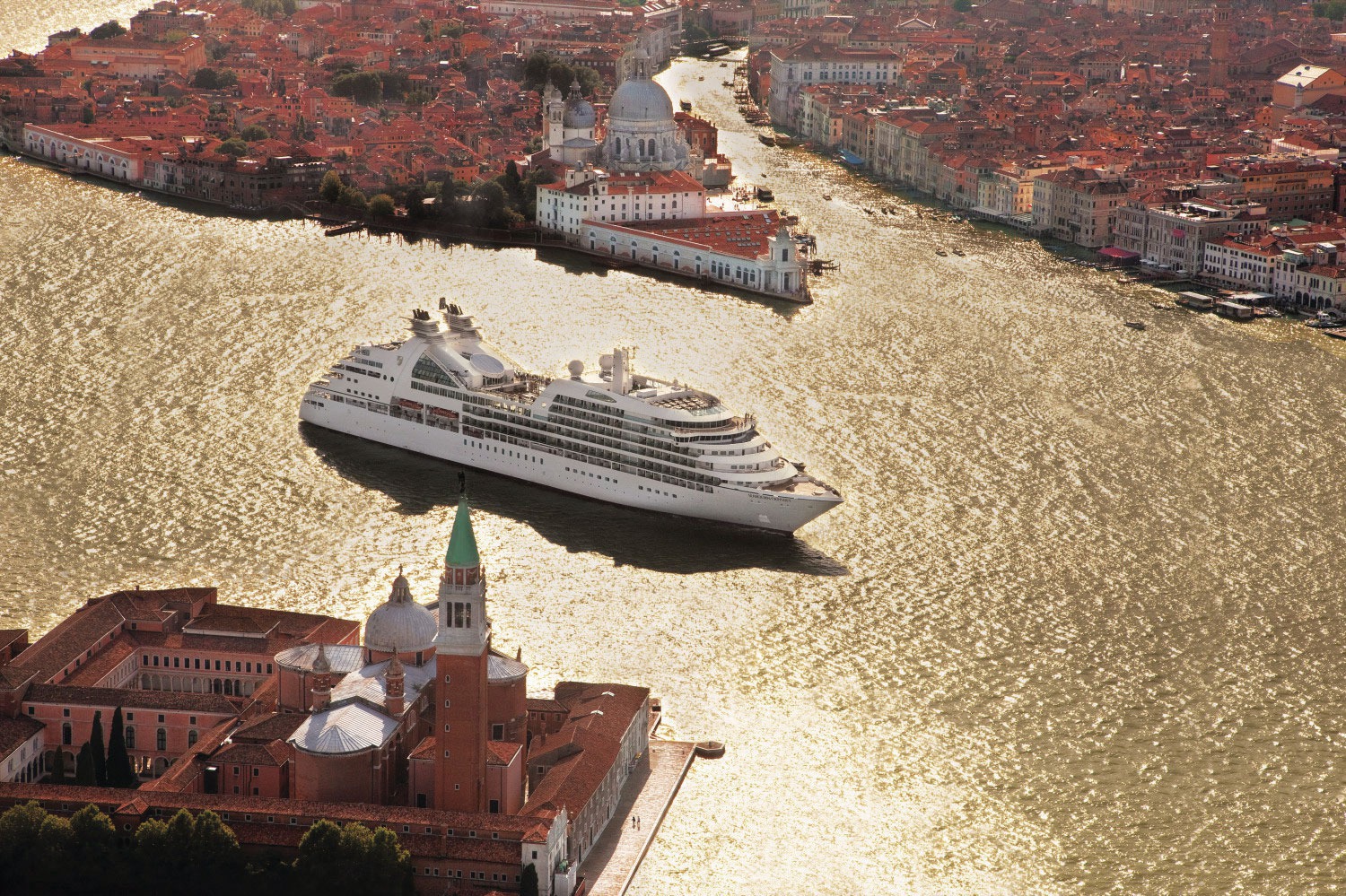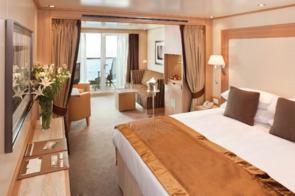 Any one of Seabourn's lovely little trio of spacious and elegant sisters is the perfect choice for a combination of contemporary style and traditional expert hospitality.
What we love
When Seabourn built Odyssey, Sojourn and Quest, over a period of just three years, we were delighted. Not only because each one is beautiful, but also because their similarity means that they are interchangeable, enabling you to travel all over the world in a familiar environment.
Capacity
458 Guests
Crew
330 International Staff
Style
The contemporary décor appeals to a sophisticated and cosmopolitan crowd. With lots of outside space, you can enjoy an al fresco experience if you choose.
Inclusions

All meals in all restaurants including room service
Open bar policy throughout the ship
On board entertainment and lecture programme
Extensive spa and fitness facilities
Programme of daytime activities
Gratuities

YEAR BUILT

Odyssey 2009, Sojourn 2010, Quest 2011
Last Refurbishment
Odyssey 2017, Sojourn 2017, Quest due 2018
TONNAGE
32,000 grt
Length
650 feet
Breadth
84 feet
Cruising Speed
19 knots
More about Seabourn Sojourn
Tailor-make your trip
Ways to make it better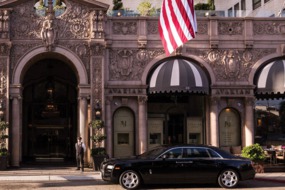 Where to stay in Los Angeles
It depends where you want to be – at the beach, in Hollywood, or Beverly Hills. At Mundy we think you want to be in Beverly Hills at the Beverly Wilshire.
See the City of Angels from above
Take a helicopter for a great perspective on this sprawling city – see the movie stars' homes, Hollywood and Santa Monica.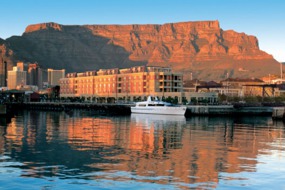 Where to stay in Cape Town
There are some great hotels to choose from, but at Mundy we especially like the Cape Grace on the waterfront.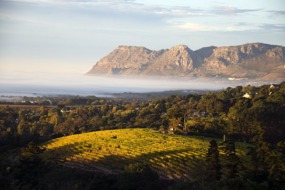 Extend your stay in South Africa
Take a wine tour to Stellenbosch and Franschhoek for tastings, beautiful countryside and great food.