Journey Type
Sailing from Singapore
26 January
Setting sail from Singapore
Singapore is one of the world's richest cities, with a standard of living to match, and in recent years it has moved on from its image as a sterile, overly officious nanny state to become one of the most dynamic and exciting cities in the region. Singapore's heritage as an important trading post means that there is a real cultural mix, with four official languages: English, Chinese, Malay and Tamil. Step away from the gleaming towers and you'll find yourself transported into another world amongst the intoxicating streets of Chinatown and Little India.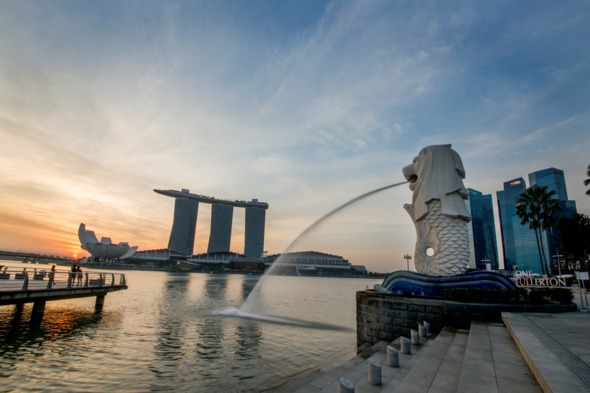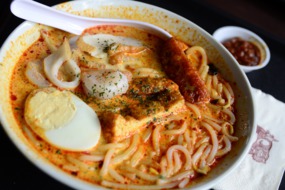 Our tip
Food is a passion, almost a religion, in Singapore. So plan ahead, ask the locals and make sure you don't miss out – street food or super-fancy, either is great.
27 January
Malaysia:

Malacca
The port of Malacca has a rich multicultural heritage, a product of its history as an important trading hub. Over the years the Arabs, Portuguese, Dutch and British all held sway here, which is reflected today in the city's eclectic architecture and unique cuisine.
29 January
Malaysia:

Penang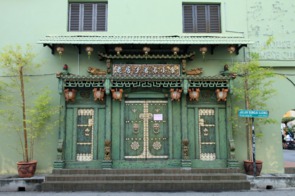 The Malaysian island of Penang is a fascinating blend of East and West, far more than just a beach destination. Lovely Georgetown, a UNESCO World Heritage Site, is home to British colonial architecture, crumbling Chinese shophouses and incense-perfumed temples.
30 January
Thailand:

Phuket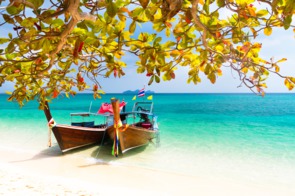 As well as a plethora of luxury resorts, Phuket has a charming old town replete with pretty Sino-Portuguese architecture, and acts as a jump-off point for exploring nearby islands and coastline. Koh Phing Pan, better known as James Bond Island, and Ko Phi Phi are breathtakingly beautiful, as are the limestone formations that surround Krabi.
31 January - 1 February
At sea
2-4 February
Myanmar (Burma):

Yangon
Yangon, formerly known as Rangoon, may no longer be Myanmar's capital, but it remains the largest and most important city, and the gateway to exploring this beautiful country. Visible from all around the city is Yangon's crowning jewel, the shimmering golden Shwedagon Paya, one of South East Asia's most beautiful Buddhist temples.
6 February
India:

Port Blair
Originally established by the British as a penal colony, vibrant Port Blair is the biggest town in the Andaman Islands. You can learn about the colonial history of the islands at a handful of interesting museums, or you may prefer to head straight for one of the beautiful beaches.
10-11 February
Sri Lanka:

Colombo
Colombo may be a little chaotic, but there is plenty to recommend Sri Lanka's colourful capital. Faded colonial architecture and beautiful Buddhist temples hint at the city's considerable history, while the excellent restaurants, lively bars and characterful streets provide the perfect introduction to contemporary Sri Lankan culture.
14 February
Maldives:

Maldives
19-20 February
Seychelles:

Mahé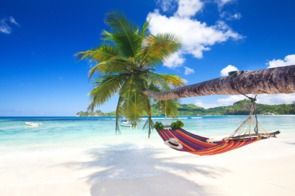 Mahé is the largest island in the Seychelles, home to the diminutive capital, Victoria, and 90% of the country's population. It's the quintessential tropical paradise, a sun-drenched landscape of granite mountains, lush jungle and heavenly white sand beaches.
24-25 February
Mauritius:

Port Louis
The lovely island of Mauritius in the Indian Ocean is striking in the contrasts between its mountainous backdrop and beautiful white sand beaches. The capital Port Louis, on the northwest coast, dates back to 1735 and is a busy administrative centre, packed with office workers during the day.
26 February
Réunion:

Saint-Denis de la Réunion
27 February - 2 March
At sea
3-4 March
South Africa:

Richards Bay
Richards Bay itself is an industrial city with little in the way of tourist sights, but the port serves as a gateway for the many attractions of KwaZulu-Natal province. Head inland and you'll find traditional Zulu villages, undulating hills and wildlife including crocodiles, hippos and the rare black rhino.
5 March
South Africa:

Durban
Durban is a real melting pot; not only does the city feel more authentically African than Cape Town, it's also home to a large Indian community that lends the city a distinctly Asian flavour. The lovely waterfront promenade was revamped for the 2010 World Cup, and the beach is a popular destination for domestic tourists.
7-8 March
South Africa:

Port Elizabeth
Port Elizabeth is home to some nice beaches and a handful of interesting buildings, but it is perhaps not the most exciting city on the Sunshine Coast. There are plenty of things to see and do in the surrounding area, however, and we highly recommend a day trip to the fantastic Addo Elephant Park.
10-16 March
South Africa:

Cape Town
Cape Town is a magical, multicultural city where Africa meets a European-style cosmopolitan atmosphere, creating a vibrant melting pot of cultures and religions. With flat-topped Table Mountain soaring above the city, beautiful natural landscapes, and gardens within the city, you never feel far from nature here.
18 March
Namibia:

Lüderitz
Sandwiched between the Namib Desert and the wild Atlantic coast, the geographically isolated town of Lüderitz is notable for its surreal Art Nouveau architecture. Most of these colourful buildings date back to the diamond rush period of the early 20th century, when Namibia was a German colony.
20-21 March
Namibia:

Walvis Bay
Walvis Bay is situated on the edge of a tidal lagoon, sheltered from the Atlantic by a long sand spit. This important wetland area is famous for its birdlife, home to one of southern Africa's largest flamingo colonies, and it's a short drive to the city of Swakopmund, known for its quirky German colonial architecture.
24 March
Angola:

Luanda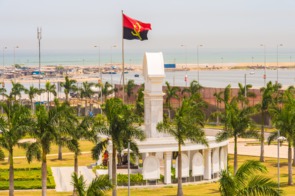 Luanda is a city of shocking contrasts, where conspicuous consumption fuelled by Angola's oil boom rubs up against sprawling shanty towns. The most attractive areas of the city date back to the Portuguese colonial period, including the fortress of São Miguel de Luanda and the pleasant seafront promenade known as the Marginal.
27 March
São Tomé and Príncipe:

Bom Bom Island
28 March - 3 April
At sea
4 April
Cape Verde:

Praia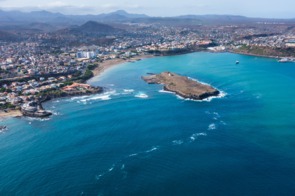 Praia is the capital of Cape Verde, set on the south coast of Santiago island. Highlights include a scattering of attractive Portuguese colonial architecture around the Praca Alexandre Albuquerque, while the lively fruit and vegetable market will give you a taste of local life at street level.
8 April
Canary Islands:

Las Palmas de Gran Canaria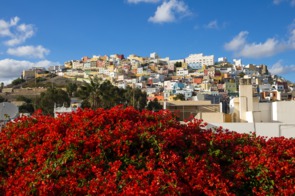 Said to have the world's most perfect climate, cosmopolitan Las Palmas is the capital of Gran Canaria and the largest city in the Canary Islands. The charming old quarter, La Vegueta, is where you'll find the city's most interesting colonial architecture, while beach fans should head for lovely Playa de las Canteras.
11 April
Morocco:

Marrakech
Marrakech is an incomparable assault on the senses, not least amongst the drummers, storytellers and snake charmers of the famous Jemaa El Fna. It's a place to get lost in the souks, admire the astonishing architecture of the Saadian Tombs and the Koutoubia Mosque, or escape the hustle and bustle with a refreshing mint tea.
12 April
Morocco:

Tangier
After years of neglect, Tangier is finally being restored to its former glory as a cosmopolitan crossroads between Europe and Africa. The Moroccan government has invested heavily in modern infrastructure, while the spruced up medina shines with a new-found cultural dynamism.
13 April
Arriving in Málaga
Málaga has at times had its reputation dragged down by association with the overdevelopment and high rise horrors of the Costa del Sol, which is a great shame, as there is plenty to satisfy the discerning traveller. The labyrinthine historic centre is right next to the cruise port, and has been given something of a makeover in recent years. Nowadays there are plenty of chic restaurants and bars where you can ease into the rhythms of life in southern Spain, before exploring sights including the intriguing, unfinished Gothic cathedral, and a museum devoted to Málaga's most famous son, Pablo Picasso.
Don't miss
Merienda time! The Spanish eat late, so you'll need to indulge in this late afternoon snack to keep you going until your evening meal.
Your home from home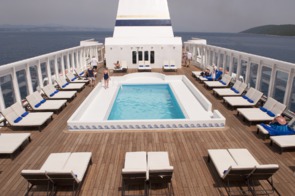 A comfortable home from home, the Aegean Odyssey is the perfect size for in-depth exploration.
What we love
Providing a relaxed atmosphere the Aegean Odyssey reaches smaller bays and out of the way coves, all of which help provide a focus on the destination.
Capacity
378 Guests
Style
Classically elegant, but far from stuffy and formal.
Inclusions

All meals and snacks on board
Alcoholic drinks with meals
Shore visits including entrance fees and refreshments
Gratuities
Flights and transfers
More about MV Aegean Odyssey
Tailor-make your trip
Ways to make it better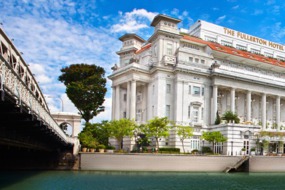 Our favourite hotel in Singapore
So many wonderful hotels. We like a lot of them, but our choice is the Fullerton.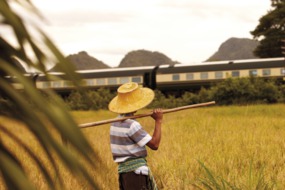 Leave Singapore in style
If you've got time and the dates work, take the Eastern and Oriental Express train to Bangkok.
Where to stay in Málaga
We love the Málaga Gibralfaro Parador, in the old quarter with views over the harbour.
Explore Andalusia
Travel north to Granada and the Alhambra Palace, an unmissable example of Moorish architecture in the foothills of the Sierra Nevada.