22 June
Setting sail from Bergen
Beautiful Bergen, Norway's former capital, is a perfect city to explore on foot. Bryggen - the old Hanseatic wharf, and a UNESCO World Heritage site - still has the old harbour timber buildings, whilst other attractions include the funicular up Mount Floyen, with stunning views when you reach the top, and the busy fish market.
23 June
Norway:

Olden
Olden is a lovely little village surrounded by green meadows and rippling mountain scenery, at the mouth of the Oldeelva river. The most popular excursion is a trip to the nearby Briksdalsbreen, an arm of the vast Jostedalsbreen glacier.
24 June
Norway:

Hellesylt
24 June
Norway:

Geiranger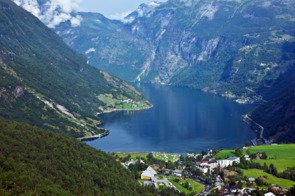 The Geirangerfjord is arguably the most spectacular fjord in all of Norway, a sinuous ten mile stretch of sheer mountain walls and tumbling waterfalls. The village of Geiranger itself sits at one end of the fjord, and in summer the population swells with an influx of visitors to this beautiful region.
26 June
Norway:

Lofoten Islands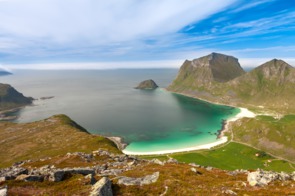 The craggy peaks of the Lofoten islands provide some of the most stunning scenery in all of Norway, and sailing through the archipelago is a wonderful experience. Fishing is still the main source of income for most of the picturesque wooden villages that are dotted along the coast.
26-27 June
Norway:

Flakstadoya Island, Svolvaer, Trollfjord
28 June
Norway:

Tromsø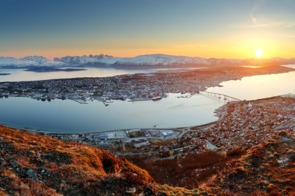 Tromsø's location well within the Arctic Circle means the summer months are lit by the Midnight Sun, a compensation for long dark winters. Explore the streets with their multi-coloured wooden houses, see the amazing architecture of the Arctic cathedral, or take the cable car up to Mount Storsteinen for a fantastic view.
29 June - 1 July
Norway:

Bjarkoy, Hornsund , Bellsund
2 July
Arriving in Longyearbyen
This is the world's northernmost city and the base for tourism in Svalbard. A bit quirky, as you would expect from somewhere that spends four months of the year in near darkness, Longyearbyen doesn't take long to explore. Its brightly coloured wooden houses are built on stilts, as the ground in Svalbard is permafrost. When you enter a building, you are normally asked to remove your shoes, and leave your gun at the door. Gun carrying is more or less essential for the locals, as with 3,000 local hungry polar bears, it is said that you never know when you might need protection. That said, we visited safely without a gun!
Don't miss
At the so called heart of the city, Huset has long been the centre for culture and community. Go there for great food and to sample one of the largest wine cellars in Europe!
Tailor-make your trip
Ways to make it better
Where to stay in Longyearbyen
There's really not much choice! Go for the Radisson Blu.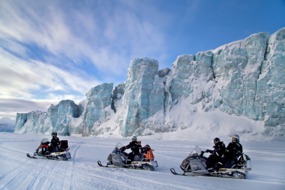 Explore Spitsbergen
Travel out of Longyearbyen by snow scooter or dog sled to take a look at the amazing scenery and hunt for wildlife.