Journey Type
Sailing from the UK
27 June
Setting sail from Liverpool
Few British cities can match the historical and cultural significance of Liverpool. The famous docks, which made the city rich on the back of the Atlantic slave trade, have been transformed in recent years, and are now home to the Tate gallery and a museum honouring Liverpool's most famous sons, the Beatles.
1 July
Norway:

Leknes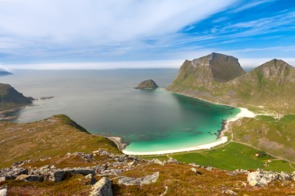 Leknes is the gateway to the Lofoten islands, home to some of the most stunning scenery in all of Norway, and sailing through the archipelago is a wonderful experience. Fishing is still the main source of income for most of the picturesque wooden villages that are dotted along the nearby coast.
2 July
Norway:

Tromsø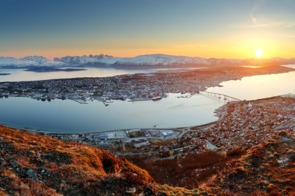 Tromsø's location well within the Arctic Circle means the summer months are lit by the Midnight Sun, a compensation for long dark winters. Explore the streets with their multi-coloured wooden houses, see the amazing architecture of the Arctic cathedral, or take the cable car up to Mount Storsteinen for a fantastic view.
3 July
Norway:

Honningsvåg
The port of Honningsvåg is the gateway to Europe's most northerly point, the North Cape, and enjoys 24-hour daylight in summer. Aside from tourism, fishing is the major industry in this part of Norway, and the region is also said to be inhabited by trolls.
6 July
Norway:

Longyearbyen
Longyearbyen is the largest settlement in Svalbard, remotely located in the high Norwegian Arctic, and originally built as a mining town.But people still continue to make the best of this hostile environment and brightly painted wooden buildings line the main street. The surrounding area is breathtakingly beautiful.
9 July
Faroe Islands:

Klaksvik
10 July
Faroe Islands:

Tórshavn
Tórshavn, named after the Norse god Thor, is one of the world's smallest capitals, with a population of just 20,000. The brightly coloured facades and turfed roofs lend the harbour an attractive, storybook quality, and the narrow streets are home to some atmospheric pubs and cafés.
12 July
Arriving in Liverpool
Your home from home
Black Watch is a cosy, intimate ship offering traditional British style cruising and personal, warm and friendly atmosphere.
What we love
Fred. Olsen offer a huge variety of sailings, many of which are excellent no fly cruise itineraries departing from a number of different regional UK ports. This comfortable ship has a British style with inviting public areas.
Capacity
807 Guests
Crew
350 International Staff
Style
Traditional British cruising with an informal, friendly and unpretentious atmosphere.
Inclusions

All meals in all venues
Tea and coffee throughout the day
All onboard entertainment
Unlimited use of the Fitness Centre
More about Black Watch