My partner and I recently returned from a 7-day cruise from Rome to Barcelona, aboard Windstar's Star Pride. We had previously sailed (quite literally) on two other Windstar ships, Wind Surf and the smaller Wind Star, and this time we boarded Star Pride. Pride is one of the three more recent additions to their fleet, all former Seabourn ships carrying just over 200 passengers, refurbished in the Windstar style.
Although Star Pride is relatively small, she is extremely well proportioned throughout. Our window suite was surprisingly generous when compared to some larger vessels we've sailed on, including those with a veranda. The suite included a large comfortable bed, walk-in wardrobe, twin sinks and a bath/shower combination, plus a more than ample lounge with mini bar.
On deck there are no vast public areas, yet it still felt spacious and relaxing. A two-tier pool area with small plunge pool and Jacuzzi, whilst compact, was never crowded, with plenty of shaded or unshaded areas for everyone to relax according to their preferences. All crew, from officers to maintenance staff, were always friendly, attentive and extremely polite, and many learnt our names after a couple of days and would greet us accordingly wherever we went.
AmphorA, the main restaurant, was also larger than expected and provided excellent open seating dining with very relaxed, attentive service. Whether dining in the evening or enjoying breakfast and lunch in the Veranda restaurant, all menus offered a wide choice of stylishly presented, high-quality fare. The weekly dine-on-deck barbecue and crew show evening was a fun addition and thoroughly enjoyed by everyone aboard.
Generally, entertainment on board was low key. No Broadway-style shows or large ballroom venues, but a more intimate and informal evening programme. There was something to suit most tastes but we particularly enjoyed the laid-back and inclusive piano bar. Alternatively, a small theatre lounge featured a duo who performed each evening to a livelier audience, or weather permitting, up on the pool deck.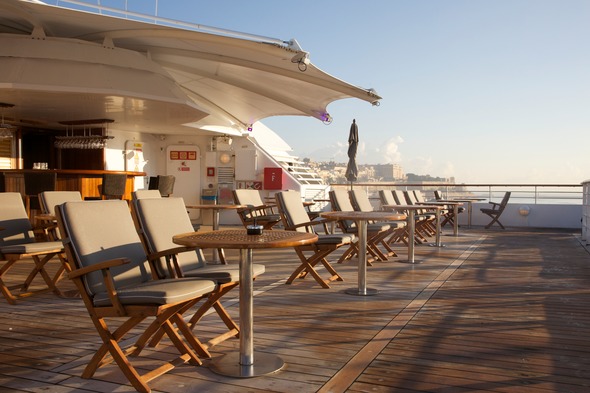 The beauty of a small ship cruise is the direct access it provides to smaller ports of call which the larger ships simply cannot access. Whilst Monte Carlo in the run up to the Grand Prix or Cannes during the film festival added some glamour for those who sought more glitzy visuals, we and many guests like us really enjoyed the smaller, more subtle yet stylish charms of Elba, Portofino and, in particular, meandering the delightful French fishing port of Sanary sur Mer, where we experienced a wonderful 'must go back for longer' day's visit.
On this size of ship it is difficult not to regularly meet familiar faces and quickly befriend other passengers - particularly in the late afternoon, up on the pool deck over a sun downer. You unwittingly develop a camaraderie, and from those encounters in just seven days we had 'do come visit' invitations from as far afield as New Zealand and Texas.
Our wish for a gentle, tranquil holiday, without too much pampering, pomp or ceremony, was more than fulfilled, and we departed Star Pride thoroughly relaxed and promised ourselves a similar experience in the near future.
For those like us, who might sometimes seek a more informal style of cruise but may perhaps view small ships as not having the range of amenities, facilities or variety of larger vessels, I would simply say that it might be well worth challenging some of those prejudices. We will most certainly return with Pride.
---
Find out more: