Although the holiday was 11 days, only four of those were spent on board their ship, MS Aegean Odyssey, with a four-day tour on mainland Greece to begin, two days to Heraklion and Alexandria, then three days in Cairo. The final two days were back on board taking in the charming old town of Rhodes.
Welcomed warmly on board with a red rose for the ladies and a glass of champers for all, we headed up to our Premium Outside stateroom on Deck 8.
The room was tastefully decorated in pastel shades with a grand green and gold feature wall. We had adequate space for all our belongings and a decent size bathroom, complete with wet room shower. We're not messy people, but on a busy schedule things do get flung places in haste, yet our steward subtly tidied and cleaned our room as if a little magic elf had wandered through in our absence; walking back in to an immaculate scene was simply bliss.
Aegean Odyssey has a very nostalgic, nautical feel about her, and although she accommodates just 378 passengers, she gives the impression of a grand spectacle; she's quite unique in her design.
Next on the agenda was pre-dinner drinks. The venue to make a beeline for, which is also where quizzes and downtime takes place, is the Charleston Lounge. This area has life in it throughout the day, and even more so in the evenings, when the singer and pianist duo perform or the resident orchestral trio play. If you're still awake after dinner, and hungry, the lounge fills with the smell of freshly prepared hors d'oeuvres, as the friendly crew meander around with their tempting treats.
Being a destination-focused cruise line, all lectures, talks and presentations take place in the Ambassador Lounge. There were quite a few lectures listed on the daily programme; one was hosted by BBC journalist John Page - with a voice like Attenborough, we could've listened to him and his stories for hours! Depending on your cruise director, you may even get the chance to see musical performances here, along with the opportunity to meet Odyssey's Captain and hardworking crew.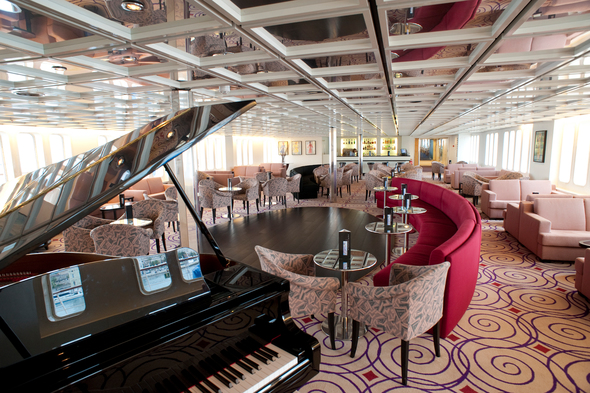 For dining there are two venues. If buffet style is your preference, the Terrace Café is the place to be for breakfast, lunch and dinner. With indoor and covered outdoor seating, and tables in all sizes, you can dine here rain or shine and the crew walk your choice of meal to the table for you. Should you prefer to dine à la carte, then The Restaurant is where you should be. This large space on the Marco Polo Deck is dedicated to bringing you service with a smile and dishes to keep you wanting more. All paired with a selection of fine wines.
To spend time at leisure, the ship features a lovely, intimate outdoor pool with a fair number of loungers. Or head for shelter by the Pool Bar to chill in the comfy furniture and help yourself to tea and coffee.
Those who cruise aboard Aegean Odyssey are like-minded travellers, keen to be educated on the history and cultures of the destinations they visit. Voyages to Antiquity is also a perfect cruise line for solo travellers, with dedicated single cabins. Moreover, independent cruisers are made to feel extremely welcome and incorporated into every aspect of the voyage.