To see Scotland by water rather than winding road gives a totally different perspective. For me the highlight was steaming into Loch Ness early one morning with the morning light giving everything a mystical glow. The water was like glass and there was not another boat in sight. We had the loch to ourselves for almost the entire four-hour crossing, unless of course Nessy (the Loch Ness monster) was lurking somewhere beneath the hull!
The six-night trip begins in Banavie (near Fort William) and ends in Dochgarroch (near Inverness) on the Caledonian Canal, or vice versa. The easiest way to get there is to fly into Inverness airport where transfers are organised from the Glenmoriston Town House Hotel by the friendly and able crew. In our case Captain Dan, who has been with her for eight years, chef Pete, tour guide Dan and 'everything else' Carlyn.
Scottish Highlander was built in Holland in 1931 as 'Vertrouwen', where she carried grain for much of her life before being converted to a hotel barge. In 2000 Derek Banks, managing director and owner of European Waterways, bought and restored her to the cosy and comfortable barge she is today.
Scottish-themed with tartan furnishings, she has three cabins, all en suite, which I would call snug rather than spacious. There is also a larger cabin forward but to be honest we spent most of our time either in the open-plan dining and seating area or on deck. We were blessed with fine days and enjoyed sundowners as we wound our way through the canal.
There are 28 locks on the Caledonian Canal, which was built as a safe passage - rather than going round the north coast - in the early 1800s for naval and fishing boats. We went through 11, five of which are in Fort Augustus. It was my first experience of locks and I found it a fascinating one. Not only is the technical aspect interesting but the chance to come up close and personal with other canal travellers a joy.
Fort August is a picturesque village where we had our only dinner onshore at The Lovat Hotel. It was a fun evening but we were happy to return to dinners on board lovingly prepared by Pete, an ex-banker and chef of 20 years. Passionate about cooking and with a flair for presentation, each evening was a visual and culinary feast including traditional Scottish fare. Accompanied by some fine wines we settled into a happy rhythm as the week drifted by.
No visit to Scotland would be complete without a visit to a distillery, and day two saw us at the Ben Nevis distillery tasting a wee dram or two following a visit to the battlefields of Glencoe. At the opposite end of the spectrum Spean Bridge was the place to shop for local knitwear and tweeds, but for me the highlights were Eilean Donan castle, the setting for the film 'Highlander', and the gardens of Cawdor Castle.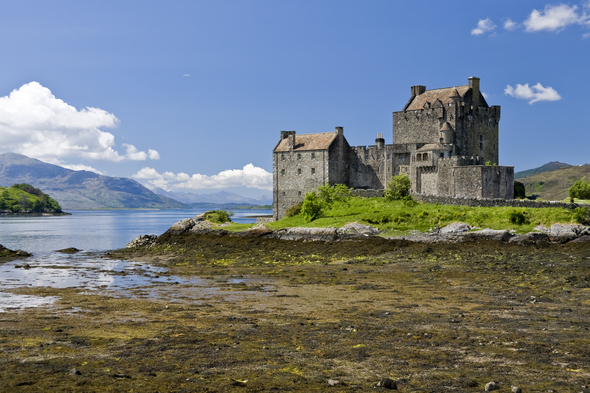 On our last day, having visited Culloden Moor - the scene of the last major battle in mainland Britain in 1746 - we drove on to Cawdor Castle, immortalised in Shakespeare's 'Macbeth'. While the interiors boast tapestries and antiques, it was the flora that got my vote.
Travelling by barge is not cheap, but almost everything is included from excursions to the after-dinner tipples. We were looked after most beautifully by a knowledgeable and friendly crew whom we were sad to leave behind on the quayside.