As the day approached, my excitement gave way to trepidation, and I began to fear a 'Holiday Showdown' type situation (for those who missed it, this was guilty pleasure viewing - the opportunity to watch two families with very different tastes take each other on their perfect holiday, with excruciating results). I pictured my friends gritting their teeth and making the best of an experience they totally hated. Self-doubt set in: despite my own conviction that Crystal is fabulous, I feared my friends might hate it.
I need not have worried, but I did get a useful lesson as I saw the ship from the viewpoint of people who had never cruised before.
Of course they immediately understood the joy of surrendering control! We had come straight from a villa holiday, and whilst we love the whole shopping and cooking thing, discharged from the responsibility of having to write a shopping list each morning before setting forth we felt the weight of the world lift from our shoulders. We surrendered our hire cars (one of them badly scratched following an unfortunate satnav instruction) with joy. And we were delighted not to have to plan what we were going to do tomorrow - all was taken care of.
That was just the start of it. Next was the dining. Night after night we ate at a different restaurant - including, on the birthday itself, a private dinner in the Vintage Room with seven-course dinner and wine pairing. My foodie friends, imagining big hotel banqueting-style dining each evening, were amazed at delectable dishes cooked à la minute, and beautiful Michelin-style presentation.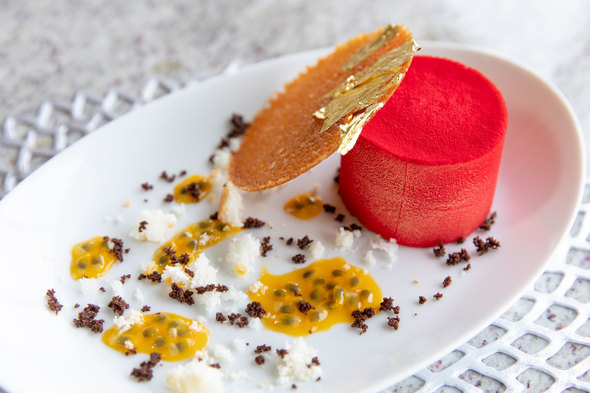 We sampled authentic delicacies family-style at Chinese influenced Silk, enjoyed a balmy evening on deck sampling skewers of succulent meat and fish at Churrascaria, starved all day to make the most of the fantastic choices at Italian Prego, and widened our horizons at Nobu Matsuhisa's Asian Peruvian fusion restaurant Umi Uma. The main restaurant Waterside was no compromise: beautifully presented modern cuisine was offered alongside old favourites.
We drifted quickly into a routine - leisurely breakfast, morning ashore, long lunch, and afternoons of activity. The deserted promenade deck called to us for an afternoon stroll, or, in the case of our gaunt running friend, 20 laps; golf lessons and driving practice, ping pong tournaments, yoga in the spacious gym, and late afternoon paddle tennis all gave us the justification we needed to sample the extensive gin menu before another lavish dinner.
One of us took against the piano bar - no problem, he didn't need to go there again. Another was left cold by the i-luminate show…but could cope with the short half hour intrusion into her holiday evening. One had to see the dance troupe, another wasn't keen on the White Party. Our group came together, drifted apart, regrouped in various configurations, waxed and waned as we each followed our own paths, coming together at dinner time to review the day. As a result - no bickering, no 'oh well, if we must', no sulking or grudgingly going along with someone else's desires.
So if you have in mind to holiday in a group of family or friends, I can't think of a better solution than a cruise for a relaxed, easy-going opportunity to make the most of people's company without being in each other's pockets.