As a Londoner born and bred, I am no stranger to the pleasures of living in a thriving and exciting community. All of a sudden, all my long-held prejudices about large ships slipped away…. although of course, not necessarily my personal preference! (My cruise nerd son sneers at me for being too much of a ship snob to realise this before - mea culpa, dear reader).
Celebrity's newest and much hailed offering, Celebrity Edge, is the first of a series of 'Edge Class' ships which will also inspire an extensive programme of modernisation - known as the Celebrity Revolution - for the rest of the fleet, at an investment of US$400 million. The aim is to use the Edge template to enhance design, dining and accommodation on the entire Celebrity Cruises fleet, ship by ship, over the next four years.
With 3,000 guests, Celebrity Edge is only 'medium sized' by modern standards, but two days was hardly sufficient to take a close look at the whole of the ship, and every minute I was delighted by some little detail of design, an artwork or a piece of furniture, which I had missed the first time I passed that way.
I have to start by talking about the Magic Carpet. Conceived as a solution to the challenge of speedy tender disembarkation at anchor, it also is a revolutionary development for the physically challenged, and turns into an additional fun outdoor space as well: sometimes a cocktail bar and lounge, and sometimes an extension to Raw on 5, depending where the carpet has floated to…
This cantilevered platform, when at sea level, gives an extensive space for two spacious tenders to come alongside at a time, for quick and easy disembarkation. The tenders, by the way, are beautifully comfortable, with cinema-style cushioned seating and all front-facing seats. The Magic Carpet is accessible by lift right down to sea level, so it's perfect if you are in a wheelchair or have difficulty with steps. It floats up and down the side of the ship on a tangerine scaffold which will ensure the ship is recognised wherever she goes! Whilst not beautiful from afar, the space itself is very attractively presented with a variety of seating - high tables and leisurely low-level wicker sofas - plus its own bar, and glass sides to give you fantastic sea views when dining or enjoying a cocktail.
Then Eden - this combination of café, bar, lounge, restaurant and performance art, in a single three-tier venue, has an amazing three stories of windows flooding the space with light and giving amazing views over the ocean to the aft of the ship. Full of intimate nooks and crannies, with sloping walkways, conversation wells, beautiful plants, lighting and design features, this garden changes mood as the day progresses, "from chillful to playful to sinful", as Celebrity say.
A salad bar for light lunch is located alongside an attractive coffee outlet, both discreetly located in the corner and not encroaching on the space or mood of the lounge. Whilst the performance art (quirky fairy creatures flitting around and pausing for a pose, an aery dance or an astonishing feat of acrobatics) may embarrass bashful Brits, the whole mood is captivating. Don't miss Eden's outdoor garden on the port side - like a seaside jungle…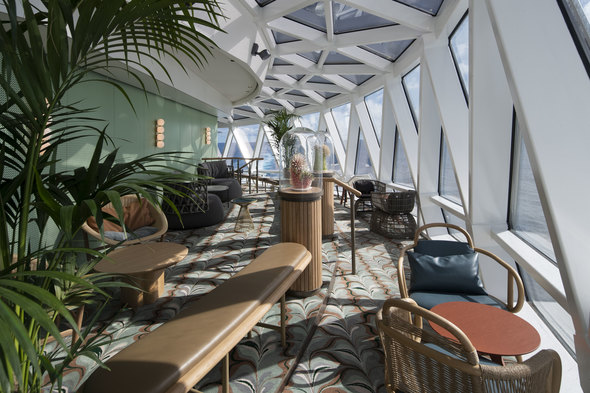 There has been much talk about the new design of accommodations - Edge's infinite verandas will be familiar to some river cruisers, but a total novelty to the rest of us. This floor-to-ceiling window, facing out to sea, floods the Edge Staterooms with light, and gives a comfortable veranda-style space with roped chairs to relax indoors and watch the water. With the touch of a button, the whole upper half of the window slides down to create an outdoor space, allowing you to enjoy the fresh air throughout the stateroom, or separate it off by closing the internal veranda doors.
Inside, Ocean View and Veranda accommodations (categories A1 to 12) range from 181 to 201 square feet (look out for dedicated singles which are slightly smaller, and for more spacious accessible accommodation in all categories) with comfortable double or king beds and a well-designed bathroom with shower cubicle. Higher categories (S3 to IC) fall within the 'suite' designation (298 to an amazing 1892 square feet) which gives you access to the private Lounge and Sundeck known as The Retreat, a dedicated intimate restaurant Luminae, and access to all speciality dining free of charge.
Family suites are a great option for multi-generational travellers, and if you fancy taking your nearest and dearest away with you, and are used to travelling in what is normally designated an Ultra Luxury ship, this could be the perfect compromise without compromising. The duplex Edge Villas with amazing floor-to-ceiling windows in the bedroom and private plunge pool on the balcony are an interesting option, and if your bank balance allows it, the Iconic Suites, flooded with natural light, and with spacious living areas both inside and out, have everything you could possibly need.
So, the many dining options… There is no 'main' dining room on Edge, but four beautiful restaurants in which you can dine free of charge: Tuscan, Cyprus, Normandie and Cosmopolitan, offering a daily changing menu, plus speciality dishes from the regions their names suggest. Here you can opt for fixed seating, early or late dining, or opt for open seating if you prefer.
Each restaurant has its own distinctive décor, allowing you to ring the changes. Blu is dedicated to Aqua Class guests. Speciality dining is also offered at an extra cost with a whole variety of options including Fine Cut Steakhouse, Le Grand Bistro, Le Petit Chef (an animated character who appears beside your plate to prepare each course - you have to see it!), the amazing seafood restaurant Raw on 5 (with Magic Carpet extension on some nights!), the outdoor Rooftop Garden Grill, and the Eden Restaurant. Furthermore there is casual dining free of charge in a whole variety of cafés and and grills, with well thought out design and dedicated food stations to avoid excessive queues and canteen-style troughs.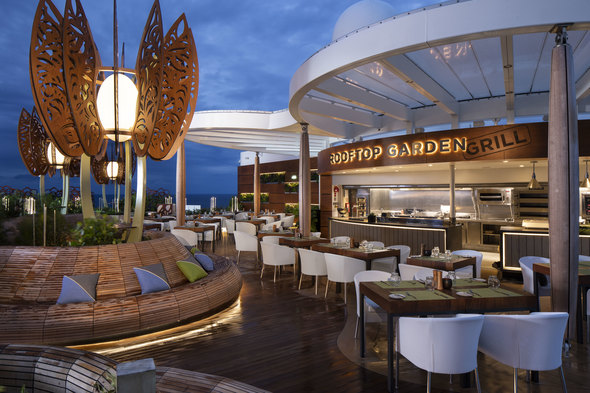 A huge pool dominates the Resort Deck, where you will find ample space to lounge, dance, watch the big screen, or enjoy some impromptu entertainment. Two 'whirlpools on sticks' rise like huge martini glasses from the deck, and on the starboard side are a series of cabanas for rent, alongside a beautifully designed vaulted walkway in warm wood and cream. To the other side of the pool, the running track gives a gentle hill slope from one deck to another, and the flowing movement of the design contributes to the resort-style flow of traffic around the ship. The covered pool area of the solarium, a serene adult only spot, is the perfect place to chill.
The extensive gym and spacious spa dominate the front of the ship, with many options to exercise or relax, whilst towards the aft the lovely Rooftop Garden, with raised beds, teak walkways and plenty of spots to sit and relax, is a haven of greenery, with an adjacent horse (yes, really!) and a screen for music, sport or other spectaculars.
Activity for all ages is offered throughout the day, with a great Camp at Sea for the kids, a theatre offering spectacular shows in the round, and a whole range of clubs and lounges enabling you to suit your mood to your evening.
In short, this is a jaw-dropping ship with an amazing amount to offer. The design is stunning, with lots of variety and carefully planned detail. The atmosphere is full-on busy, but if you prefer a bit of peace and quiet, book a suite and enjoy the peace and indulgence of your private area, The Retreat. Take all the family, and while you indulge in a beautifully served dinner before retiring to your comfortable suite, the millennials can be out there partying all night!