At seven months out, the skeleton of a ship is pretty much complete, but there is much to be done. All the equipment needs to be brought on board and set up, the kitchens need to be fitted out, it's time to finalise all the fixtures, fittings and furniture, the carpets need to be laid and the walls papered, pipes plumbed, communications linked up and more. Then everything needs to be tested, and tested again, to bring it to the height of perfection.
In the circumstances, it was hardly surprising Silver Moon was not ready by the beginning of August, even if we had been allowed to go and take a look. What was surprising was that work steadily continued, and following successful sea trials the ship was delivered to its happy owners at the end of October, which was, as CEO Roberto Martinoli said at the low-key occasion, a tribute to the hard work of the yard: "I thank Fincantieri's leadership team and the more than 1,000 talented craftspeople who overcame the unprecedented challenges of 2020 to make this delivery possible."
We love Silversea's description of the ship - 'whispered luxury' - expressing the understated subtlety of the design.
Of course it is still very unlike the normal launch of a ship - no guests have been on board Silver Moon, and it will still be some months before they are able to come and inspect the ship. But it was a great pleasure to take a look on a guided virtual visit hosted by Chief Marketing Office Barbara Muckerman, and there are a few stand-out items which will differentiate this lovely ship from her sister Silver Muse, launched back in Spring 2017.
Silversea aficionados will remember that when the Muse was launched, one of the key challenges was managing the multiple dining options, so the focus on dining for this new ship was a key part of the planning process. With eight restaurants to choose from, including an enlarged Atlantide, a double capacity La Dame in a new sunny location high up at the front of the ship, and old favourites such as the Asian venue Kaiseki, the hot rocks dinner under the stars at the night-time Grill, and the laid-back supper club Silver Note, dining is not going to be a problem this time round. And that's before we even mention Silversea's new S.A.L.T. ('sea and land taste') initiative which will be the envy of the competition.
This is an integrated programme including the large S.A.L.T. restaurant (the second largest restaurant on board), the S.A.L.T. Lab, which is a spacious test kitchen, and a dedicated bar. These all make up the S.A.L.T. ecosystem on board, where regional authentic ingredients are used to create delicious local dishes, while guests themselves can roll up their sleeves for a true hands-on cookery experience in the test kitchen. With menus changing daily, guests are able to touch, smell, prepare and, most importantly, eat and drink local specialities.
And this is just part of the larger S.A.L.T. programme which incorporates excursions ashore such as market visits, local farms, wineries and kitchens, and the opportunity to eat out in style, whilst on board culinary experts enhance the whole experience with seminars and demonstrations.
Another challenge at the Muse launch was the spa, which seemed a little small for the passenger capacity. On Silver Moon, with plenty of additional space both inside and outside, we think there will be no reason to complain.
Silversea has always led the market with its spacious suites throughout the ship. Once again on Silver Moon the majority of accommodation is in the verandah suite category, which in this iteration is an amazing 390 square feet of space, with a private verandah, walk-in closet, bathroom with shower cubicle and bath tub, and spacious seating area next to the sliding glass doors. As always, the beautifully proportioned Silver Suites stand out for guests looking for extra space.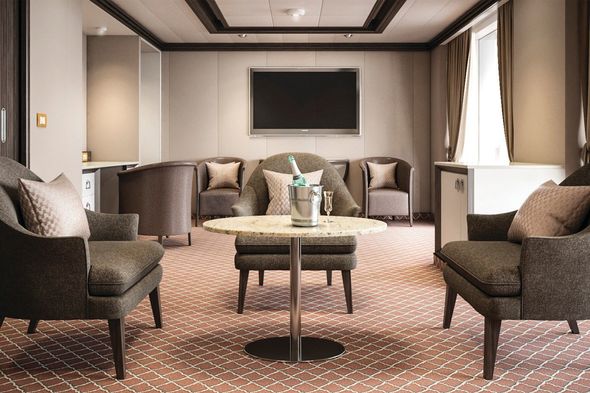 Silver Moon will spend the whole of her inaugural season in the Mediterranean, with a range of magical port-intensive itineraries between Rome, Venice, Athens and Istanbul. After wintering in Asia (including Vietnam and the Philippines) she will return to Europe in 2022, spending a short time in the Mediterranean before coming north to the UK, Iceland, Norway and the Baltic. If you like the idea of checking out this lovely ship, but prefer not to fly, why not look out for the Southampton round trip on 9th September 2022, sailing for 13 nights to the Norwegian Fjords.
For winter 2022/2023 we have some intriguing Caribbean cruises out of Barbados, before a couple of Panama Canal cruises to and from Lima, and finally, a circumnavigation of South America. So lots of choices available!