It was fascinating to learn more about Genting's new premium cruise line created specifically for the Asian luxury market, Dream Cruises. These extraordinary ships boast all sorts of exciting new facilities, such as penthouses with ensuite gaming rooms, raunchy dinner/cabaret shows, and an LED light display which enables you, Piccadilly Circus style, to announce any message you like to the world by lighting up the sides of the ship. 'Not for us', we may all agree, but it doesn't stop us being fascinated by a company which is constantly looking for the next best thing. More exciting, as far as we are concerned, is the focus on the existing ships as we await the new-builds scheduled for 2022 onwards.
The lovely Crystal Symphony and Crystal Serenity, which despite their age keep pace with everything that is most contemporary in luxury ship design, are set for yet another 're-imagination'. As Crystal's charismatic president has repeatedly recognised, luxury cruise buyers love the product but highlight suite size and dining style as barriers to purchase when considering the various options. Crystal Symphony undergoes an extensive dry-dock period this autumn (to be followed by Crystal Serenity in 2018) during which a number of the A1 category verandah staterooms will be transformed into penthouse accommodation, to be known as the Seabreeze Penthouses and Penthouse Suites.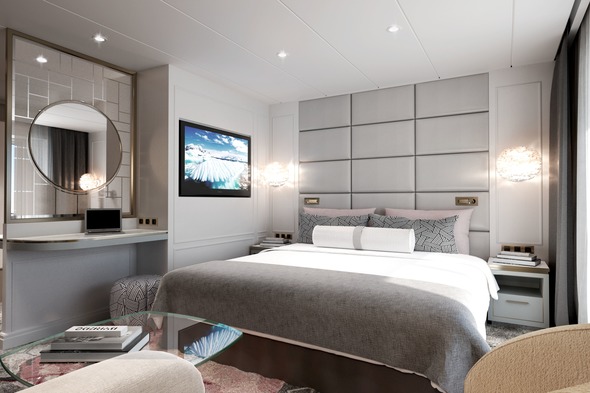 As a result, the capacity of the ship will reduce to 848 guests, and at last the company will be able to offer full open seating dining, in addition to a number of alternative dining options, with upgraded menus. The lovely Prego will still be available, alongside the Asian restaurant, in conjunction with Nobu Matsuhisa, formerly known as Silk Road. Reinvented as Umi Uma (Japanese for seahorse, a nod to the lovely Crystal logo), this restaurant will continue to offer the very best Asian cuisine at sea. Up on deck, the Grill area will be renamed Silk, and offer modern Chinese fare, family style, at breakfast, lunch and dinner. (Trident Grill options will continue to be on offer here too).
The casual dining area formerly known as the Lido will be renamed Marketplace, with fresh and appetising buffets with lots of local influence, whilst in the evening the new Brazilian Churrascuria grill will give a casual barbecue style option. Meanwhile the lovely private dining Vintage Room will extend its offering to include lighter tasting menus (Taste of the Vintage Room) and lunchtime options with pairings and lectures.
The new VP of Entertainment will be working to amend and upgrade options, particularly to fit around the free flow of totally open seating dining. There will be additional focus on the various venues in order to provide an extensive choice of daytime and evening enrichment and entertainment covering a whole variety of tastes. More use will be made of Crystal's outstanding 7 piece show band, with featured guest Broadway artistes and creative experts, as a result of a new collaboration with Broadway producer Kevin McCollum.
Crystal has always been known as the only luxury cruise line to offer excellent entertainment - just as others begin to focus on this aspect of their product and upgrade their offerings, Crystal takes things one step further to create a totally new array of options, throughout the day and evening. Watch this space for more details.