In a comprehensive telephone interview, Jeremy McKenna, the new Sales and Marketing Director of Tradewind Voyages, revealed the company's plans.
Tradewind Voyages is a UK start-up with great plans for the future, whose operation of the world's largest square-rigged sailing vessel will start next year. The ship, to be named Golden Horizon, is standing by and ready for action in Split, Croatia, and between now and her launch next year Tradewind Voyages will have time to complete her smart interior refurbishment in blue and gold, whilst developing the perfect operational team.
The UK team, led by Stuart McQuaker, formerly of the Royal Navy, includes merchant seamen, maritime itinerary planners, sales and marketing experts and more. Of course such an investment is not undertaken lightly, and this is just the beginning, with big plans for a whole fleet of vessels to be added over the next few years.
Q: What stands out about Tradewind Voyages' new baby?
A: Well, she can cruise long distances solely under sail, but more importantly, she will do so for nearly 70% of the time. For that to be possible, her itineraries are being planned with a close eye on the ancient trade routes, using the natural winds and currents so that she will be, as we say, Powered by Nature. Our team are poring over maritime charts and checking prevailing winds and weather conditions as they design a series of unique voyages.
Departing initially from Dubrovnik in late September 2021, the ship will head eastwards on a historic journey via the Indian Ocean, following an ancient 15th-century trading route known as the Maritime Silk Route. Arriving in Bali, she will explore the Indonesian islands before circumnavigating Australia and travelling northwards for springtime in Japan. A great Pacific circle takes her to Alaska, and then down the west coast of North and South America to Chile, followed by a South Pacific journey which will finish in New Zealand.
The carefully planned itineraries will fall into three categories: Hidden Beaches, Cultural Immersion and Sailing Experience. On the latter, guests will be involved in the nuts and bolts of sailing the ship, with navigation classes, hoisting of sails, and even an opportunity to take the wheel, Hornblower style.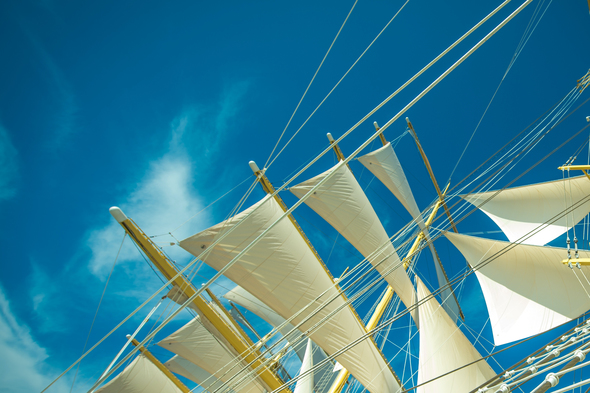 Q: So back to the start - is this is good time to launch a new cruise line?
A: With just 272 guests on board and plenty of space to accommodate them, this will be just the sort of ship that existing cruisers will be looking for. Non-cruisers will also be captivated by the beauty and romance of a voyage under sail. Initially we are aiming at UK guests only, and to help them understand the concept, the ship will spend next summer in northern waters, on a series of UK cruise departures which will showcase the ship to travellers all over the country.
If you're interested, let us know and we can get back to you in September, when the programme goes on sale. A variety of no fly itineraries will be on offer, including a 21-night voyage to the Baltic and St Petersburg, another to the North Cape and Svalbard, and shorter journeys to the Norwegian Fjords, Iceland, the British Isles and more. From September onwards, the global itineraries, largely wind-powered, will commence. All accommodation has an ocean view, and higher grades include Owners Suites and Deluxe Suites with balcony.
Download the Tradewind Voyages brochure
Launching in 2021, Tradewind Voyages is a brand new cruise line, operating the world's largest square-rigged sailing vessel, the Golden Horizon. Download the brochure for a taste of what to expect from this remarkable ship.