Not at sea, as expected, but a celebration nevertheless, and a chance to take a look at the achievements of this innovative company.
Crystal pioneered the concept of the alternative restaurant on a ship, with outstanding Italian and Japanese venues, partnering with the world-renowned Nobu Matsuhisa who still oversees the culinary offering in the restaurant now known as Umi Uma.
The original spacious resort-style ships are frequently remodelled and upgraded to feature cutting-edge contemporary design. The resort style is key, with a focus on the outstanding onboard experience. Combine this with excellent itineraries and a stimulating and varied shore excursion programme, and you have the perfect way to explore the world.
Following its acquisition by Hong Kong company Genting just five years ago, Crystal has entered a new period of growth. A fleet of European river vessels has transformed the face of river cruising, while the tiny yacht Crystal Esprit, carrying just 62 lucky guests, cruises the Mediterranean in the summer before relocating to the Persian Gulf for the holidays, and the Seychelles from January to March (the only luxury cruise ship approved to sail in the Seychelles post-Covid.)
New plans are afoot, with the ultimate expedition yacht, Crystal Endeavor, currently under construction, to join the fleet next year. As part of our own anniversary celebrations (50 years in October) we interviewed Helen Beck, Vice President International Sales and Marketing at Crystal…
Q: Describe your company in no more than 50 words...
A: Crystal is one of the most exciting travel companies in the world, with a range of experiences executed to an unfailingly high standard on board ocean ships, yachts, river vessels and even jets. Discerning travellers love that Crystal gives them the confidence to explore all over the world, Crystal style.
Q: What is your proudest moment as it relates to your company?
A: When I participated at the christening of Crystal Bach, the first of the river fleet purpose built for the company, I was blown away by the attention to detail, beautifully executed throughout the ship, but more than that by recognising the brand I already loved, an unmistakeable family feel.
Q: Tell me something about yourself that most people don't know...
A: My happy place is Zermatt, and the Matterhorn is my mountain. I spent eight winters there, first as a ski rep and then as a cocktail barmaid in the Hotel Post.
Q: Tell me what, in your opinion, is the one most significant thing that makes your cruise line different from its competitors?
A: Crystal has its own unmistakeable DNA embedded in its hardware, but also in its people, whether on board or ashore. There is an invisible connecting thread which ensures unity of purpose across the company, and because of that they are able to constantly tweak and innovate to create a product that is better every time you go on board.
Q: What is the next big thing to come from your company?
A: That's easy - our new expedition yacht Crystal Endeavor. She will be the most spacious cruise ship in the world, with wonderful global itineraries to take you way off the beaten track.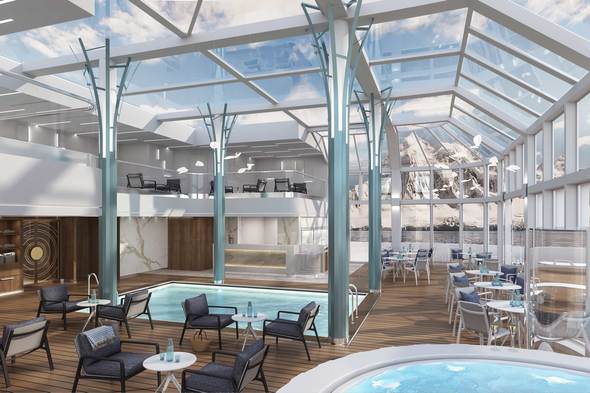 Q: Why do you love Mundy Cruising, and what do you think is the secret of their 50 years of success?
A: At Mundy, it's all about the people. They are professionals - caring and smart, they really 'get it'. They are fantastic to do business with. And their secret is most definitely listening, looking forward with creativity: they are always ahead of the game.