But in truth the lovely islands of the Caribbean enjoy extraordinary natural beauty, amazing clear waters, idyllic beaches, a warm welcome from the local people, fascinating wildlife and a relaxed, laid-back lifestyle. As always, it's just a question of picking carefully.
Cruising in the Caribbean is, in our opinion, better still, as long as you roam a little from the beaten track. There are great options, and so many to choose from. Here are a few of our favourites...
1. Millionaire's yacht experience on Crystal Esprit
The 62 guest Crystal Esprit arrives in the Caribbean in November 2017 for year-round cruising on two 'butterfly style' 7 day itineraries from St Maarten. Beware, your little vessel will be dwarfed by the private yachts in St Barths! Enjoy all-inclusive pricing, outstanding dining, great watersports (including a submarine!) and a contemporary décor on this recently refurbished and stylish little ship.
2. In-depth Caribbean - 28 nights on Seabourn Odyssey
There are so many reasons to choose this extraordinary Season of Sun itinerary in January 2018 - not least the bliss of a direct flight into Barbados, followed by a leisurely circular trip around the Caribbean with no fewer than 21 different ports of call and not a single repeat. Seabourn Odyssey boasts lots of deck space to relax, spacious accommodation, and inclusive pricing.
3. An outdoor lifestyle on SeaDream
The two 114-guest SeaDream yachts offer an al fresco experience that you will find hard to replicate on other vessels, with not just dining but also dancing and sleeping under the stars, great watersports from the platform at the back of the ship and a unique style of personal service you will never forget. As you enjoy the relaxed party atmosphere of the beach barbecue, you will understand that this is yachting, not cruising!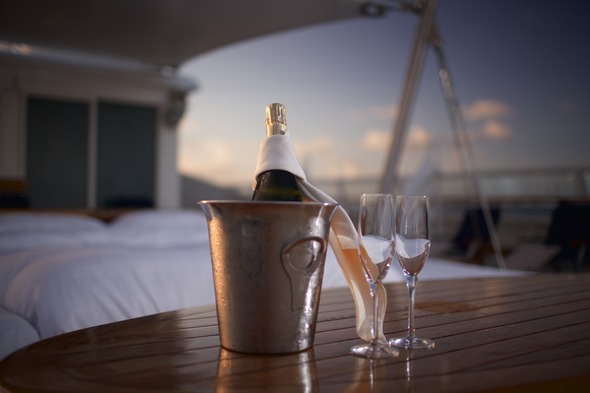 4. The most all-inclusive on Regent Seven Seas Cruises
Take the most all-inclusive cruise on the 'world's most luxurious ship', Seven Seas Explorer. Following her launch in July 2016, Seven Seas Explorer has wowed guests with her amazing accommodation, huge choice of dining options, Grand Hotel décor, and pricing that includes so much you won't have to spend another penny - flights, transfers, all drinks and gratuities, alternative dining and even shore excursions are included in the fare.
5. Best value with Windstar Cruises
The best small ship value in the lesser known islands of the Caribbean is offered by Windstar Cruises. Choose from the sleek little motoryachts carrying just over 200 guests, or travel romantically under sail with Wind Star or Wind Surf, with lots of itinerary choices, and all at great fares. Windstar's laid back unpretentious style is perfect for a Caribbean getaway, with plenty of departures to choose from.
6. The perfect family Christmas with Crystal Cruises
Sailing from Fort Lauderdale on 21 December 2017 on Crystal Serenity, or from New Orleans on 22 December 2018 on Crystal Symphony, a Caribbean cruise itinerary is the perfect choice for families who prefer luxury. Crystal's excellent range of facilities, and upgraded children's clubs on holiday cruises ensure that this will be the holiday of lifetime for every member of the family, with no need for compromise by any age group.