Journey Type
Sailing from China
28-29 March
Setting sail from Shanghai
Shanghai has long been China's most outward-looking, cosmopolitan city, as evidenced by the fascinating mixture of European and Oriental architecture. The Bund, a riverfront promenade flanked by grand colonial era buildings, is the city's most famous thoroughfare, while the Pudong financial district lights up the city skyline at night with its futuristic towers. Shanghai's restaurant scene is thriving like never before, with a number of Michelin-starred chefs setting up shop here, while Nanjing Road is the place to head for a spot of retail therapy, with its shiny shopping malls and luxury boutiques.
Don't miss
Walking along the Bund as the sun rises, watching the locals practise Tai Chi. Magic.
31 March - 1 April
China:

Beijing (Tianjin)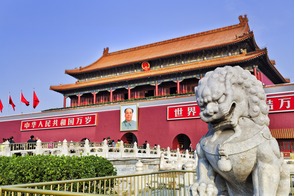 Home to 11 million people and an astonishing six UNESCO World Heritage Sites, Beijing is an exhilarating introduction to China's distinctive history, society and culture. Feast your eyes on the majestic Forbidden City and the Summer Palace, along with spectacular modern architecture such as the iconic Bird's Nest Stadium.
2 April
China:

Dalian
Dalian is an eminently liveable city on the Yellow Sea coast, blessed with a pleasant climate, excellent beaches and a noticeable lack of pollution compared to many Chinese cities. At the centre of Dalian is the vast Xinghai Square, the biggest in the world at a mind boggling 1,760,000 square metres.
3 April
South Korea:

Incheon (Seoul)
Incheon serves as a transport hub for Seoul, South Korea's captivating capital. Seoul is a dynamic metropolis where you can still find tea shops and temples amongst the skyscrapers and neon signs, and the culinary scene is superb, from street food to world class haute cuisine.
5 April
South Korea:

Busan
Busan is South Korea's second biggest city and one of the world's busiest container ports, but it's an easygoing place with a discernibly different character to Seoul. Haeundae beach is a popular summer holiday destination for Koreans, while the pungent Jagalchi market sells every type of fish and sea creature imaginable.
6 April
Japan:

Nagasaki
Three days after Hiroshima was flattened by an atomic bomb, Nagasaki suffered the same horrifying fate. The reconstruction of both cities has been quite extraordinary; Nagasaki today is a vibrant, cosmopolitan place, with a fascinating history that goes back a lot further than 1945.
7 April
Japan:

Kagoshima
The friendly southern Japanese city of Kagoshima enjoys a balmy climate, and sits just across the bay from the very active Sakurajima volcano, which erupts so regularly that an 'ash forecast' is included in local weather reports.
8-9 April
Japan:

Hiroshima
On 6 August 1945 the world witnessed the terrifying power of nuclear weapons for the first time, unleashed on the unsuspecting Japanese city of Hiroshima. The modern city's sobering Peace Memorial Park commemorates that fateful day, which left more than 140,000 dead.
10 April
Japan:

Kochi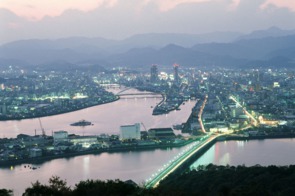 The small, laid back city of Kochi is situated on the south coast of Shikoku island, an important place of pilgrimage for Japanese Buddhists. Three of the 88 temples on the pilgrimage route are in Kochi, and the city is also known for its elegant 17th century hilltop castle.
11-12 April
Japan:

Kobe
Small in size and cosmopolitan in its outlook, Kobe is a thoroughly pleasant city with a long and distinguished history as one of Japan's main trading ports. Kobe's past as a commercial hub is reflected in its architecture, with a number of unusually European-looking houses, as well as a charming, if slightly touristy, Chinatown.
13 April
Japan:

Shimizu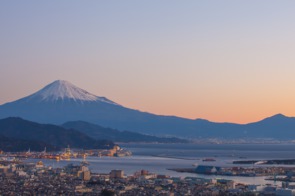 Shimizu is one of the most spectacular ports in Japan, a sweeping bay in the shadow of the iconic Mount Fuji. You can spend some time admiring the views and wandering through peaceful pine groves, or visit the unique Shimizu Sushi Museum at the S-Pulse Dream Plaza shopping mall.
14-15 April
Arriving in Tokyo
Tokyo is a dazzling introduction to Japan and its utterly unique culture. With more neon than Las Vegas and more Michelin stars than Paris, it's a real assault on the senses, but an efficient public transport system means it's easy to explore. Asakusa is an atmospheric district where you'll find Tokyo's oldest Buddhist temple, Akihibara spills over with shops selling electronic gadgets, and Harajuku is the place to marvel at the latest colourful Japanese fashions. It's also easy to escape the crowds and find a spot of peace and quiet, with tranquil parks, shrines and lotus ponds dotted around the city.
Our tip
Brave the metro subway system. It's efficient, fun and easy to use. The staff are unfailingly polite if you get confused or lost. Live like the locals but avoid rush hours!
Your home from home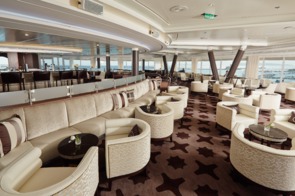 When luxury goes exploring, you are on a Regent ship. The first-ever all suite, all veranda ship, Seven Seas Mariner is the perfect balance of wonderfully luxurious yet delightfully laid-back.
What we love
Just 700 guests enjoy the perfect balance of space and intimacy. With plenty of comfort and great value for money, the Mariner offers everything you could wish for: spacious accommodation, a relaxed and unpretentious style and loads of good dining choices. The most all-inclusive of all luxury lines.
Capacity
700 Guests
Crew
445 International Staff
Style

Regent Seven Seas offers luxury without pretensions - not too dressy, and with lots of focus on the itineraries. So - with their excellent all-inclusive offer - you might get off the ship without having to pay a single further penny!

Inclusions

All meals in all venues including room service
All alcoholic drinks throughout the ship
Flights to and from the ship
A full selection of shore excursions
Onboard entertainment
Sports and fitness facilities
Gratuities
More about Seven Seas Mariner
Tailor-make your trip
Ways to make it better
Where to stay in Shanghai
So many fabulous hotels to choose from, but we would go for the Peninsula on the Bund.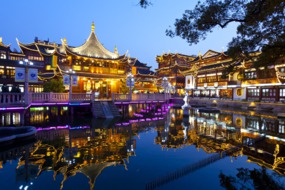 Another side to Shanghai
Wander the Yuyuan Gardens with its serene fish ponds, pretty pagodas and enjoy a rest from the crowds at the Mid-Lake Pavilion Teahouse, reached by a zigzag causeway designed to stop evil spirits.
Extend your stay in Tokyo
The Park Hotel at Shimbashi in the Shiodome Media Tower offers premium rooms with great views from the 25th floor up!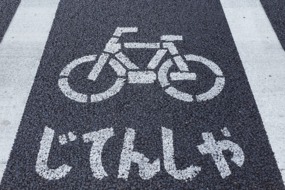 Get on your bike
The 25km Tokyo Great Cycling Tour is one of the city's greatest trips. See both secret back streets and landmark attractions on this full day extravaganza.