Journey Type
Sailing from Singapore
5 December
Setting sail from Singapore
Singapore is one of the world's richest cities, with a standard of living to match, and in recent years it has moved on from its image as a sterile, overly officious nanny state to become one of the most dynamic and exciting cities in the region. Singapore's heritage as an important trading post means that there is a real cultural mix, with four official languages: English, Chinese, Malay and Tamil. Step away from the gleaming towers and you'll find yourself transported into another world amongst the intoxicating streets of Chinatown and Little India.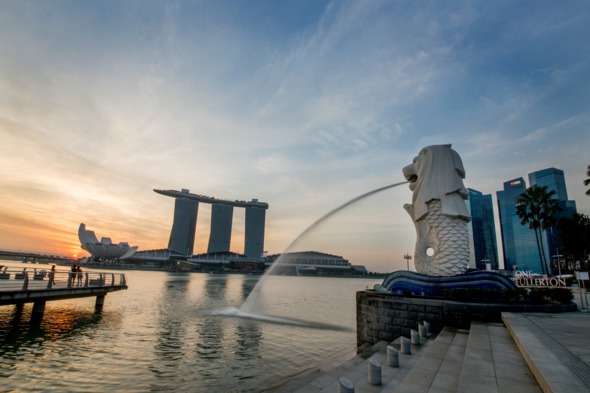 Don't miss
There's some serious green space in Singapore and it always feels as if the jungle is just waiting for us to turn our backs for a moment to take over. Seek out the parks and the gardens.
7 December
Thailand:

Koh Samui
Attracting everyone from budget backpackers to ostentatious oligarchs, Koh Samui is one of Thailand's most popular islands. It's no surprise, given the truly stunning beaches, but the more developed areas such as Chaweng have lost a lot of their charm, so head for the quieter south and west if you can.
8-9 December
Thailand:

Bangkok (Laem Chabang)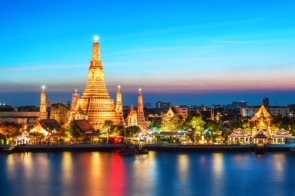 Thailand's sprawling capital is an assault on the senses, an invigorating blend of tradition and modernity. Soaring skyscrapers, air-conditioned shopping malls and an efficient public transport system combine with shimmering golden temples, ancient palaces, floating markets and at times gridlocked rush hour traffic.
11-12 December
Vietnam:

Ho Chi Minh City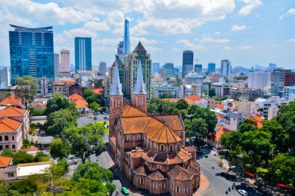 Saigon, as it was known then, was the capital of the South during the Vietnam War, and American-style capitalism has been embraced more enthusiastically here than in the North, with a clutch of shining skyscrapers standing as testament to Vietnam's surging economic growth.
13 December
Vietnam:

Nha Trang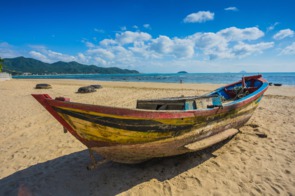 Nha Trang is Vietnam's premier beach destination, on a stunning bay dotted with idyllic islands. The main attraction is the laid back seaside atmosphere, but there are also a few noteworthy cultural sites, including the ancient Po Nagar Cham Towers, which were built between the 7th and 12th centuries.
15 December
China:

Sanya
China is not usually associated with beach holidays, but the island of Hainan, billed as 'China's Hawaii', aims to challenge those preconceptions. It's fair to say that there's still a fair way to go, but the beaches around Sanya are pleasant enough, and the rapidly developing skyline is a sight in itself.
16-17 December
Hong Kong SAR China:

Hong Kong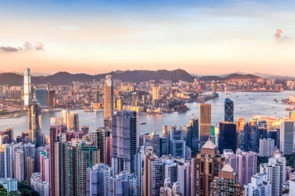 Hong Kong is a striking mix of ancient and modern, Chinese and British, and there is a lot more to the city than just skyscrapers and high finance. Its also a fantastic destination for foodies, a melting pot of culinary influences from around Asia and beyond.
20-21 December
China:

Shanghai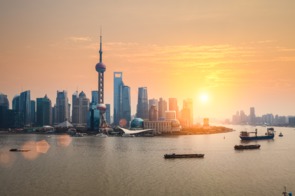 Booming Shanghai has long been China's most outward-looking, cosmopolitan city, as evidenced by the fascinating mixture of European and Oriental architecture. The Bund, a riverfront promenade flanked by grand colonial era buildings, is the city's most famous thoroughfare, while the Pudong financial district lights up the city skyline at night with its futuristic towers.
23 December
Japan:

Kagoshima
The friendly southern Japanese city of Kagoshima enjoys a balmy climate, and sits just across the bay from the very active Sakurajima volcano, which erupts so regularly that an 'ash forecast' is included in local weather reports.
24 December
Japan:

Kochi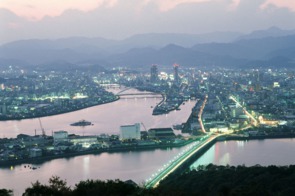 The small, laid back city of Kochi is situated on the south coast of Shikoku island, an important place of pilgrimage for Japanese Buddhists. Three of the 88 temples on the pilgrimage route are in Kochi, and the city is also known for its elegant 17th century hilltop castle.
25 December
Japan:

Miyazaki
26 December
Japan:

Nagasaki
Three days after Hiroshima was flattened by an atomic bomb, Nagasaki suffered the same horrifying fate. The reconstruction of both cities has been quite extraordinary; Nagasaki today is a vibrant, cosmopolitan place, with a fascinating history that goes back a lot further than 1945.
28-29 December
Arriving in Beijing (Tianjin)
Home to 11 million people and an astonishing six UNESCO World Heritage Sites, Beijing is an exhilarating and at times overwhelming introduction to China's distinctive history, society and culture. Brave the smog and feast your eyes on the majestic Forbidden City and the Summer Palace, along with an ever-expanding roster of spectacular modern architecture, including the iconic Bird's Nest Stadium, star of the 2008 Olympic Games. The old Beijing is still alive and well, and we recommend exploring the maze of narrow alleyways known as hutongs, where you'll find traditional shops, markets and restaurants.
Our tip
Covering an area larger than the Forbidden City, The Temple of Heaven gives an insight into the practices of the ancient Eastern civilisation, and the Hall of Prayer for Good Harvests is particularly pretty.
Your home from home
Just 700 guests enjoy the perfect balance of space and intimacy. With plenty of comfort and great value for money, the Voyager offers everything you could wish for: spacious accommodation, a relaxed and unpretentious style and loads of good dining choices. The most all-inclusive of all luxury lines.
What we love
Capacity
700 Guests
Crew
447 International Staff
Style

Regent Seven Seas offers luxury without pretensions - not too dressy, and with lots of focus on the itineraries. So - with their excellent all-inclusive offer - you might get off the ship without having to pay a single further penny!

Inclusions

All meals in all venues including room service
All alcoholic drinks throughout the ship
Flights to and from the ship
A full selection of shore excursions
On board entertainment
Sports and fitness facilities
Gratuities
More about Seven Seas Voyager
Tailor-make your trip
Ways to make it better
Our favourite hotel in Singapore
So many wonderful hotels. We like a lot of them, but our choice is the Fullerton.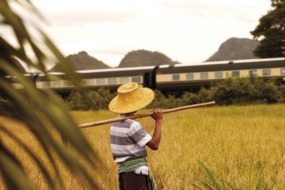 Leave Singapore in style
If you've got time and the dates work, take the Eastern and Oriental Express train to Bangkok.
Where to stay in Beijing
We think the Aman at Summer Palace is really special.
Excursions from Beijing
Within reach of the city are various sections of China's Great Wall. We think Mutiyanya is the most scenic and the best to visit, and a private tour to help avoid the crowds is a must.