Journey Type
Sailing from Brazil
14-15 December
Setting sail from Rio de Janeiro
The carnival capital of the world, Rio de Janeiro needs little introduction. We can think of few cities in the world that are able to compete when it comes to location: hugging the beautiful sandy shore and surrounded by jungle-clad islands and mountains, including the iconic Corcovado, the setting for Brazil's most vibrant city is simply breathtaking. Strut your stuff on Copacabana beach, shimmy to the rhythms of samba and bossa nova, or just drink in the view from the feet of Christ the Redeemer - Rio is truly a destination to be savoured.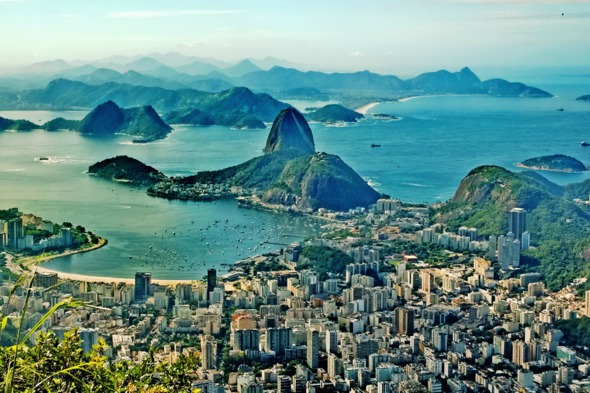 Our tip
Copacabana is the city's most famous beach, and a must-visit, but we prefer Ipanema for its more upmarket vibe.
16 December
Brazil:

Ilha Grande
Formerly a leper colony, and later a prison under the military dictatorship, Ilha Grande is now one of Brazil's most alluring destinations. This idyllic island is fringed by stunning beaches and covered in dense rainforest, with barely any human settlement outside the main town of Vila do Abraão.
17 December
Brazil:

Santos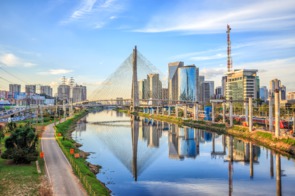 The busy port of Santos is the gateway to cosmopolitan São Paulo, a vast metropolis that is home to some 20 million people, making it the third largest city on earth. The urban sprawl may not be to everyone's taste, but for fans of big city life there is plenty to see and do, with a lively cultural scene and a host of world class restaurants.
20 December
Argentina:

Buenos Aires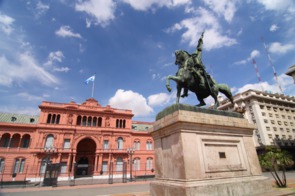 The streets of Buenos Aires are redolent of a grand old European capital, lined with elegant architecture that wouldn't look out of place in Madrid or Paris. There is also plenty of Latin passion on display: Argentina is the home of tango, that most electrifying of dances, and has played host to countless revolutions over the years.
21 December
Uruguay:

Punta del Este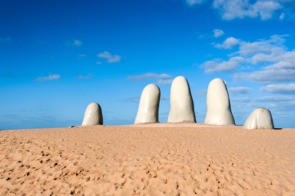 The upmarket Uruguayan beach resort of Punta del Este is where the A-listers come to party, with a reputation as the Saint Tropez of South America. The town also has an arty side, typified by intriguing sculptures such as the giant concrete fingers emerging from the beach at Playa Brava.
22 December
Uruguay:

Montevideo
Located just across the Río de la Plata from Buenos Aires, Uruguay's underrated capital is a cosmopolitan and eclectic mix of colourful colonial architecture and high rise modernity. The 14-mile waterfront promenade, La Rambla, is a popular and pleasant place to be on a summer's evening.
24 December
Argentina:

Puerto Madryn
Founded by Welsh settlers in 1886, bustling Puerto Madryn owes its popularity as a tourist destination to the incredible wildlife of the Península Valdés. From June to December the bay is filled with migrating right whales, and at the beginning of the season the whales come so close to the shore that you can view them from the pier.
27 December
Argentina:

Ushuaia
Perched on the ragged southern edge of Argentina, where the snow-capped Andes fall away into the churning sea, Ushuaia has a frontier town feel to it, and serves as the base for expeditions into the icy waters of Antarctica.
28 December
Chile:

Punta Arenas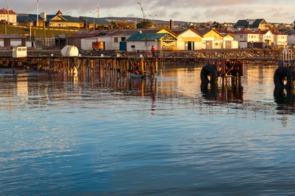 The weather-beaten city of Punta Arenas is a laid back and welcoming place, in spite of its inhospitable location on the shores of the Strait of Magellan. Nearby attractions include penguin colonies and the dramatic scenery of Torres del Paine National Park, while beyond the horizon lie the frozen wastes of Antarctica.
31 December
Chile:

Puerto Chacabuco
1 January
Chile:

Puerto Montt
Puerto Montt is the capital of the Chilean Lake District, spread out around a wide bay against a backdrop of snow-capped volcanoes. This wild region offers a host of outdoor activities, including mountain hikes, kayaking, white water rafting, fishing, zip lining and cycling.
3 January
Arriving in San Antonio
Your home from home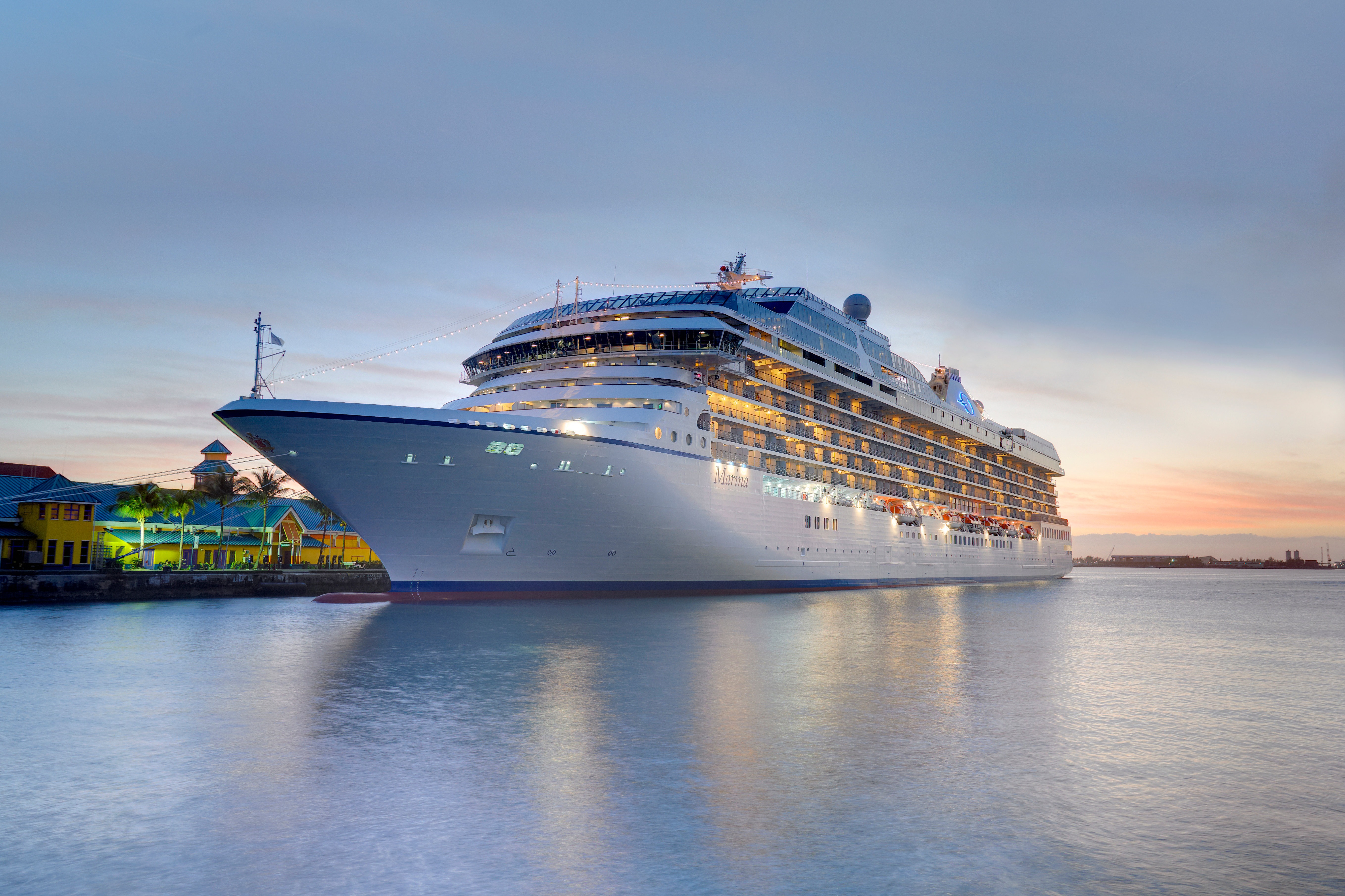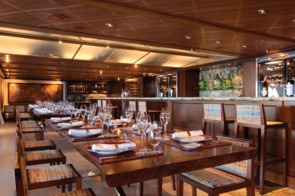 Purpose built for Oceania and bursting with style, sister ships Marina & Riviera are the perfect combination: small enough to be friendly and large enough to offer great facilities.
What we love
Above all, we love the fact that these ships are packed full of fabulous stuff - loads of amazing dining options, a collection of amazing artworks, wonderful learning opportunities and great accommodation. All of this is combined with the Oceania signatures: well-designed port intensive itineraries, great food, and a relaxed ambience.
Capacity
1250 Guests
Crew
800 International Staff
Style
Easy going and unpretentious, and at the same time stylish and oozing quality, Oceania's O class ships are a great choice for inquisitive and engaged travellers who enjoy good food.
Inclusions

All meals even in the speciality restaurants
Room service dining 24 hours a day
All soft drinks, bottled water, specialty coffees, teas and juices
Shuttle service from ship to city centre in many ports of call
Airfare (conditions apply)
Internet (conditions apply)
Loads of extras for Concierge Class and above
More about Marina
Tailor-make your trip
Ways to make it better
Our favourite hotel in Rio
We like the Belmond Copacabana Palace – go for the upper floor suites for great views over the ocean.
Around Rio
The extraordinary thing is that right by the city is the Tijuca Forest, great for a four wheel drive tour in acres of lush mountainous national park.