Journey Type
Sailing from Ecuador
Before you board
9 night luxury Peru and Machu Picchu tour
Fly to Lima for a 2 night stay and then fly onwards to Cusco, high in the Andes. On arrival, transfer straight to the Belmond Rio Sagrado in the Sacred Valley to explore the sites independently while adjusting to the altitude. Travel by Hiram Bingham train to the extraordinary site of Machu Picchu, dating back 500 years and located nearly 8000 feet above sea level. Spend the evening at the Belmond Sanctuary Lodge and then travel to the charming city of Cusco. After a late afternoon flight via Lima you'll arrive in Quito to discover Quito's colonial churches and monasteries and the magnificent blend of Spanish, Flemish and Moorish architecture before a flight on to the Galapagos Islands.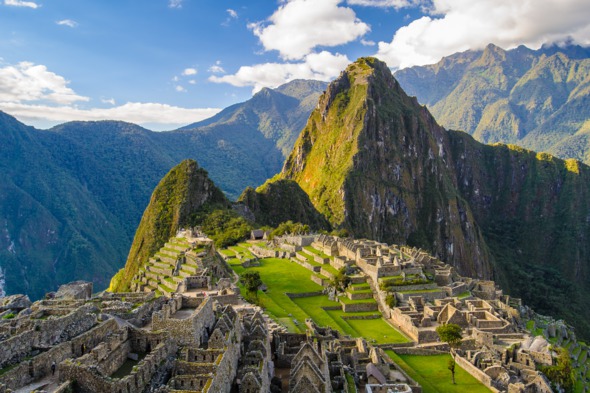 9 December
Setting sail from San Cristóbal Island
San Cristóbal is the most easterly of the Galapagos islands, home to the provincial capital and second largest human settlement in the archipelago, Puerto Baquerizo Moreno. The fantastic wildlife includes fur seals, boobies and the endangered Chatham frigatebird.
10 December
Ecuador:

Bartolomé Island
The summit of Bartolomé Island offers outstanding views of some of the Galapagos archipelago's most spectacular volcanic scenery, including the much-photographed Pinnacle Rock. The island is also home to penguins, sea lions and turtles, with some great snorkelling spots just offshore.
10-15 December
Ecuador:

Playa Espumilla, Punta Vicente, Punta Espinoza, Caleta Tagus, Bahia Elizabeth, Isla Champion, Cerro Dragon, Las Bachas, Los Gemelos, Puerto Ayora
16 December
Arriving in Baltra
The flat and arid island of Baltra, also known as South Seymour, is home to the Galapagos archipelago's main airport, formerly a US air base. The island is inhabited by wildlife including boobies and frigatebirds, but there are no sites open to visitors, so if you see anything it will only be in passing as you transfer between airport and ship.
Mundy Exclusive
Tour includes a 9 night Peru and Machu Picchu Tour with 2 nights at the Marriot Lima; 2 nights at the Belmond Rio Sagrado; Hiram Bingham train to Machu Picchu and a private tour; 1 night at the Belmond Sanctuary Lodge; 2 nights at the Hotel Belmond Monasterio in Cusco; 2 nights at the Hilton Colon in Quito; 7 nights on board Silver Galapagos including all meals, drinks, all excursions and zodiac rides, snorkelling equipment and kayaking, gratuities and port taxes; international flights, regional flights and all overseas transfers.
Your home from home
Visiting the Galapagos has to be one of the most magical travel experiences on earth – and to visit on board a ship like Silver Galapagos is surely the icing on the cake.
What we love
The intimate 100 guest Silver Galapagos gives you a supremely comfortable home from home, as you visit places with no tourism infrastructure whatsoever. Without the ship, you simply wouldn't be able to get there. But as it is, you can travel like an intrepid explorer, but without any compromise on comfort.
Capacity
100 Guests
Crew
70 Ecuadorian Staff
Style
This stylish sleek ship offers a warm Ecuadorian welcome and a stimulating programme on board. If you enjoy the finer things in life but have an adventurous spirit, you will find yourself in congenial company on board.
Inclusions

All meals including room service and hot rocks on deck in the evening
All drinks including local wines and spirits
Stimulating lecture programme with expert naturalists from the National Park
All excursions and zodiac rides
Snorkel equipment and kayaking
Gratuities
More about Silver Galapagos