Journey Type
Sailing from Hungary
31 October
Setting sail from Budapest
Budapest is one of Eastern Europe's most appealing cities, a vibrant and welcoming capital that straddles the Danube. The history of Budapest has been somewhat turbulent - ransacked by the Mongols in 1241, occupied by the Ottoman Turks for over a century, and almost flattened by the Soviets in 1945 - but plenty of older buildings survive, including the imposing Parliament and iconic St Stephen's Basilica. Although a pedant might point out that Budapest has only really existed since 1873; up until then the city's two distinct halves, Buda and Pest, were separate towns.
Our tip
Hungarian cuisine is vastly underrated; don't visit Budapest without trying goulash, the paprika-infused national dish.
1 November
Hungary:

Kalocsa
2 November
Croatia:

Vukovar
Vukovar is one of the great tragedies of the Balkan wars, a once prosperous and elegant city reduced to rubble by fierce fighting between Croats and Serbs. There are green shoots of optimism as the city rebuilds, but the battle-scarred streets are a powerful reminder of the devastating conflicts of the 1990s.
3 November
Serbia:

Belgrade
Belgrade has been invaded and occupied dozens of times over the centuries, a fact that's reflected in the mish-mash of architectural styles, from Ottoman and Art Nouveau to grim relics of the communist era. But Belgrade is also a city with real soul, emerging from a difficult recent history as one of Europe's most exciting capitals.
4 November
Romania:

Iron Gates
As the Danube wends its way east, along the border between Serbia and Romania, the river narrows to a dramatic gorge known as the Iron Gates. The river here is flanked by a huge stone carving of Decebalus, the last king of the Dacians and a Romanian national hero.
5 November
Bulgaria:

Vidin
The riverside town of Vidin is situated in the north west corner of Bulgaria, close to the border with Romania and Serbia. The architectural highlight is the magnificently well preserved Baba Vida fortress, and the town is also home to a mosque, a synagogue and several churches.
6 November
Bulgaria:

Ruse
The Bulgarian city of Ruse (also written 'Rousse') sits on the right bank of the Danube just opposite the Romanian city of Giurgiu, and is one of the country's most attractive cities. Sometimes known as 'Little Vienna', thanks to the plethora of Neo-Baroque and Neo-Rococo architecture, it's a highlight of any cruise along this stretch of the Danube.
6 November
Bulgaria:

Svistov
7 November
Arriving in Oltenita
Your home from home
Viking's award winning Longships are the success story of river cruising with sleek Scandinavian design and innovative engineering.
What we love
Viking Longships have led the way in the expansion of the river cruise industry. With understated interiors, comfortable staterooms and suites, a great main restaurant and excellent terrace offering a lovely spot for a casual meal al fresco, they operate on Viking's most popular itineraries and consistently deliver to Viking's ever increasing clientele.
Capacity
190 Guests
Crew
45 Staff
Style
Understated, elegant on board environment where you can relax after an enriching day of sightseeing.
Inclusions

All meals with wine, beer, and soft drinks
Sightseeing and excursions
WiFi on board
In-room movies on demand

Length
443 feet
More about Viking Aegir
Tailor-make your trip
Ways to make it better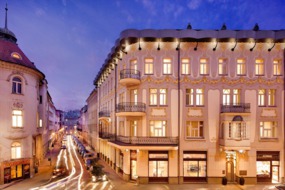 Our favourite hotel in Budapest
We like the Hotel Palazzo Zichy on the Pest side of the river, which used to be the residence of Count Nándor Zichy.
A taste of Hungary
If you're a wine lover, you really should visit the world's oldest classified wine region, known for its sweet Tokaji aszú dessert wine.