Journey Type
Sailing from New Zealand
16 January
Setting sail from Queenstown
17 January
New Zealand:

Milford Sound
Milford Sound is New Zealand's most iconic sight, a breathtaking fjord crowned by the soaring Mitre Peak. Despite a remote location, on the western coast of the South Island, the fjord attracts thousands of visitors every year, such is the beauty of this raw and unspoilt landscape.
18-20 January
New Zealand:

Fiordland National Park
The vast wilderness of Fiordland is home to New Zealand's most spectacular and iconic landscapes, a dramatic tableau of jagged mountains, plunging fjords and vast lakes. Most of the region is a protected national park, and the native wildlife includes dolphins, fur seals and Fiordland crested penguins.
21 January
New Zealand:

Ulva Island
21 January
New Zealand:

Stewart Island
Stewart Island is New Zealand's rarely visited third island. A landscape of lush rainforest and beautiful beaches is home to abundant birdlife, and it's one of the best places in the country to see kiwis in the wild. You can also have a drink at New Zealand's southernmost pub in Oban, the only town on the island.
22 January
New Zealand:

Dunedin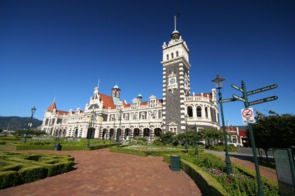 Visitors to Dunedin are amazed by the extraordinary Victorian and Edwardian buildings dating back to the gold rush, which bring to mind the city's Scottish roots - not least when the sound of the pipes echoes through the streets.
23 January
New Zealand:

Akaroa
The name Akaroa means 'long harbour' in Maori, and this sleepy town on the southern side of the Banks Peninsula is situated on a beautiful natural harbour created when a volcanic crater collapsed into the sea. The first Europeans to settle here were French, and the town still has a decidedly Gallic flavour.
24 January
New Zealand:

Kaikoura
Kaikoura sits amongst spectacular South Island scenery, and is renowned as a marine wildlife hotspot. The meeting of subtropical and cold southern ocean currents sustains an abundance of species including sperm whales, orcas, pilot whales, humpbacks, dolphins and seals, as well as birds including albatross, shearwaters and penguins.
25 January
New Zealand:

Wellington
New Zealand's cosmopolitan capital is arguably the country's most likeable city. Hemmed in by forest-clad hills, Wellington is compact and easily walkable, with a lovely waterfront area where you'll find the must-see Te Papa national museum. The city is also renowned for its strong winds, so make sure you hold on to your hat!
26 January
New Zealand:

Napier
When Napier was destroyed by an earthquake in 1931 the city was rebuilt entirely in the Art Deco style, making this a fascinating architectural time capsule. It's a lovely, sunny seaside city, and a visit to the surrounding Hawke's Bay wine region makes for an enjoyable day trip.
27 January
New Zealand:

White Island
Situated off the coast of Whakatane, White Island (Whakaari) is New Zealand's most active volcano. The smouldering cone that you can see is actually only the peak of a much larger submarine mountain, and the main vent is below sea level. A guided hard hat tour of the island may be possible, dependent on conditions when you visit.
28 January
New Zealand:

Tauranga
Tauranga is the largest city on the Bay of Plenty, and is said to be one of the sunniest spots in the whole of New Zealand. There's a real boom town feel here, with new restaurants, bars and hotels opening all the time, and neighbouring Mount Maunganui is a popular beach destination.
29 January
New Zealand:

Auckland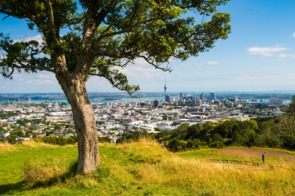 Auckland offers a buzzing waterfront and a vibrant arts scene, and provides a fascinating introduction to New Zealand's proud cultural heritage. The centre is home to excellent shopping and a number of fantastic restaurants, and to the west is the city's oldest wine region.
30 January
New Zealand:

Bay of Islands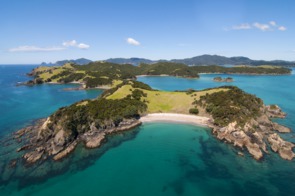 The beautiful Bay of Islands is scattered with some 150 undeveloped islands, an idyllic landscape of bright skies, secluded beaches and clear blue waters. The bay was also the site of the first permanent British settlement in New Zealand, and it was here that the Treaty of Waitangi was signed in 1840 between the British Crown and the Maori chiefs.
1 February
New Zealand:

New Plymouth
The buzzing city of New Plymouth lies in the shadow of majestic Mount Taranaki, surrounded by rolling green farmland. Most visitors come here in search of outdoor pursuits, including hiking, mountaineering and surfing, and the city itself is home to a lively arts scene and some lovely botanical gardens.
2 February
New Zealand:

Abel Tasman National Park
Abel Tasman is New Zealand's smallest national park, but there's still plenty to see, with breathtaking scenery and wildlife including seals and penguins. The gentle terrain makes it a very accessible destination for a day trip, and the stunning Coast Track is a popular walking route.
2-3 February
New Zealand:

Nelson, Ships Cove
4 February
Arriving in Lyttelton (Christchurch)
A garden city where punts glide down the Avon River, you'd be forgiven for thinking you were still in the UK when arriving into Christchurch, New Zealand's most English of cities. A gateway to the country's famously scenic South Island, its peaceful parks and quiet streets still show signs on the earthquakes in 2010 and 2011 as the recovery continues. Lyttelton is just over 7 miles away; originally established as a landing point for Christchurch-bound seafarers, it serves the same purpose for visitors today.
Our tip
Stroll through the beautiful Botanic Gardens, founded in 1893. Home to a huge variety of exotic and local plants, it's an exceptionally pleasant area of the city.
Your home from home
One of Noble Caledonia's flagships, Caledonian Sky is more akin to a country hotel than a big cruise ship.
What we love
Formerly known as the Hebridean Spirit, the MS Caledonian Sky has exceptionally spacious suites with a traditional feel created by the wooden panelling and brass features. The grand yet comfortable Lounge and Restaurant contrast with the modern furnishings on the Sun Deck but all combine to make a wonderful home from home on a usually in-depth and fascinating itinerary.
Capacity
114 Guests
Staff
75 International Staff
Style
An informal and congenial atmosphere on board is driven by the communal spirit of shared exploration.
Inclusions

All meals including wine, beer and soft drinks
Afternoon tea
Tea and coffee available 24 hours
Expedition briefings and lectures
Sightseeing and excursions
Gratuities

Year built
1992
Last refurbished
2012
Tonnage
4,200 grt
Length
267 feet
Breadth
50 feet
More about Caledonian Sky
Tailor-make your trip
Ways to make it better
Where to stay near Christchurch
In New Zealand it's all about great B&Bs, so go for the lovely Diamond Harbour Lodge.
Make the most of the South Island
From dolphin spotting to bungee jumping, New Zealand's South Island has so much on offer that we recommend you spend as much time there as you can.