Journey Type
Sailing from Italy
13-14 August
Setting sail from Venice
Venice is a city like no other, a marble maze of turquoise canals criss-crossed by beautiful bridges, overflowing with palaces, churches and charming little piazzas. No matter how many times you've seen it in photographs, that first glimpse of the Grand Canal will simply take your breath away; it hardly seems credible that such a eye-popping scene could exist outside of a Canaletto painting. Of course Venice is a city that draws big crowds, especially in summer, but don't let this put you off; even the busiest areas are never more than a few steps from a quiet courtyard or a secluded square.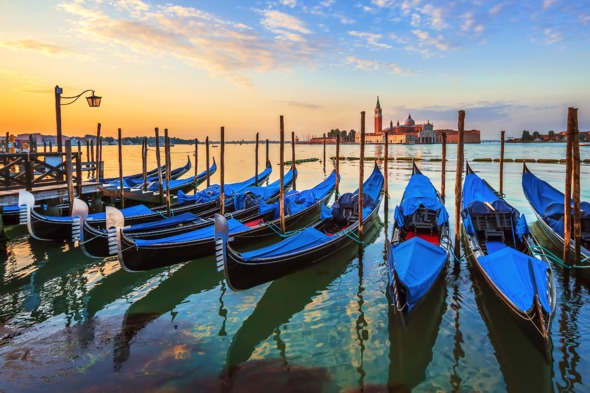 Don't miss
The Peggy Guggenheim Collection houses an eclectic assortment of works from the likes of Picasso, Magritte and Jackson Pollock. There is also a lovely garden facing on to the Grand Canal, with a rather rude sculpture of a rider on horseback.
15 August
Slovenia:

Koper
The largest town on Slovenia's sliver of Adriatic coastline, Koper has an attractive medieval centre and some impressive Venetian architecture. There is also a sizeable Italian community here, reflected in the bilingual road signs.
16 August
Croatia:

Rijeka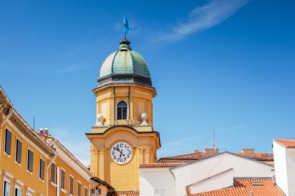 The gritty port city of Rijeka isn't a huge tourist draw, with most visitors passing through en route to the islands or the neighbouring seaside resort of Opatija, although the city centre is home to some handsome Austro-Hungarian architecture.
17 August
Croatia:

Split
Croatia's second city enjoys a dramatic setting, hugging a sweeping bay against a backdrop of sheer grey mountains. Split's labyrinthine old town is contained within the remarkable Roman ruins of Diocletian's Palace, a UNESCO World Heritage Site, and spills out onto the buzzing seafront Riva promenade.
18 August
Croatia:

Dubrovnik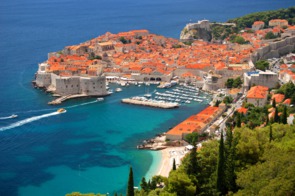 We never fail to be moved when we see the terracotta roofs and honey-golden walls of Dubrovnik, and a stroll around the perfectly preserved old town is a highlight of any visit to the Dalmatian coast. Make sure you take the time to walk around the walls and soak up the marvellous sea views.
19 August
Montenegro:

Kotor
Kotor sits at the head of a beautiful, fjord-like bay, hemmed in by glowering mountains. The compact, walled old town is Montenegro's star attraction, a warren of little alleyways and shady squares that is often described as a 'mini Dubrovnik'.
20 August
Greece:

Argostoli (Kefalonia)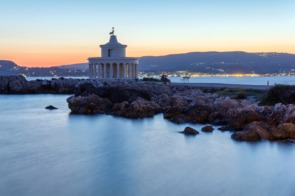 Rugged Kefalonia is the largest of the Ionian islands, and remains unspoilt by tourism despite earning fame as the setting for 'Captain Corelli's Mandolin'. The island rewards exploration, with some splendid beaches and lovely little villages, and the vineyards here produce some excellent wines.
21 August
Italy:

Catania
Busy, noisy and a little bit scruffy, Catania is Sicily's second city, poised perilously in the shadow of Mount Etna. In recent years gentrification has taken hold, and the city's many beautiful palazzi and baroque churches have been restored to their former glory. Eating out here is also a real treat.
22 August
Italy:

Amalfi
The picturesque little town of Amalfi was once a major Mediterranean naval power, but a devastating earthquake in 1343 cut the city down in its prime and destroyed most of its historic buildings. These days, of course, Amalfi is best known for the eponymous stretch of stunning coastline on which it sits.
23 August
Italy:

Rome (Civitavecchia)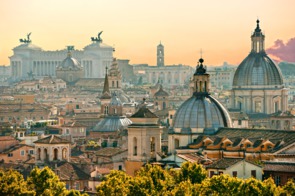 One of the world's great cities, Rome continues to dazzle and delight visitors with a potent mix of architectural marvels, continent-defining history and buzzing nightlife. The Colosseum, the Vatican and the Forum are among the big ticket items, with the crowds to match, though in truth you will find history around almost every corner.
24 August
Italy:

Portofino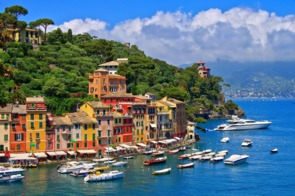 This tiny village on the Ligurian coast must be one of the most photographed spots in Italy, and no wonder; brightly coloured houses cling to the hillside overlooking a delightfully picturesque little harbour, where fishing boats gently bob alongside luxury yachts.
25 August
Italy:

Olbia
Situated on the northeastern coast of Sardinia, Olbia is a busy port city that serves mostly as a gateway to the beautiful Costa Smeralda. The compact historic centre has some pleasant places to eat, drink and shop if you feel like exploring, or you may prefer to head straight for the beach.
27 August
France:

Toulon
Toulon is not the sort of place you would expect to find on the Côte d'Azur, a gritty port city that's home to France's most important naval base. It's not completely without charm, however, and for some travellers it may come as a breath of fresh air after the glitz of the Riviera. For the best view, take the cable car to the top of Le Faron mountain.
28 August
France:

Saint Tropez
Ever since Brigitte Bardot put Saint Tropez on the map with the seminal 'And God Created Woman' in 1956, this diminutive fishing village on the French Riviera has been a magnet for the international glitterati.
29-30 August
Arriving in Monaco
Renowned for its casino, its Grand Prix and its oligarch-friendly tax policies, Monte Carlo is glamour and hedonism personified, with a price tag to match. Wedged between Italy and France on the Côte d'Azur, this little principality enjoys a lovely setting, the villas and penthouses tumbling down the hillside towards the sweeping blue expanse of the Mediterranean. Most visitors won't feel the need (or be able to afford) to stay more than a day or two, but the Prince's Palace and the Oceanographic Museum are both well worth a visit. Enter the casino at your own risk...
Our tip
If you have the slightest interest in Formula One, you will want to walk the course – 3.34 km through narrow twisted streets and tunnels. Next time you watch the Grand Prix here it will mean so much more to you.
Your home from home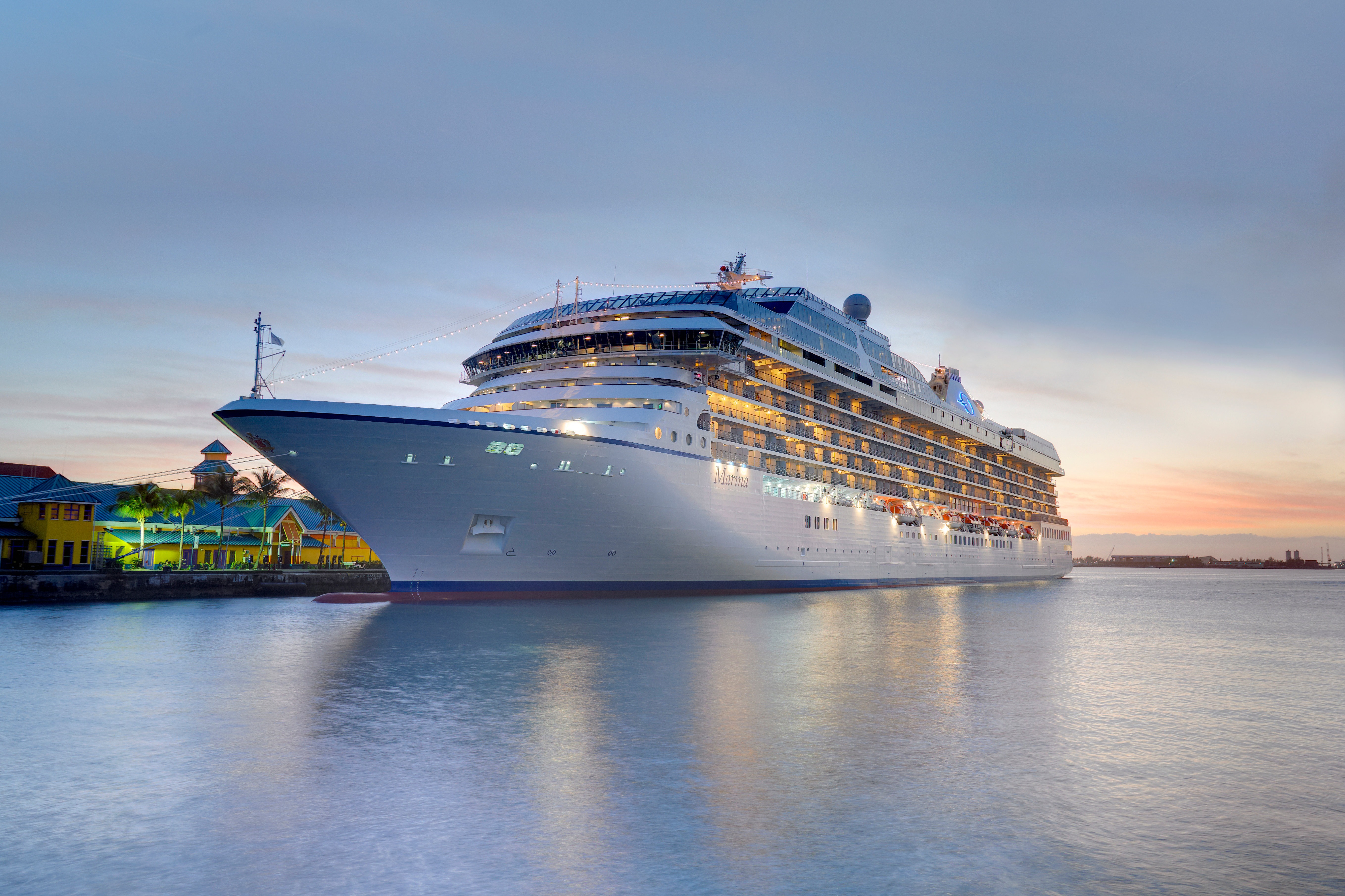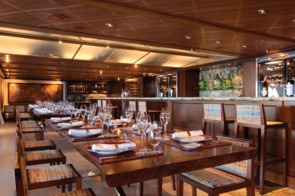 Purpose built for Oceania and bursting with style, sister ships Marina & Riviera are the perfect combination: small enough to be friendly and large enough to offer great facilities.
What we love
Above all, we love the fact that these ships are packed full of fabulous stuff - loads of amazing dining options, a collection of amazing artworks, wonderful learning opportunities and great accommodation. All of this is combined with the Oceania signatures: well-designed port intensive itineraries, great food, and a relaxed ambience.
Capacity
1250 Guests
Crew
800 International Staff
Style
Easy going and unpretentious, and at the same time stylish and oozing quality, Oceania's O class ships are a great choice for inquisitive and engaged travellers who enjoy good food.
Inclusions

All meals even in the speciality restaurants
Room service dining 24 hours a day
All soft drinks, bottled water, specialty coffees, teas and juices
Shuttle service from ship to city centre in many ports of call
Airfare (conditions apply)
Internet (conditions apply)
Loads of extras for Concierge Class and above
More about Riviera
Tailor-make your trip
Ways to make it better
Our favourite hotel in Venice
The Metropole is an old favourite for its quieter location and lovely lagoon views.
See more of the Veneto
If you've time, take the train to Padova and visit the Scrovegni Chapel.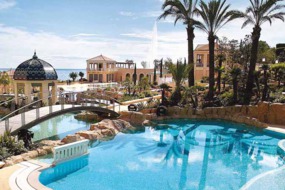 Where to stay in Monte Carlo
We prefer the Monte Carlo Bay to the city hotels, lovely sea views and next to the beach.
See Monte Carlo in style
If you like luxury or performance cars, rent one - a Ferrari or a Lamborghini - and drive along the Corniche.