Journey Type
Sailing from the UK
1 October
Setting sail from Dover
White Cliffs Country is a fascinating region, one packed with history and natural beauty. We think there is no sight like that of the stunning cliffs rising from the sea, topped by the fortifications of Dover Castle, and surrounded by lush green countryside. But the nearby area is also packed with charm, and not so further afield are captivating pretty villages, fascinating towns such as Sandwich (one of the original Cinque ports), and of course Kent's glory, Canterbury with its magnificent cathedral. A final thought must go to the many castles including Deal, Walmer and the magnificently photogenic Leeds Castle.
Our tip
You will be amazed how much there is to see and do, so drive down early, pick a base such as Canterbury to explore, and join your cruise completely relaxed.
2 October
Netherlands:

Rotterdam
One of the great ports of Europe, Rotterdam's impressive skyline can be seen from far and wide. With great architecture both ancient and modern, fantastic exhibition and concert halls, theatres, pretty galleries and numerous museums, there is so much to do when you stay here.
3 October
Belgium:

Antwerp
Antwerp is a city bound up with the arts, once home to the likes of Rubens and Van Dyck, and more recently carving out a reputation as the fashion capital of Belgium. It's also a magnet for shopaholics, with designer boutiques and jewellers galore.
5-6 October
France:

Rouen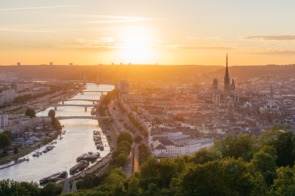 Rouen has endured a turbulent history: it was here that Joan of Arc was burnt at the stake in 1431, and much of the city was destroyed during World War II. Many cruise visitors head straight for Paris, an hour away by train, which is a shame since there's so much to see in Rouen, including a beautiful cathedral and the atmospheric Medieval quarter.
7-9 October
France:

Cherbourg
United Kingdom:

Portland, Falmouth
11 October
Spain:

La Coruña
La Coruña is the largest city in Galicia, a beautiful region of lush green countryside and wild, windswept beaches. Historical sights of note include the Tower of Hercules, a UNESCO-listed Roman lighthouse, and the city is also home to some great seafood restaurants.
12 October
Portugal:

Leixoes (Porto)
13 October
Portugal:

Lisbon
Spread across steep hillsides that overlook the Rio Tejo, Lisbon's colourful cityscape includes Gothic cathedrals, majestic monasteries and quaint museums. But for many the best times will be had wandering the narrow lanes of Lisbon's lovely backstreets, with their great local food, wine and music.
14 October
Portugal:

Portimão
Portimão is a bustling fishing port and gateway to the Algarve, with a pleasant riverside promenade where the smell of sizzling sardines fills the air. The most popular attraction is Praia da Rocha just to the south, one of the Algarve's loveliest beaches.
15 October
Spain:

Seville
Seville is a wonderful destination, a sophisticated and sun-kissed city on the banks of the Guadalquivir river. It's a treat for all the senses, from the smell of orange blossom to the heart-tugging sounds of flamenco, and the highlight of the calendar is undoubtedly Semana Santa, when a spectacular Easter parade fills the streets.
16 October
Spain:

Málaga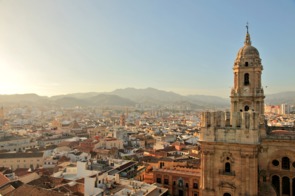 Málaga boasts plenty of chic restaurants and bars where you can ease into the rhythms of life in southern Spain, before exploring sights including the intriguing, unfinished Gothic cathedral, and a museum devoted to the city's most famous son, Pablo Picasso.
17 October
Spain:

Cartagena
Cartagena was founded by the Carthaginians around 227 BC, who named it after their home city in North Africa. These days the city is best known for its well-preserved Roman theatre, which was remarkably only discovered in 1987, in spite of its location in the centre of town.
19 October
Monaco:

Monte Carlo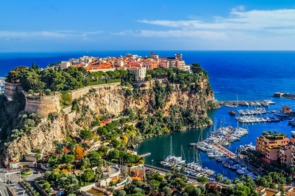 Renowned for its casino, its Grand Prix and its oligarch-friendly tax policies, Monte Carlo is glamour and hedonism personified, with a price tag to match. This little principality enjoys a lovely setting, the villas and penthouses tumbling down the hillside towards the sweeping blue expanse of the Mediterranean.
20 October
Italy:

Portovenere
The colourful facades along Portovenere's UNESCO-listed harbourfront make this one of the most picturesque villages on the Ligurian coast, and it has often been described as the 'sixth town' of the Cinque Terre. Wandering the narrow alleyways is a delight, and it's worth the climb to the impressive hilltop Castle Doria.
21 October
France:

Toulon
Toulon is not the sort of place you would expect to find on the Côte d'Azur, a gritty port city that's home to France's most important naval base. It's not completely without charm, however, and for some travellers it may come as a breath of fresh air after the glitz of the Riviera. For the best view, take the cable car to the top of Le Faron mountain.
23 October
Arriving in Barcelona
Barcelona, the cosmopolitan capital of Catalonia, is one of our favourite ports of call. From the warren-like medieval streets of the Barri Gòtic to the fantastical modernist architecture of Antoni Gaudí, from the dizzy heights of Mount Tibidabo to the golden sands of Barceloneta, there's never a dull moment in this most beguiling of cities. Take a stroll along the Ramblas, soak up the wonderful art of Picasso and Miró, or watch Lionel Messi work his mesmerising magic at the Camp Nou. Barcelona is truly a city with something for everyone.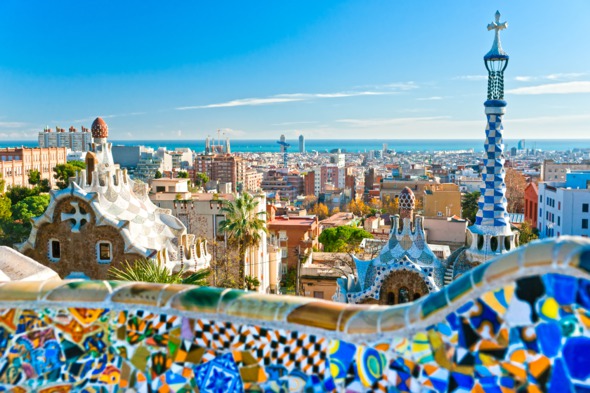 Don't miss
Gaudí's crowning masterpiece, the church of La Sagrada Familia, is an utterly unique building, a soaring structure that's rich in bizarre little details. It's also still not finished; despite the fact that construction began in 1882, the current completion date is scheduled for 2026!
Your home from home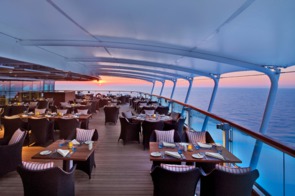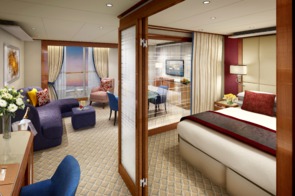 Once again Seabourn leaps ahead, expanding the most modern luxury fleet with the innovative Seabourn Encore and Ovation.
What we love
When Seabourn introduced the three sisters, they changed the face of luxury cruising. Seabourn Encore (and her sister Seabourn Ovation, due to be completed in 2018), with 604 guests on board, will take things a step further, with lots of new thinking and special additions, continuing Seabourn's magical ability to surprise and delight.
Capacity
604 Guests

Style

The contemporary décor appeals to a sophisticated and cosmopolitan crowd. With lots of outside space, you can enjoy an al fresco experience if you choose.

Inclusions

All meals in all restaurants including room service
Open bar policy throughout the ship
Onboard entertainment and lecture programme
Extensive spa and fitness facilities
Programme of daytime activities
Gratuities

Year launched
2016 (Seabourn Encore) / 2018 (Seabourn Ovation)
Tonnage
40,350 grt
More about Seabourn Ovation
Tailor-make your trip
Ways to make it better
Extend your stay in Kent
We love historic Walletts Court, just ten minutes outside Dover but feels like another world – cosy, welcoming, and great food too.
Our recommended private tour
An extraordinary trip up the coast by RIB to the mouth of the Stour River and the orange seals basking on the mudflats.
Where to stay in Barcelona
The lovely Hotel Arts on the sea front is perfectly located for a pre- or post-cruise stay, and has great restaurants too.
Explore Catalonia
Take a day trip to the attractive city of Girona, with its fascinating mix of Gothic, Moorish and Modernist architecture, as well as an exceptionally well preserved Jewish Quarter.