Journey Type
Sailing from Hungary
21-22 May
Setting sail from Budapest
Budapest is one of Eastern Europe's most appealing cities, a vibrant and welcoming capital that straddles the Danube. The history of Budapest has been somewhat turbulent - ransacked by the Mongols in 1241, occupied by the Ottoman Turks for over a century, and almost flattened by the Soviets in 1945 - but plenty of older buildings survive, including the imposing Parliament and iconic St Stephen's Basilica. Although a pedant might point out that Budapest has only really existed since 1873; up until then the city's two distinct halves, Buda and Pest, were separate towns.
Don't miss
If you are a music lover, you can't miss a performance at the Opera House – affordable, and great music in a wonderful building.
23-24 May
Austria:

Vienna
Formerly the centre of the Habsburg Empire, Vienna is as grand a European capital as you can imagine, jam packed full of thrusting, bombastic buildings that stand as a reminder of Austria's glorious imperial heyday.
25 May
Austria:

Dürnstein
One of the prettiest towns in Austria's Wachau Valley, little Dürnstein charms visitors with its handsome 16th century architecture. Richard the Lionheart was once imprisoned in the castle that sits on the hillside above the town, and the region is also famous for its wine.
25 May
Austria:

Melk
The riverside village of Melk is best known for its spectacular abbey, a Baroque masterpiece that dominates the landscape. A Benedictine abbey was first established here in 1089, and the 18th century reconstruction that you can see today is still a working monastery.
26 May
Austria:

Linz (Salzburg)
The city of Linz is included on river cruise itineraries due to its proximity to Salzburg, which is where you'll most likely be headed. Salzburg's Altstadt attracts millions of visitors every year with its fairytale skyline of domes and spires, and the city is renowned as both the birthplace of Mozart and the setting for 'The Sound of Music'.
26 May
Germany:

Passau
The pretty Bavarian town of Passau, situated close to Germany's border with Austria, enjoys a unique setting at the confluence of three rivers: the Inn, the Ilz and the Danube. The narrow cobbled streets of the handsome old town, the Altstadt, are quite delightful.
27 May
Germany:

Regensburg
Originally founded by the Celts and later an important Roman settlement, Regensburg is one of Bavaria's lesser known gems. Situated on the northernmost bend of the Danube, it's a friendly and laid back city, with an exceptionally well preserved medieval centre.
28 May
Arriving in Nuremberg
Nuremberg, Bavaria's second city, first pops up in the history books in 1050 as a stronghold of the Franks, and later became the unofficial capital of the Holy Roman Empire. Nuremberg was also the centre of the German Renaissance, although in the 20th century it became associated with the Nazis; huge rallies were held here, and Nazi officials were later tried and convicted at the Nuremberg Trials. Happily Nuremberg has bounced back from these dark days, and nowadays the city is a tourist magnet thanks to the beautifully restored old town, Christmas markets and excellent beer.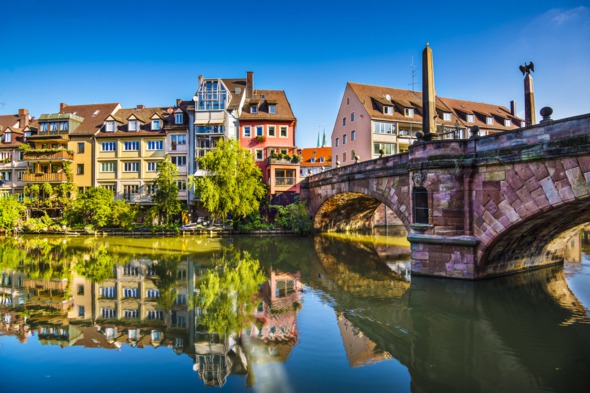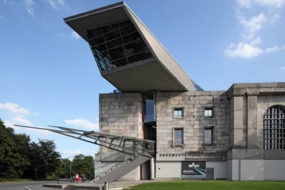 Our tip
Nuremberg is completely rebuilt so has a bit of a Disneyesque feel to it. But this was a key centre for Hitler, so turn your back on toytown and visit the Documentation Centre (excellent exhibit) and Zeppelinfeld, where most of the big Nazi rallies took place.
Your home from home
Scenic's original Space-Ships, Ruby and Pearl, accommodate 167 guests and offer a luxurious way to explore the great rivers of Europe.
What we love
Sleek and contemporary, with an extensive list of onboard inclusions, Scenic's aptly named Space-Ships are renowned for their high levels of personal service, relaxed ambience and inviting public areas.
Capacity
167 Guests
Crew
53 European Staff
Style
Relaxed and informal during the day, giving way to an elegant evening atmosphere.
Inclusions

All meals in all venues
All alcholic drinks
Sightseeing and excursions
Butler service
WiFi on board
Electronic bicycles
All gratuities

Year Built
2009 (Ruby); 2011 (Pearl)
Last Refurbished
2013
Length
443 feet
More about Scenic Ruby
Tailor-make your trip
Ways to make it better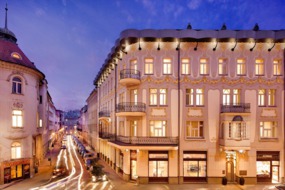 Our favourite hotel in Budapest
We like the Hotel Palazzo Zichy on the Pest side of the river, which used to be the residence of Count Nándor Zichy.
A taste of Hungary
If you're a wine lover, you really should visit the world's oldest classified wine region, known for its sweet Tokaji aszú dessert wine.
Where to stay in Nuremberg
We like the Drei Raben (Three Ravens) in the rebuilt old town.
Explore Nuremberg's rich history
Nuremberg's medieval might and significance as part of the Holy Roman Empire becomes clear in a visit to the Kaiserburg.