Journey Type
Cruise only (Please call for flight options)
28-30 October
Setting sail from Ho Chi Minh City
Still often referred to by its old name, Saigon, Vietnam's busiest city is much more westernised than Hanoi, though it still retains plenty of charm. Saigon was the capital of the South during the Vietnam War, and American-style capitalism has been embraced more enthusiastically here than in the North, with a clutch of shining skyscrapers standing as testament to Vietnam's surging economic growth. You can learn more about the city's turbulent recent history at the Reunification Palace and the War Remnants Museum, shop for souvenirs at the colourful markets, or take a trip out of the city to the fascinating (and claustrophobic) Cu Chi Tunnels, a vast network of underground passages excavated by the Viet Cong during the war.
Don't miss
Ben Thanh Market has an eclectic mix of wares. From the usual tourist fodder to kitchen utensils and everything in between, go there for the atmosphere rather than the shopping.
1-2 November
Singapore:

Singapore
Singapore's heritage as an important trading post means that there is a real cultural mix, with four official languages: English, Chinese, Malay and Tamil. Step away from the gleaming towers and you'll find yourself transported into another world amongst the intoxicating streets of Chinatown and Little India.
3 November
Malaysia:

Malacca
The port of Malacca has a rich multicultural heritage, a product of its history as an important trading hub. Over the years the Arabs, Portuguese, Dutch and British all held sway here, which is reflected today in the city's eclectic architecture and unique cuisine.
4 November
Malaysia:

Kuala Lumpur (Port Kelang)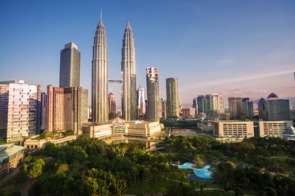 Malaysia's capital is a hot and humid cultural melting pot, defined by its distinctive Malay, Chinese and Indian communities. The dazzling Petronas Towers are KL's most recognisable landmark, while at street level you'll find temples and mosques, elegant colonial buildings and bustling markets.
5 November
Malaysia:

Penang
The Malaysian island of Penang is a fascinating blend of East and West, far more than just a beach destination. Lovely Georgetown, a UNESCO World Heritage Site, is home to British colonial architecture, crumbling Chinese shophouses and incense-perfumed temples.
6 November
Thailand:

Phang Nga
8-9 November
Arriving in Yangon
Yangon, formerly known as Rangoon, may no longer be Myanmar's capital, but it remains the largest and most important city, and the gateway to exploring this beautiful country. Visible from all around the city is Yangon's crowning jewel, the shimmering golden Shwedagon Paya, one of South East Asia's most beautiful Buddhist temples. As in the rest of the country, Yangon's creaking infrastructure has not yet caught up with the recent tourism boom, and much of the city remains in a state of elegant decay. It's also blissfully free of western chain stores and burger restaurants, offering a snapshot of an Orient that has largely disappeared from other big cities in the region.
Our tip
Since the people were allowed to buy cars of their own, the traffic has been terrible – walk if you can.
Tailor-make your trip
Ways to make it better
Where to stay in Saigon
We think the Park Hyatt is a good choice.
Sightseeing in Saigon
The country's turbulent past is captured superbly at the Reunification Palace and the War Remnants Museum. A fascinating visit.
Our favourite hotel in Yangon
It has to be The Strand – grand colonial splendour.
See more of Myanmar
Assuming your call is overnight, don't miss flying to Bagan, and include ballooning at dawn if you possibly can.