Journey Type
Cruise only (Please call for flight options)
5 May
Setting sail from Venice
Venice is a city like no other, a marble maze of turquoise canals criss-crossed by beautiful bridges, overflowing with palaces, churches and charming little piazzas. No matter how many times you've seen it in photographs, that first glimpse of the Grand Canal will simply take your breath away; it hardly seems credible that such a eye-popping scene could exist outside of a Canaletto painting. Of course Venice is a city that draws big crowds, especially in summer, but don't let this put you off; even the busiest areas are never more than a few steps from a quiet courtyard or a secluded square.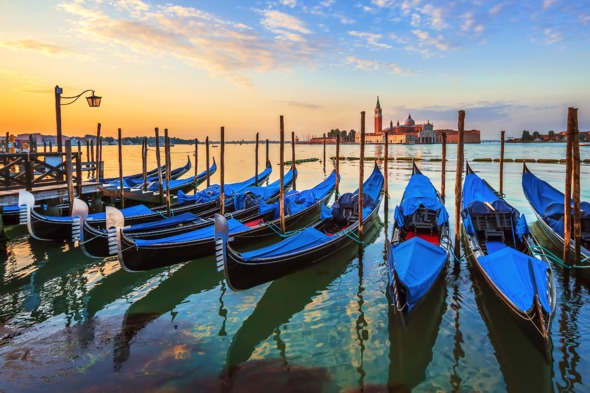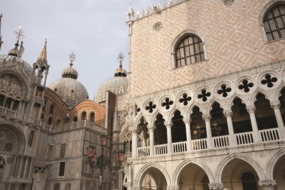 Our tip
The long, long queues for St Marks might put you off, but just book online in advance for timed entrance and bypass the exhausted tourists.
6 May
Croatia:

Zadar
Located on the quieter northern stretch of Croatia's Dalmatian coast, the walled port city of Zadar is an intriguing blend of old and new, where Roman ruins and psychedelic modern art installations sit alongside one another.
7 May
Croatia:

Dubrovnik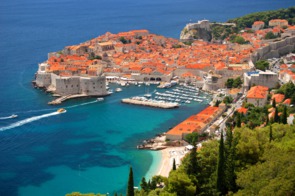 We never fail to be moved when we see the terracotta roofs and honey-golden walls of Dubrovnik, and a stroll around the perfectly preserved old town is a highlight of any visit to the Dalmatian coast. Make sure you take the time to walk around the walls and soak up the marvellous sea views.
8 May
Montenegro:

Kotor
Kotor sits at the head of a beautiful, fjord-like bay, hemmed in by glowering mountains. The compact, walled old town is Montenegro's star attraction, a warren of little alleyways and shady squares that is often described as a 'mini Dubrovnik'.
9 May
Greece:

Corfu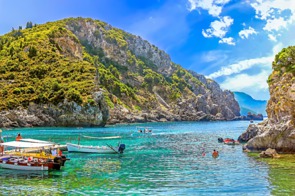 Corfu, known as Kerkyra in Greek, is a beautiful island of verdant hills and rocky coves, and away from the more crowded resorts it remains a sleepy and idyllic place. Don't miss the picturesque Venetian architecture of Corfu Town, a UNESCO World Heritage Site.
11 May
Malta:

Valletta
Malta's tiny capital, established by the Knights of St John, packs in an awful lot of history considering its diminutive size. The atmospheric old streets, bathed in Mediterranean sunshine, are full of attractive honey-golden buildings, along with an impressive selection of bars and restaurants.
12 May
Italy:

Trapani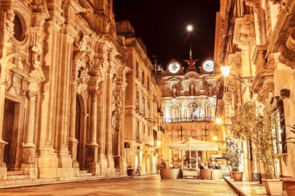 Situated on the western edge of Sicily, closer to Tunis than it is to Rome, the historic port of Trapani has a discernible North African feel to it. This was once an important medieval trading centre that linked Carthage and Venice, and the lovely old town is a great place to spend some time exploring.
14 May
France:

Marseille
The rumbustious port of Marseille often gets a bad press, but the city has been transformed in recent years, with a host of new cultural attractions. The vibrant Vieux Port remains at the heart of life in Marseille, however, and is the best place to begin your exploration of the city's many historic sights.
16 May
Spain:

Barcelona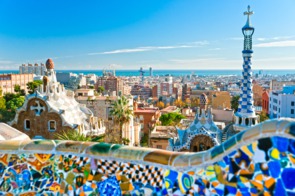 From the warren-like medieval streets of the Barri Gòtic to the fantastical modernist architecture of Antoni Gaudí, from the dizzy heights of Mount Tibidabo to the golden sands of Barceloneta, there's never a dull moment in Barcelona.
17 May
France:

Sète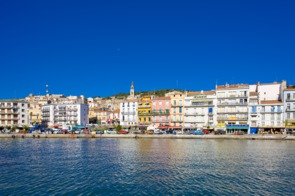 The down-to-earth port of Sète, sandwiched between the Mediterranean and the Etang de Thau lagoon, is a working town rather than a tourist hotspot, though the canals and colourful buildings have a certain charm. It's also a great spot for a seafood lunch, and a visit to the nearby citadel of Carcassonne is a popular excursion.
18 May
Spain:

Tarragona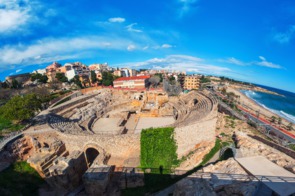 The busy port of Tarragona, situated on the Catalan coast to the south of Barcelona, is a city full of history. This was the base from which the Romans launched their conquest of the Iberian peninsula, and there are plenty of reminders of this period, including an impressive seafront amphitheatre.
20 May
Spain:

Málaga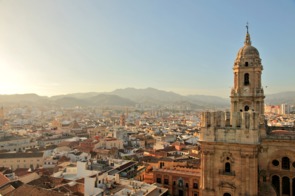 Málaga boasts plenty of chic restaurants and bars where you can ease into the rhythms of life in southern Spain, before exploring sights including the intriguing, unfinished Gothic cathedral, and a museum devoted to the city's most famous son, Pablo Picasso.
21 May
Gibraltar:

Gibraltar
Sovereignty of 'The Rock' has been a thorny issue ever since Gibraltar was ceded to Britain in 1713, though on the ground it's clear where most locals' sympathies lie. Gibraltar is often described as 'more British than Britain', a curious enclave of red postboxes, double decker buses and chip shops.
22 May
Morocco:

Casablanca
Bustling and modern, fizzing with industry and commerce, Casablanca is often overlooked in favour of Morocco's better known tourist draws. But then this is part of its appeal: it's an authentic and unvarnished city, and it's also home to the spectacular modernist architecture of the Hassan II Mosque.
23 May
Morocco:

Tangier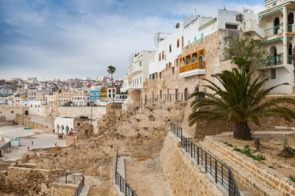 After years of neglect, Tangier is finally being restored to its former glory as a cosmopolitan crossroads between Europe and Africa. The Moroccan government has invested heavily in modern infrastructure, while the spruced up medina shines with a new-found cultural dynamism.
24 May
Spain:

Seville
Seville is a wonderful destination, a sophisticated and sun-kissed city on the banks of the Guadalquivir river. It's a treat for all the senses, from the smell of orange blossom to the heart-tugging sounds of flamenco, and the highlight of the calendar is undoubtedly Semana Santa, when a spectacular Easter parade fills the streets.
25 May
Portugal:

Portimão
Portimão is a bustling fishing port and gateway to the Algarve, with a pleasant riverside promenade where the smell of sizzling sardines fills the air. The most popular attraction is Praia da Rocha just to the south, one of the Algarve's loveliest beaches.
26 May
Portugal:

Lisbon
Spread across steep hillsides that overlook the Rio Tejo, Lisbon's colourful cityscape includes Gothic cathedrals, majestic monasteries and quaint museums. But for many the best times will be had wandering the narrow lanes of Lisbon's lovely backstreets, with their great local food, wine and music.
28 May
Spain:

Gijón
Gijón is the largest city in the Asturias region of northern Spain, an important industrial port but also a lively and youthful place, ideally positioned for exploring the Costa Verde. The most interesting area is the historic fishing village of Cimadevilla, which sits on a peninsula that divides the bay in two.
29 May
Spain:

Bilbao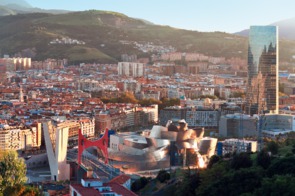 It's not so long ago that Bilbao was a grim and unappealing place, scarred by heavy industry, but the Basque Country's biggest city has reinvented itself as a cultural hub since the opening of the shimmering Guggenheim Museum in 1997.
31 May - 1 June
France:

Bordeaux
Bordeaux sits at the centre of the world's most famous wine region, and is home to a beguiling blend of beautiful buildings, sophisticated gastronomy and high culture. It's a marvellous place to spend some time, whether it's a day sampling wines, an evening at the opera or a night on the tiles.
2 June
France:

La Rochelle
La Rochelle is an attractive seaside town of elegant limestone facades and agreeable weather, known as La Ville Blanche (the 'White City'). The heart of the city is the atmospheric Vieux Port, guarded by three imposing towers which offer excellent views of the harbour and nearby islands.
4 June
United Kingdom:

St. Mary's (Isles of Scilly)
5 June
United Kingdom:

Dartmouth
The picturesque and historic town of Dartmouth is situated at the mouth of the river Dart, on the south coast of Devon. The town has a proud maritime heritage, home to the Royal Naval College, and the streets are lined with attractive 17th and 18th century buildings leaning at rakish angles.
7 June
Belgium:

Zeebrugge (Bruges)
Zeebrugge's main attraction is its proximity to Bruges. This beautifully preserved old town is a magical maze of winding cobbled lanes, narrow canals and gorgeous gabled houses, and it's no wonder so many visitors throng the streets in summer.
8 June
Netherlands:

Vlissingen
9 June
Arriving in Amsterdam
Amsterdam is one of our very favourite cities to visit, as well as also being a perfect base to explore the nearby landscape of windmills and dikes. The Amsterdam canal belt is now officially recognized as a UNESCO World Heritage site, and from them there are so many neighbourhoods to explore, such as the Jordaan with its higgledy-piggledy streets and its famed garden courtyards (hofjes). There are also a wealth of famous museums and galleries to choose from, such as the Van Gogh Museum, the Rijksmuseum and the Anne Frank House, not to mention some more, shall we say, quirky options.
Our tip
Explore by water, or by bicycle to get a feel for the city – a hop on hop off canal boat, or rented bike or pedalo will do the trick.
Your home from home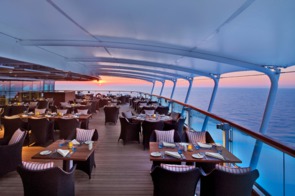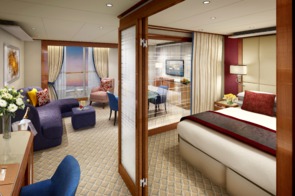 Once again Seabourn leaps ahead, expanding the most modern luxury fleet with the innovative Seabourn Encore and Ovation.
What we love
When Seabourn introduced the three sisters, they changed the face of luxury cruising. Seabourn Encore (and her sister Seabourn Ovation, due to be completed in 2018), with 604 guests on board, will take things a step further, with lots of new thinking and special additions, continuing Seabourn's magical ability to surprise and delight.
Capacity
604 Guests

Style

The contemporary décor appeals to a sophisticated and cosmopolitan crowd. With lots of outside space, you can enjoy an al fresco experience if you choose.

Inclusions

All meals in all restaurants including room service
Open bar policy throughout the ship
Onboard entertainment and lecture programme
Extensive spa and fitness facilities
Programme of daytime activities
Gratuities

Year launched
2016 (Seabourn Encore) / 2018 (Seabourn Ovation)
Tonnage
40,350 grt
More about Seabourn Ovation
Tailor-make your trip
Ways to make it better
Our favourite hotel in Venice
The Metropole is an old favourite for its quieter location and lovely lagoon views.
See more of the Veneto
If you've time, take the train to Padova and visit the Scrovegni Chapel.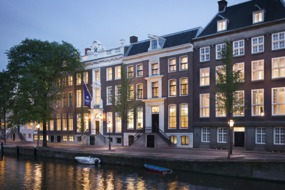 Two nights in Amsterdam
There is a fantastic range of canal front hotels to choose from, but we love the new Waldorf Astoria.
Around Amsterdam
Visit windmills in Zaanse Schans, the flowers at Keukenhof, or the cheese market in Alkmaar.