Journey Type
Sailing from the UK
7 January
Setting sail from Southampton
Southampton is the UK's leading port. Bustling modern cruise terminals, as well as wharfs and commercial harbours, line the waterfront, whilst the city itself is a fascinating mix of ancient and modern, with a picturesque old town, the original city walls still standing, and super-modern shopping centres and office complexes. On all corners you will see tributes to the city's rich history and maritime heritage. Henry V marched his troops through the Westgate on his way to the battle of Agincourt, The Mayflower sailed from here with a cargo of settlers to the New World, and the Titanic started her fateful voyage here.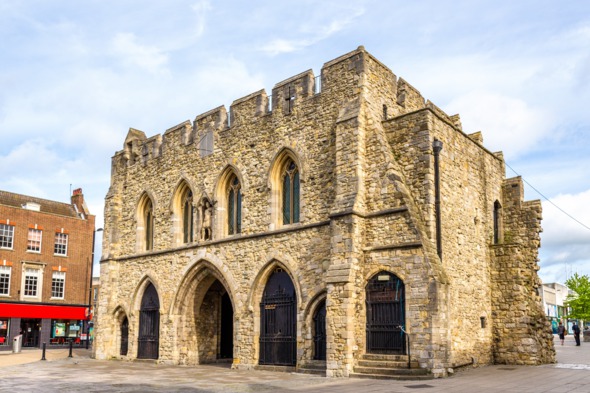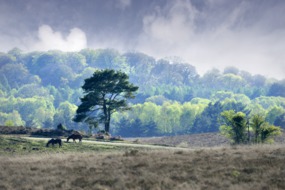 Don't miss
Just a short drive from Southampton is the magical New Forest with its quaint hamlets, historic towns and seaside villages. Look out for the ponies too.
14 January
Bermuda:

Hamilton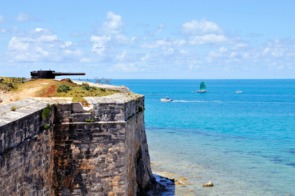 Hamilton is Bermuda's charming capital, filled with pretty pastel-hued buildings and bursting with British colonial history. Learn more about this past at the Royal Naval Dockyard, take a stroll along colourful Front Street, or relax on one of Bermuda's beautiful pink sand beaches.
17-18 January
United States:

Fort Lauderdale
These days Fort Lauderdale is a sophisticated place awash with upmarket hotels and excellent restaurants. The glorious weather and swathes of golden beach are still a huge draw, but there are also plenty of cultural attractions, such as the Museum of Art and the Museum of Discovery and Science.
21 January
Sint Maarten:

Philipsburg
Philipsburg is the gateway to an intriguing little Caribbean island with a dual personality: the Dutch side, St. Maarten, is the livelier of the two, with shopping malls, casinos and more of a nightlife scene, while French-speaking St. Martin is a more refined (and more expensive) affair, with a laid-back, continental air and a host of exclusive resorts and restaurants.
22 January
Dominica:

Roseau
The island of Dominica stands out from the rest of the Caribbean, a rugged natural paradise that remains blissfully free of mass market tourism. The capital, Roseau, is pleasant enough, but the island interior offers so much more, including thick jungle, bubbling hot springs, cascading waterfalls and abundant birdlife.
23 January
Barbados:

Bridgetown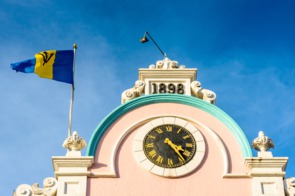 There's more to Barbados than just beaches; the delightful colonial architecture of the old garrison in Bridgetown, the capital, is fully deserving of its UNESCO World Heritage status, and the island interior is littered with old sugar plantations and natural wonders such as Harrison's Cave.
27 January
Brazil:

Fortaleza
Situated on Brazil's northeastern coast, the sprawling city of Fortaleza is best known for its beaches and nightlife, and it's also a major seaport. There isn't a huge amount in the way of sights, though the Mercado Central is good for shopping and there are some nice beach bars along the Praia do Futuro.
29 January
Brazil:

Salvador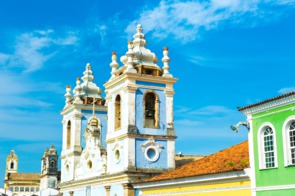 Colourful Salvador is Brazil's third biggest city and a vibrant centre for Afro-Brazilian culture, with frequent festivals that fill the streets with music and dancing. The historic core of the old city is the biggest tourist magnet, where elegant, brightly hued colonial buildings line the cobbled streets.
31 January
Brazil:

Búzios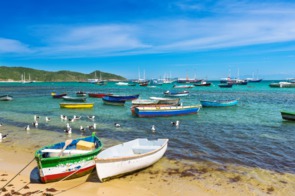 Once just a sleepy fishing village on a picturesque peninsula, Búzios was put firmly on the map by Brigitte Bardot, who holidayed here in the 1960s. These days it's an upmarket beach destination, with a host of luxury hotels, sophisticated restaurants and chic boutiques.
1-2 February
Brazil:

Rio de Janeiro
The carnival capital of the world, Rio de Janeiro needs little introduction. We can think of few cities in the world that are able to compete when it comes to location: hugging the beautiful sandy shore and surrounded by jungle-clad islands and mountains, including the iconic Corcovado, the setting for Brazil's most vibrant city is simply breathtaking.
5 February
Uruguay:

Montevideo
Located just across the Río de la Plata from Buenos Aires, Uruguay's underrated capital is a cosmopolitan and eclectic mix of colourful colonial architecture and high rise modernity. The 14-mile waterfront promenade, La Rambla, is a popular and pleasant place to be on a summer's evening.
6-7 February
Argentina:

Buenos Aires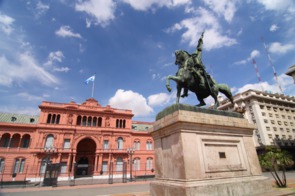 The streets of Buenos Aires are redolent of a grand old European capital, lined with elegant architecture that wouldn't look out of place in Madrid or Paris. There is also plenty of Latin passion on display: Argentina is the home of tango, that most electrifying of dances, and has played host to countless revolutions over the years.
10 February
Argentina:

Puerto Madryn
Founded by Welsh settlers in 1886, bustling Puerto Madryn owes its popularity as a tourist destination to the incredible wildlife of the Península Valdés. From June to December the bay is filled with migrating right whales, and at the beginning of the season the whales come so close to the shore that you can view them from the pier.
13 February
Argentina:

Ushuaia
Perched on the ragged southern edge of Argentina, where the snow-capped Andes fall away into the churning sea, Ushuaia has a frontier town feel to it, and serves as the base for expeditions into the icy waters of Antarctica.
14 February
Chile:

Cape Horn
Surrounded by notoriously treacherous waters and battered by gale force winds known as the Furious Fifties, Cape Horn is the dramatic southernmost headland of the Tierra del Fuego archipelago. This is the point where the Atlantic and Pacific Oceans meet, watched over by a lonely lighthouse.
15 February
Chile:

Punta Arenas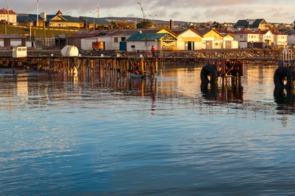 The weather-beaten city of Punta Arenas is a laid back and welcoming place, in spite of its inhospitable location on the shores of the Strait of Magellan. Nearby attractions include penguin colonies and the dramatic scenery of Torres del Paine National Park, while beyond the horizon lie the frozen wastes of Antarctica.
17 February
Chile:

Pio XI Glacier
19 February
Chile:

Puerto Montt
Puerto Montt is the capital of the Chilean Lake District, spread out around a wide bay against a backdrop of snow-capped volcanoes. This wild region offers a host of outdoor activities, including mountain hikes, kayaking, white water rafting, fishing, zip lining and cycling.
21 February
Chile:

Valparaíso
Characterful, colourful and a little chaotic, the port city of Valparaíso is scattered across 45 vertiginous hills. Thanks to this difficult topography the city streets are punctuated by steep staircases and funicular elevators, and energetic explorers will be rewarded with wonderful views of the pastel hued buildings that hug the slopes.
22 February
Chile:

Coquimbo
26 February
Peru:

Lima (Callao)
Peru's underrated capital enjoys a fine setting on the Pacific coast, and the handsome colonial-era buildings surrounding the Plaza de Armas give clues to Lima's distinguished history; for three centuries this was the capital of the Spanish Americas, when the city grew rich on the back of plundered Inca gold.
28 February
Ecuador:

Manta
The Ecuadorian port of Manta is known as the "tuna capital of the world", and you'll see plenty of fishing boats as you arrive. The beach is a popular destination for local tourists, but you may find that the nearby town of Montecristi, home of the Panama hat, makes for a more interesting excursion.
4 March
Jamaica:

Montego Bay
Montego Bay is Jamaica's tourism capital, and is the second largest city on the island after Kingston. The beach bars along the 'Hip Strip' offer a taste of the Jamaican way of life, with the ubiquitous Bob Marley providing the soundtrack; alternatively you may prefer an excursion to nearby sights such as Dunn's River Falls or Seven Mile Beach.
6 March
Belize:

Belize City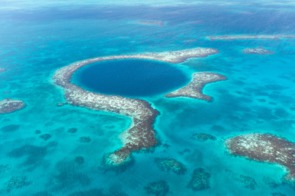 Belize's capital does not enjoy the best reputation, and we wouldn't recommend spending too much time here; use it instead as a jumping-off point to explore the fascinating Mayan ruins of Xunantunich, Lamanai and Altun Ha, or take a snorkelling trip to the beautiful Barrier Reef, including the famous Blue Hole.
7 March
Mexico:

Costa Maya
The port at Costa Maya is a purpose-built facility for cruise passengers, with amenities including swimming pools, restaurants and bars. The neighbouring village of Mahahual will give you a slightly more authentic taste of the Yucatán, and the ruined Mayan city of Chacchoben is an hour's drive away.
9 March
United States:

Fort Lauderdale
These days Fort Lauderdale is a sophisticated place awash with upmarket hotels and excellent restaurants. The glorious weather and swathes of golden beach are still a huge draw, but there are also plenty of cultural attractions, such as the Museum of Art and the Museum of Discovery and Science.
10 March
United States:

Port Canaveral
11-12 March
United States:

Charleston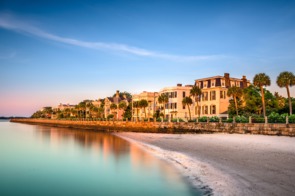 A visit to Charleston is like travelling back in time, so perfectly preserved is the town's 19th century ambience, and you'll often hear the clip-clop of a horse-drawn carriage ferrying tourists along the cobbled streets.
19 March
Portugal:

Praia di Vitoria (Azores)
23 March
Arriving in Southampton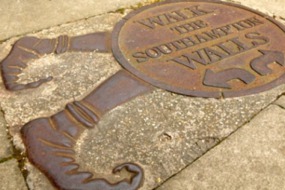 Our tip
Get a copy of the Old Town Walk map from the tourist information centre, a perfect (and free!) way to explore Southampton at a leisurely pace.
Your home from home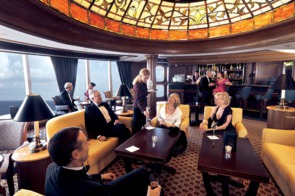 Elegant and graceful, Cunard's Queen Victoria has an ambience evocative of the great liners of the past.
What we love
Modern features combined with traditional and elegant décor are reminiscent of the golden age of cruising. We particularly like the excellent Queens Grill accommodation which offers additional space and access to the exclusive Queens Grill and Princess Grill restaurants, along with dedicated lounges and deck areas.
Capacity
1,990 Guests
Crew
981 International Staff
Style
Traditionally formal cruising with the evening attire always expected to be refined even on 'informal' evenings.
Inclusions

Meals in the main restaurants
Traditional afternoon tea
Soft drinks, tea and specialty coffee
All onboard entertainment
Unlimited use of the Fitness Centre
More about Queen Victoria
Tailor-make your trip
Ways to make it better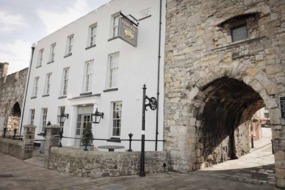 Overnight in Southampton
Stay at the Pig in the Wall, stylish with great food. Very small so book early.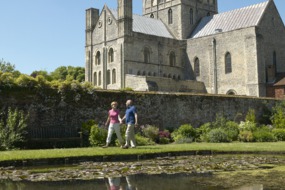 Day trips from Southampton
Visit historic Winchester, home to King Arthur's Round Table, the Great Hall and Winchester Cathedral.