Journey Type
Cruise only (Please call for flight options)
1-2 December
Setting sail from Frankfurt
Frankfurt is the financial heart of Germany, a forest of silver skyscrapers that's home to both the German and European Central Banks. This focus on commerce has led some to dismiss the city as a dull, soulless sort of place, but in fact Frankfurt buzzes with a real cultural vibrancy; don't miss the Städel Museum, home to works by the likes of Picasso and Rembrandt, or the excellent MMK Museum of Modern Art. Frankfurt is also great fun after dark, and we recommend sampling the lively restaurants and Apfelwein bars of Sachsenhausen.
Our tip
If you're into art and funky style, schedule a couple of days here. Otherwise, don't...
3 December
Germany:

Wertheim
4 December
Germany:

Würzburg
The handsome town of Würzburg, situated on the river Main between Nuremberg and Frankfurt, was ruled for centuries by a succession of powerful prince-bishops. Although much of the city was destroyed during the Second World War, the majestic 18th century Residenz palace stands as a testament to the wealth of the bishopric.
5 December
Germany:

Schweinfurt, Kitzingen
6 December
Germany:

Bamberg
Bamberg's eye-catching, UNESCO-listed old town is one of the most beautiful in all of Germany. The city was briefly capital of the Holy Roman Empire, and the city centre is still dominated by the 13th century cathedral. There are also plenty of breweries, and you shouldn't leave without trying Bamberg's famous smoked beer.
7-8 December
Arriving in Nuremberg
Nuremberg, Bavaria's second city, first pops up in the history books in 1050 as a stronghold of the Franks, and later became the unofficial capital of the Holy Roman Empire. Nuremberg was also the centre of the German Renaissance, although in the 20th century it became associated with the Nazis; huge rallies were held here, and Nazi officials were later tried and convicted at the Nuremberg Trials. Happily Nuremberg has bounced back from these dark days, and nowadays the city is a tourist magnet thanks to the beautifully restored old town, Christmas markets and excellent beer.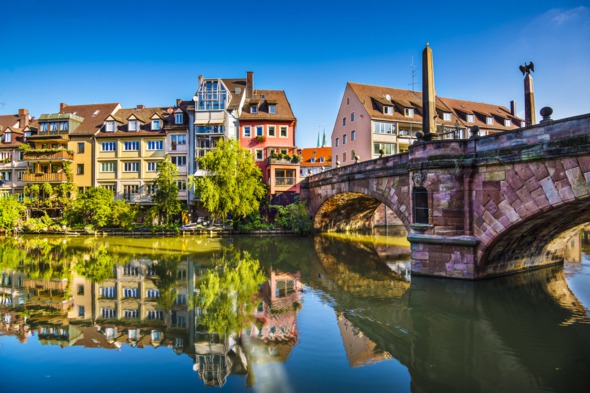 Don't miss
Schwurgerichtssaal 600 (Court Room 600) of the still-working courthouse is where the Nuremberg Trials took place. It forms part of an extraordinary exhibit detailing the history of the trials.
Your home from home
Uniquely designed and decorated with an exceptional attention to detail.
What we love
Uniworld's ships really do stand out from the crowd, unmatched in their opulent style and individual features. Every detail of the ship has been carefully considered to create an environment which enhances your itinerary by providing supreme levels of comfort and reflecting the region in which you travel.
Capacity
128 Guests
Crew
41 Staff
Style
Relaxed and informal during the day, giving way to an elegant evening atmosphere.
Inclusions

All meals in all venues
All alcoholic drinks
Sightseeing and excursions
Tea, specialist coffees and soft drinks
Wi-Fi onboard
Bicycles and fitness centre
All gratuities

Year Built
1999
Last Refurbished
2010
Length
361 feet
Breadth
38feet
More about River Queen
Tailor-make your trip
Ways to make it better
Extend your stay in Frankfurt
We think that the historic Villa Kennedy is an interesting place to stay.
Excursions from Frankfurt
Go and take the waters at Bad Homburg.
Where to stay in Nuremberg
We like the Drei Raben (Three Ravens) in the rebuilt old town.
Explore Nuremberg's rich history
Nuremberg's medieval might and significance as part of the Holy Roman Empire becomes clear in a visit to the Kaiserburg.