Journey Type
Sailing from Hungary
16 April
Setting sail from Budapest
Budapest is one of Eastern Europe's most appealing cities, a vibrant and welcoming capital that straddles the Danube. The history of Budapest has been somewhat turbulent - ransacked by the Mongols in 1241, occupied by the Ottoman Turks for over a century, and almost flattened by the Soviets in 1945 - but plenty of older buildings survive, including the imposing Parliament and iconic St Stephen's Basilica. Although a pedant might point out that Budapest has only really existed since 1873; up until then the city's two distinct halves, Buda and Pest, were separate towns.
Don't miss
If you are a music lover, you can't miss a performance at the Opera House – affordable, and great music in a wonderful building.
17 April
Hungary:

Kalocsa
18 April
Croatia:

Osijek
Osijek is the capital of Slavonia, a region of eastern Croatia that is hemmed in on three sides by Hungary, Serbia and Bosnia. Tourists are thin on the ground compared to the Dalmatian Coast, yet Osijek is an elegant and cosmopolitan city surrounded by beautiful countryside.
19 April
Serbia:

Belgrade
Belgrade has been invaded and occupied dozens of times over the centuries, a fact that's reflected in the mish-mash of architectural styles, from Ottoman and Art Nouveau to grim relics of the communist era. But Belgrade is also a city with real soul, emerging from a difficult recent history as one of Europe's most exciting capitals.
20 April
Romania:

Iron Gates
As the Danube wends its way east, along the border between Serbia and Romania, the river narrows to a dramatic gorge known as the Iron Gates. The river here is flanked by a huge stone carving of Decebalus, the last king of the Dacians and a Romanian national hero.
21-23 April
Bulgaria:

Svistov, Silistra
Romania:

Giurgiu
23 April
Arriving in Bucharest
Once known as the 'Paris of the East', it's fair to say that modern Bucharest bears some pretty ugly architectural scars from the 22-year dictatorship of the late Nicolae Ceauşescu. Of all the concrete monstrosities bequeathed by Ceauşescu, the enormous Palace of Parliament is both the most grotesque and the most fascinating, a monument to one man's staggering vanity. Looks aren't everything though, and Romania's capital has emerged from the ashes of communism as a feisty, dynamic city with some lovely parks, interesting museums and a lively nightlife.
Our tip
There are some lovely parks and gardens, not to mention the burial ground. Use them to escape from the summer heat and some of the grim architecture.
Your home from home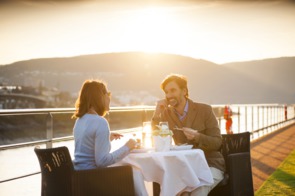 Scenic Crystal, Jewel and Jade accommodate 169 guests in stylish surroundings and offer a luxurious way to explore the great rivers of Europe.
What we love
Sleek and contemporary, with an extensive list of onboard inclusions, Scenic's aptly named Space-Ships are renowned for their high levels of personal service, relaxed ambience and inviting public areas.
Capacity
169 Guests
Crew
53 European Staff
Style

Relaxed and informal during the day, giving way to an elegant evening atmosphere.

Inclusions

All meals in all venues
All alcholic drinks
Sightseeing and excursions
Butler service
WiFi on board
Electronic bicycles
All gratuities

Year Built
2012 (Crystal); 2013 (Jewel); 2014 (Jade)
Length
443 feet
More about Scenic Jade
Tailor-make your trip
Ways to make it better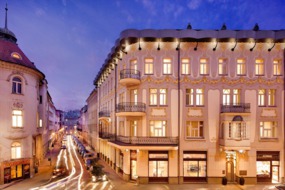 Our favourite hotel in Budapest
We like the Hotel Palazzo Zichy on the Pest side of the river, which used to be the residence of Count Nándor Zichy.
A taste of Hungary
If you're a wine lover, you really should visit the world's oldest classified wine region, known for its sweet Tokaji aszú dessert wine.
Extend your stay in Bucharest
Stay in grand style at the JW Marriott – an imposing palace!
Explore Romania
Bucharest is the jumping off point for Transylvania and a gothic castle extravaganza.