Journey Type
Sailing from Singapore
10 November
Setting sail from Singapore
Singapore is one of the world's richest cities, with a standard of living to match, and in recent years it has moved on from its image as a sterile, overly officious nanny state to become one of the most dynamic and exciting cities in the region. Singapore's heritage as an important trading post means that there is a real cultural mix, with four official languages: English, Chinese, Malay and Tamil. Step away from the gleaming towers and you'll find yourself transported into another world amongst the intoxicating streets of Chinatown and Little India.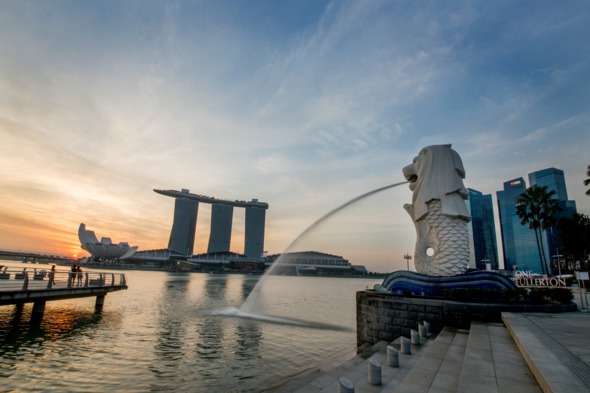 Our tip
Food is a passion, almost a religion, in Singapore. So plan ahead, ask the locals and make sure you don't miss out – street food or super-fancy, either is great.
13 November
Indonesia:

Semarang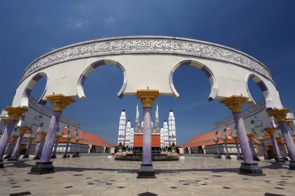 The sweltering city of Semarang, on the north coast of Java, is an intriguing mish-mash of Chinese, Islamic and Dutch colonial influences. We recommend escaping the heat with a trip up into the mountains to visit a coffee plantation, or joining an excursion to the extraordinary temple complex at Borobudur.
14-15 November
Indonesia:

Surabaya (Java), Celukan Bawang (Bali)
16-17 November
Indonesia:

Benoa (Bali)
The beaches, spectacular volcanic scenery and lush green rice terraces lend Bali a natural beauty that seems to dovetail perfectly with the island's distinct Hindu culture, which adorns the landscape with stunning temples.
18 November
Indonesia:

Lombok
Quieter and less developed than neighbouring Bali, the island of Lombok is an appealing alternative. To the north, the landscape is dominated by the huge crater of Gunung Rinjani, while the south and west coasts are home to some stunning beaches. Lembar is the principal port, with good connections to the island's main sights.
20 November
Indonesia:

Komodo Island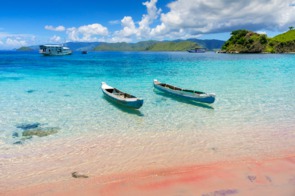 Komodo Island is situated within an area of spectacular natural beauty, home to the famous Komodo dragon. The stunning beaches are tinged with pink thanks to the high concentration of red coral just offshore, and the waters draw intrepid divers from all over the world.
23 November
Australia:

Darwin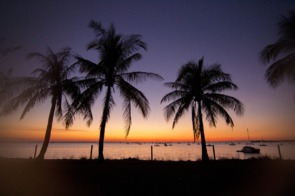 More of a large town than a city, Darwin is less about what's contained within the city limits and more about the huge expanse of wild landscape that's outside it. Closer to Jakarta than Sydney, the city really does feel remote in its tropical perch.
27-28 November
Australia:

Cairns
Cairns is a buzzing tourist hub, gateway to the Great Barrier Reef and the Daintree Rainforest. A snorkelling trip out to the reef is the most obvious excursion to take here, but other options include riding the Skyrail cableway over the rainforest canopy or swimming in the croc-free saltwater lagoon.
29-30 November
Australia:

Townsville, Hamilton Island (Whitsundays)
2 December
Australia:

Mooloolaba
The wonderfully named Mooloolaba stretches along a beautiful golden beach on Queensland's idyllic Sunshine Coast, and it's a popular destination for a weekend escape from Brisbane. The seafront Esplanade is the place to be, lined with cafés, boutiques and upmarket restaurants.
4 December
Australia:

Sydney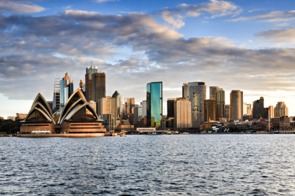 One or our favourite cities in the world, we love pretty much everything about Sydney. Offering outdoor living at its best, the city is known for the excellent beaches but offers so much more, including a thriving and varied food scene inspired by Asian and European flavours.
6 December
Australia:

Phillip Island
7 December
Australia:

Melbourne
Culturally sophisticated and fashionably hip, Melbourne combines edgy street art with gold rush era architecture while offering excellent restaurants and top museums. If you have time, check out some of Victoria's other attractions, including the beautiful 12 Apostles and the excellent wines of the Yarra Valley.
11 December
New Zealand:

Milford Sound
Milford Sound is New Zealand's most iconic sight, a breathtaking fjord crowned by the soaring Mitre Peak. Despite a remote location, on the western coast of the South Island, the fjord attracts thousands of visitors every year, such is the beauty of this raw and unspoilt landscape.
12 December
New Zealand:

Stewart Island
Stewart Island is New Zealand's rarely visited third island. A landscape of lush rainforest and beautiful beaches is home to abundant birdlife, and it's one of the best places in the country to see kiwis in the wild. You can also have a drink at New Zealand's southernmost pub in Oban, the only town on the island.
13 December
New Zealand:

Dunedin (Port Chalmers)
Visitors to Dunedin are amazed by the extraordinary Victorian and Edwardian buildings dating back to the gold rush, which bring to mind the city's Scottish roots - not least when the sound of the pipes echoes through the streets.
14 December
New Zealand:

Timaru
15 December
New Zealand:

Akaroa
The name Akaroa means 'long harbour' in Maori, and this sleepy town on the southern side of the Banks Peninsula is situated on a beautiful natural harbour created when a volcanic crater collapsed into the sea. The first Europeans to settle here were French, and the town still has a decidedly Gallic flavour.
16 December
New Zealand:

Wellington
New Zealand's cosmopolitan capital is arguably the country's most likeable city. Hemmed in by forest-clad hills, Wellington is compact and easily walkable, with a lovely waterfront area where you'll find the must-see Te Papa national museum. The city is also renowned for its strong winds, so make sure you hold on to your hat!
17 December
New Zealand:

Picton
The pleasant little town of Picton, situated on a sheltered bay at the north eastern tip of the South Island, is the arrival point for ferries arriving from Wellington, and serves as the gateway to the stunning flooded river valleys of the Marlborough Sounds.
17 December
New Zealand:

Queen Charlotte Sound
19 December
New Zealand:

Tauranga
Tauranga is the largest city on the Bay of Plenty, and is said to be one of the sunniest spots in the whole of New Zealand. There's a real boom town feel here, with new restaurants, bars and hotels opening all the time, and neighbouring Mount Maunganui is a popular beach destination.
20 December
Arriving in Auckland
Auckland offers a buzzing waterfront and a vibrant arts scene, and provides a fascinating introduction to New Zealand's proud cultural heritage. The centre is home to excellent shopping and a number of fantastic restaurants, while the north of the city has a distinctly more laid-back vibe, and to the west is the city's oldest wine region.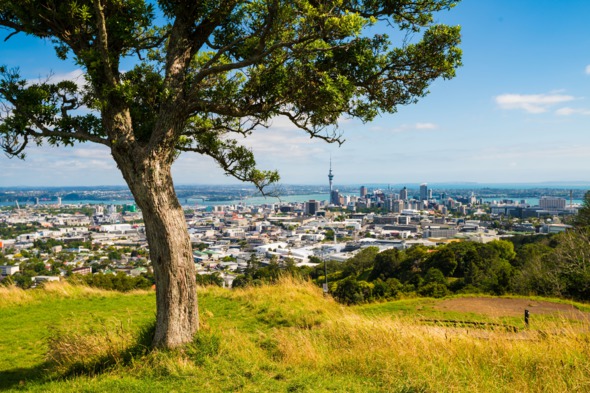 Don't miss
It's not all about the city; there is stunning natural beauty within easy reach, including black sand beaches, islands and extinct volcanic cones.
Mundy Exclusive
FREE return Emirates flights. Your fare includes 40 nights in a Veranda Suite including all meals, all drink, gratuities and taxes.
Your home from home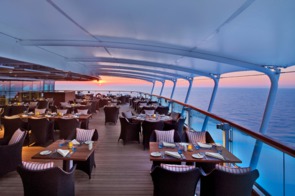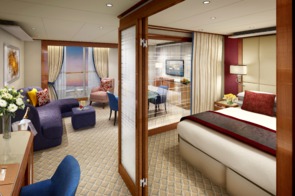 Once again Seabourn leaps ahead, expanding the most modern luxury fleet with the innovative Seabourn Encore and Ovation.
What we love
When Seabourn introduced the three sisters, they changed the face of luxury cruising. Seabourn Encore (and her sister Seabourn Ovation, due to be completed in 2018), with 604 guests on board, will take things a step further, with lots of new thinking and special additions, continuing Seabourn's magical ability to surprise and delight.
Capacity
604 Guests

Style

The contemporary décor appeals to a sophisticated and cosmopolitan crowd. With lots of outside space, you can enjoy an al fresco experience if you choose.

Inclusions

All meals in all restaurants including room service
Open bar policy throughout the ship
Onboard entertainment and lecture programme
Extensive spa and fitness facilities
Programme of daytime activities
Gratuities

Year launched
2016 (Seabourn Encore) / 2018 (Seabourn Ovation)
Tonnage
40,350 grt
More about Seabourn Encore
Tailor-make your trip
Ways to make it better
Our favourite hotel in Singapore
So many wonderful hotels. We like a lot of them, but our choice is the Fullerton.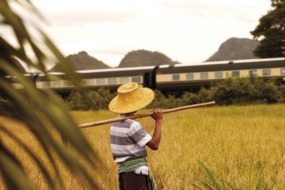 Leave Singapore in style
If you've got time and the dates work, take the Eastern and Oriental Express train to Bangkok.
Where to stay in Auckland
There are some great luxury lodges within easy reach of the city. In the city itself we like the Langham.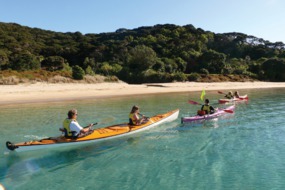 Around Auckland
About 3 hours north of the city is the Bay of Islands, an area of pristine islands and turquoise water as well as small towns of historic and cultural interest.