Journey Type
Cruise only (Please call for flight options)
30 October
Setting sail from Athens (Piraeus)
Athens is a city awash with historical and cultural significance. Towering over the city are the gleaming columns of the Parthenon, surely one of the most iconic sights in the whole of Europe. And yet Athens is much more than an open air museum; this is a dynamic, bustling metropolis, and a place where history is still very much unfolding. For all its faults, the Greek capital possesses an energy and an optimism that are manifest in everything from the burgeoning art scene to the restaurants and bars that continue to pop up on a regular basis.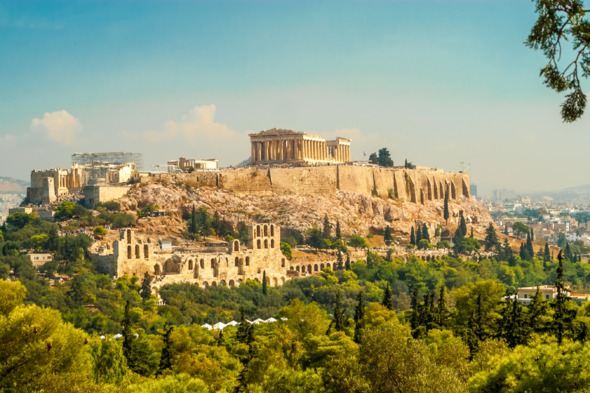 Don't miss
Obviously don't miss the Acropolis, nor the new adjacent museum, where space has pointedly been left for the frieze we call the Elgin Marbles – it is really excellent. Then take time to stroll on the hills and slopes around the outcrop.
31 October
Greece:

Santorini
The volcanic island of Santorini (known officially as Thira) is one of the most spectacularly beautiful in the Mediterranean. The pretty village of Oia, with its whitewashed houses and windmills tumbling down the hillside, is particularly photogenic.
1 November
Greece:

Heraklion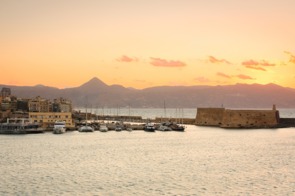 Crete's bustling capital is a modern and cosmopolitan city, where the island's rich history isn't immediately apparent. Take a closer look, however, and you'll find a fantastic archaeological museum, along with remnants of Venetian fortifications and a lively seafront promenade, with plenty of nice outdoor cafés.
2 November
Greece:

Chania
Chania, Crete's second city, is an alluring blend of architectural styles. The jumble of streets that make up the Venetian old town are remarkably intact, and there are plenty of reminders too of the two centuries of Ottoman rule, such as the imposing harbourfront Mosque of the Janissaries.
4 November
Malta:

Valletta
Malta's tiny capital, established by the Knights of St John, packs in an awful lot of history considering its diminutive size. The atmospheric old streets, bathed in Mediterranean sunshine, are full of attractive honey-golden buildings, along with an impressive selection of bars and restaurants.
5 November
Italy:

Catania
Busy, noisy and a little bit scruffy, Catania is Sicily's second city, poised perilously in the shadow of Mount Etna. In recent years gentrification has taken hold, and the city's many beautiful palazzi and baroque churches have been restored to their former glory. Eating out here is also a real treat.
6 November
Italy:

Palermo
Palermo is an acquired taste; noisy, chaotic and rather grimey in places. But there's something quite intoxicating about the crumbling facades and the bustling markets, and the Arabesque style of many of the buildings hints at Sicily's historical role as a stepping stone between Europe and North Africa.
7 November
Italy:

Trapani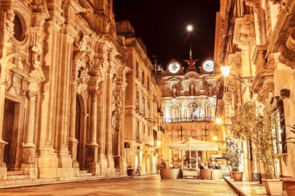 Situated on the western edge of Sicily, closer to Tunis than it is to Rome, the historic port of Trapani has a discernible North African feel to it. This was once an important medieval trading centre that linked Carthage and Venice, and the lovely old town is a great place to spend some time exploring.
10 November
Arriving in Málaga
Málaga has at times had its reputation dragged down by association with the overdevelopment and high rise horrors of the Costa del Sol, which is a great shame, as there is plenty to satisfy the discerning traveller. The labyrinthine historic centre is right next to the cruise port, and has been given something of a makeover in recent years. Nowadays there are plenty of chic restaurants and bars where you can ease into the rhythms of life in southern Spain, before exploring sights including the intriguing, unfinished Gothic cathedral, and a museum devoted to Málaga's most famous son, Pablo Picasso.
Our tip
Málaga closes for siesta so plan your visit to ensure you have scheduled a long relaxing lunch. Plan for an extensive tapas tasting, or great seafood a little way down the coast at El Palo.
Your home from home
A comfortable home from home, the Aegean Odyssey is the perfect size for in-depth exploration.
What we love
Providing a relaxed atmosphere the Aegean Odyssey reaches smaller bays and out of the way coves, all of which help provide a focus on the destination.
Capacity
378 Guests
Style
Classically elegant, but far from stuffy and formal.
Inclusions

All meals and snacks on board
Alcoholic drinks with meals
Shore visits including entrance fees and refreshments
Gratuities
Flights and transfers
More about MV Aegean Odyssey
Tailor-make your trip
Ways to make it better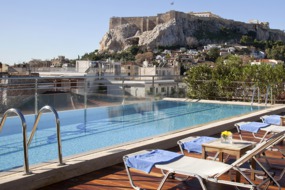 Extend your stay in Athens
At Mundy, we have long been hunting for the perfect Athenian hotel - our favourite so far is the Electra Palace in Plaka.
Excursions from Athens
Delphi is an absolute must – you'll need a full day though, it's quite a drive.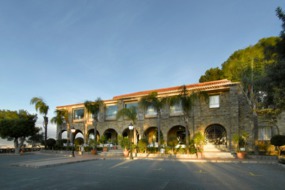 Where to stay in Málaga
We love the Málaga Gibralfaro Parador, in the old quarter with views over the harbour.
Explore Andalusia
Travel north to Granada and the Alhambra Palace, an unmissable example of Moorish architecture in the foothills of the Sierra Nevada.